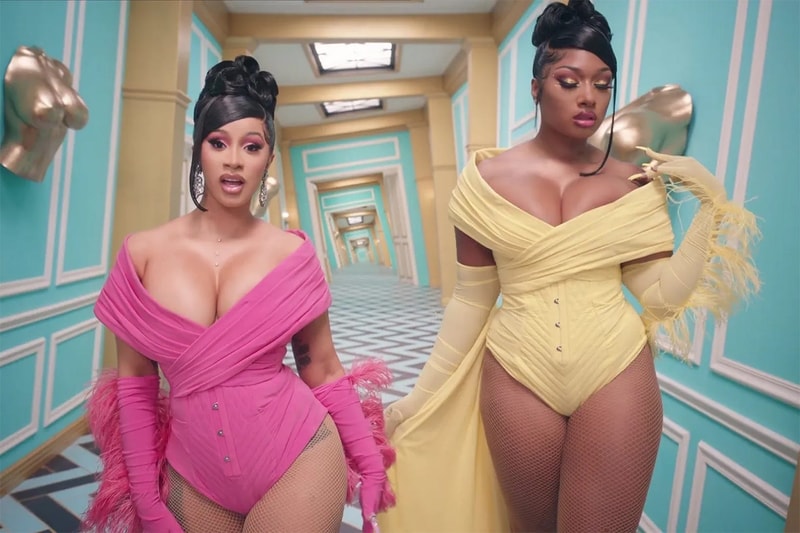 Beauty
Cardi B and Megan Thee Stallion's Multicolored XXL Curls Prove That Sexy Unicorns Are Real
It's giving "WAP" overload.
Cardi B and Megan Thee Stallion's Multicolored XXL Curls Prove That Sexy Unicorns Are Real
It's giving "WAP" overload.
Hold on to your seats because whenever Megan Thee Stallion and Cardi B come together on a track, it's guaranteed to be a hit that slaps harder than grits. And for the beauty enthusiasts out there, we know we're going to witness some next-level glam looks that will leave you speechless. Need we remind you of the endless hair, makeup and nail inspiration we received from the iconic "WAP" visuals? Well, prepare for another round of breathtaking beauty as the stars team up again for their latest joint single, "Bongos." The teaser for the single is entirely beyond, with bawdy and face being served to perfection, but what really has us stunned are the cotton-candy XXL curls.
Serving FX's hit show P-Valley realness, Thee Stallion and Cardi B took to Instagram in promotion of the single, are in flossy v-cut swimsuits in powder blue and pastel purple hues respectively. The ladies' bodies glisten with perfection, but what truly steals the show are the massive, multicolored curls on their heads. These cotton candy XXL curls are the main characters of the picture.
View this post on Instagram
Hairstylist Sandrine Diah custom-made these curly wigs with distinct differences designed to complement the girls' faces. Meg's curls were tighter and the colorblock featured shades of peppermint green, unicorn pink and mermaid blue. Cardi's ringlets were looser and colored with purple, blue magenta and teal dyes.
The countdown is on! The highly anticipated single "Bongos" will finally be released in just three days and the Hypebae Beauty team is gearing up for the visuals. We're expecting nothing less than a show-stopping display of sex appeal, unity and of course, glamour.
---
Share this article