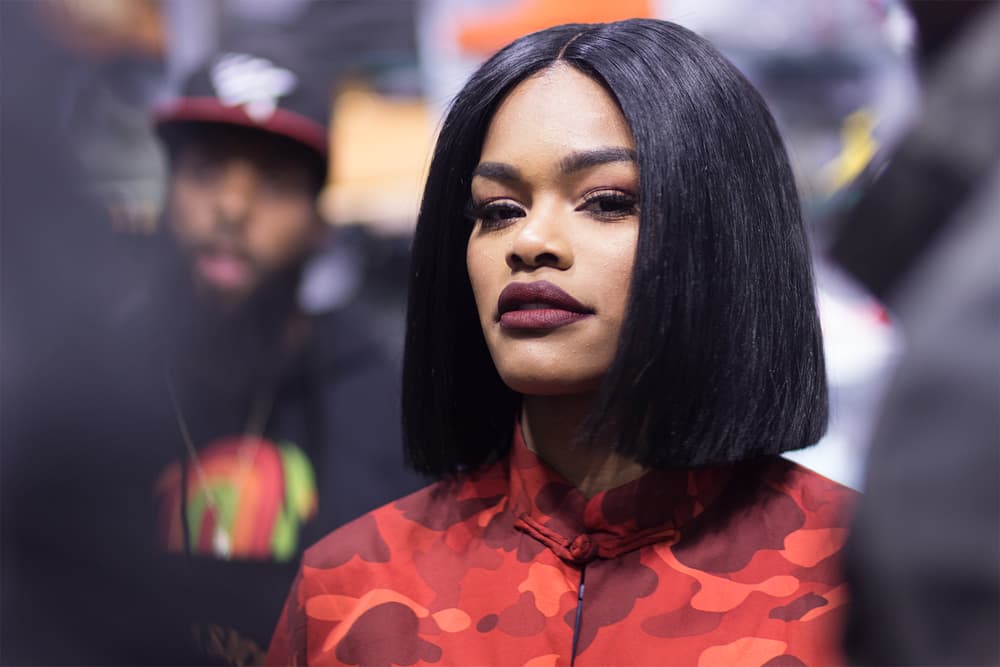 1 of 3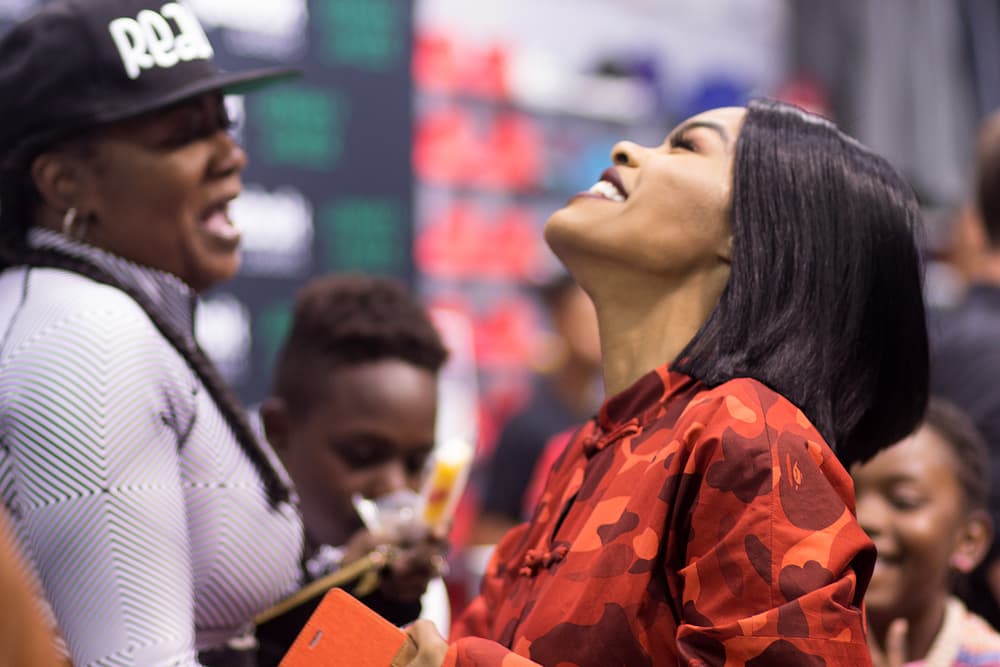 2 of 3
3 of 3
Fashion
Interview: A Candid Car Ride Conversation With Teyana Taylor On Trials, Triumphs & the Future
En route to her Reebok Question launch, she candidly talks "Fade," motherhood and lessons she's learned along the way.
Interview: A Candid Car Ride Conversation With Teyana Taylor On Trials, Triumphs & the Future
En route to her Reebok Question launch, she candidly talks "Fade," motherhood and lessons she's learned along the way.
"Sir, can you just turn down 125th?" Teyana Taylor doesn't live in Harlem anymore, but this will forever be home — she knows it way better than the driver who's taking us to the launch of her Reebok shoe. She doesn't get to come back too often because, on top of being a mother to an eight-month-old baby with husband Iman Shumpert, being the leading lady of Kanye West's "Fade" video has brought a whole new level of busy to her life.
That's not to say Teyana hasn't always been working. A 2007 episode of MTV's My Super Sweet 16 was her public introduction, but before then her portfolio was already starting to thicken. Her choreography credits already counted one Beyoncé video and she was signed to Pharrell's Star Trek Entertainment shortly after. Nearly 10 years later at the age of 25, it seems this is finally her big moment.
After all of the trials she's faced, Teyana is emerging as triumphant and grateful, nonetheless. Timing really is everything for her. Had her career panned out the way she thought or hoped it always would, maybe it wouldn't have led her to this space that she's in now, she tells me. Figuratively, she's being massively celebrated as the reason for why "Fade" will undoubtedly be one of Kanye's most memorable videos ever. Literally, she's wedged next to me in a Chevy Suburban of nine people that comfortably seats eight— including the driver, whom she instructs to drop us off at the front of the store because she's anxious to get to her fans who've attributed to the sold-out success of her Allen Iverson Question already. En route to the meet-and-greet, Teyana is a little frustrated about being late and keeping them waiting, but she sits back and we begin to talk.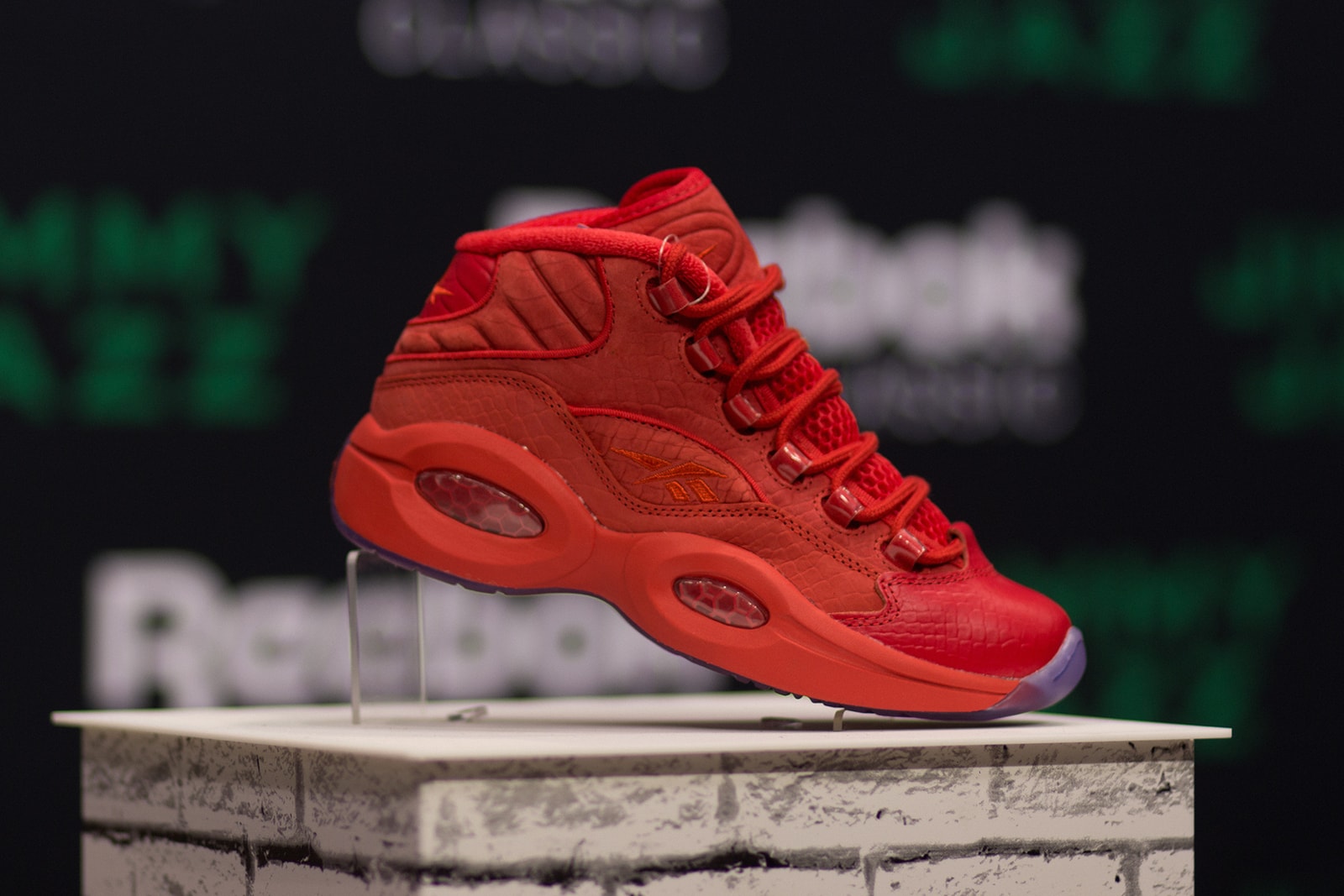 Your shoe was teased for quite a while and is just now coming out – were you purposefully waiting for the 20th anniversary of the Question for it to release?
Yeah that was definitely the idea. And with my album being called VII and seven being my favorite number, I thought October 7 would be the perfect day to release it.
Did Allen Iverson give you any input or feedback?
Nah – I actually designed it the day they told me they wanted to give me my own Question. I designed that shit in, like, 15 minutes right there on the phone, no contract no nothing. They were like, "Alright, alright, alright slow down. Did you even say yes? You have to say yes first."
Can you tell me a little bit about your inspiration for the shoe? I know this one is for the women…
My favorite color is red so that was the inspiration behind the red with the icy blue gum bottom. Also I just wanted to do something that guys would want too because I feel like they always get all the good sneakers in their sizes.
Yeah, there are guys in our office who are upset they can't get them in their size.
I wanted to turn it around and make them go through what we go through. It's a super dope colorway on top of red already being my favorite color – red is a unisex color, so I thought it would be dope.
Having worked under creatives like Kanye and Pharrell who are super meticulous about everything they do, has that translated into your own creative process, whether it's with projects like your shoe or music?
Oh yeah without a doubt. Having the honor to even be attached to people like Kanye and Pharrell is super dope because those have been my fashion icons. It's super dope to be under them and see the work process and how they think and how their minds work. They've inspired me in a lot of different ways.
Having the honor to even be attached to people like Kanye and Pharrell is super dope because those have been my fashion icons.
Switching gears a little bit — were you expecting the reception the "Fade" music video has gotten?
Not at all. Ye and everyone were just like, "You just have to be ready. It's going to be crazy." I hadn't seen the finished product until the day he released it. I was definitely a little nervous but when I seen it — I think with anybody, naturally, if you see yourself, you're kind of shy of first. I had to watch it, like, 15 times to actually like it.
Really?

Yeah, I don't know if it was a thing of me not liking it. I was just shocked. I wasn't prepared for it. It was more shocking because I already told Iman I didn't want to go [to the MTV VMAs] because I don't like going places and not having a reason to be there. I personally thought I didn't have a reason to be there.
Kanye didn't even tell you.
Yeah, I didn't even know until he went on stage. I knew at some point ["Fade"] was going to be released soon but I wasn't really sure. When he said he was going to premiere his new video on stage, I was like, "Wait — what? Aw, shit." He premiered it, and it said "Teyana Taylor" and I was just like, "Oh my god, this shit is really about to play." It wasn't even a whole minute in and my phone was blowing up.
You mentioned that the choreography was actually for Beyoncé. What did she think after the video premiered?
I saw her and Hov at the Pablo concert and they were just so happy for me. She was on vocal rest and pointed at her throat and just whispered, "I'm proud of you." Hov was like, "Yo, that video, you killed it."
What'd you think of Shaq's version?
[Laughs.] Shaq is a fool. He had the moves down. I was impressed. He was trying to come for my spot.
For a lot of people "Fade" was their first introduction to you. How do you feel about that?
I'm open to new people knowing who I am because later on down the line, there will be people who will have never seen "Fade" before. You have to always welcome everyone with open arms and hope that when they finally do know who you are, they love it. I'm excited about the new fan base and the new people who are starting to know who I am. It takes for that one thing to make a person look back and go, "Oh, I wonder what else it is that she has."
So looking back to when you were on MTV'S My Super Sweet 16 to now, how has this journey been for you?
It's been very bittersweet. The dope part about it was that everyone kind of watched me grow up. And those people are finally seeing me get my moment. The other side of it is more so the fact that my whole career, everything I've ever done has been broadcasted so I never had the opportunity to make my mistakes and get back up again in private. It's always been in front of everyone so to some, it just seemed like it would never happen for me.
How challenging has that been for you as a young woman?
Very challenging when you're in an industry where it's like you have to do certain shit to get certain places. I was never with that. Just being passionate about something and feeling like no one is listening, no one hears you, no one understands your intensity and your heart — it's definitely frustrating because people don't know the politics of it. If something failed or someone dropped the ball, you get blamed because you're the artist. That's all people see now. They don't see the politics and what's happening behind you.
Do you feel any extra pressure now then compared to before?
I think it's more motivation to go even harder. This is what I've been waiting for so I can't get it and say, "Oh my god, this is too much." I've just been grabbing and taking everything that's been coming my way.
What's something you wish 16-year-old Teyana knew that you know now?
I wish I knew that it was a dirty game. When I say that, I mean that when I was younger, I took everything so personally. I thought I really had friends, I thought people really cared. I had to learn that this is just the business. I learned that when I was already maturing and becoming a young woman, having my child. At 16 I was very emotional…not realizing this is just the business and you can't take shit personally.
On the other hand I don't regret anything. Had everything went the way I wanted it to go, this "Fade" video wouldn't have come out the way it did. This wouldn't have been that much of a big deal because it was a very big deal. It was a very emotional performance for me. I got stuff off my chest.
What is something Baby Junie has taught you about yourself?
She's taught me to trust people and allow them to do their jobs. When I was younger I didn't allow that. I look at her and the way she looks at me and the way she holds me and depends on me and makes me feel like that's a level of trust that no one can top.
1 of 2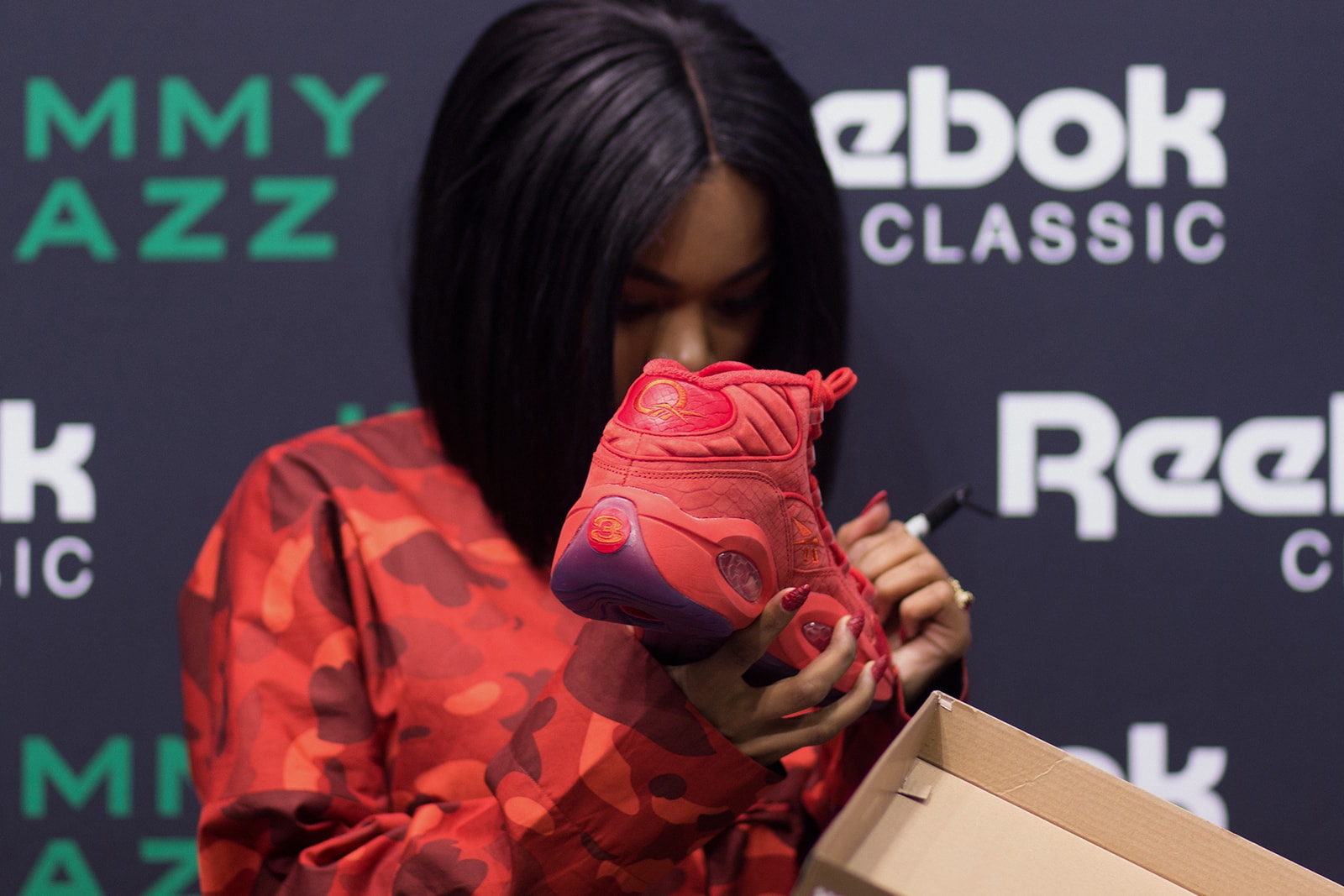 2 of 2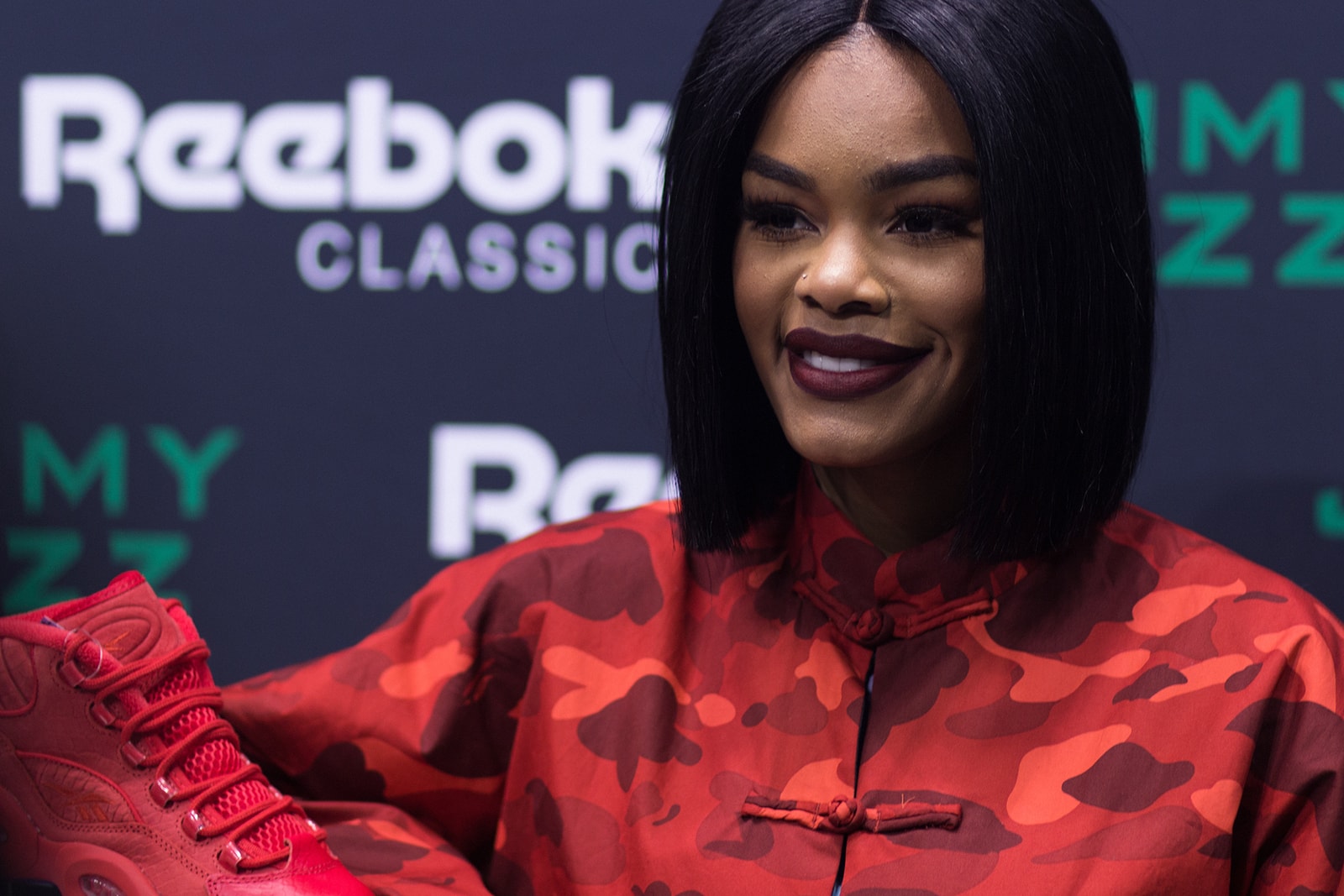 That's beautiful.
If she can trust me and put her life in my hands, I should be able to trust others. Especially those that do care and believe in me. If it was up to me, I'd try to do everything myself but I learned it's OK to fall back and get help.
Has motherhood changed your style at all? You've always been a tomboy.
Without a doubt. I still have the tomboy in me because I'll put on a pair of kicks in a heartbeat but I do have my moments where I'm just real motherly. My friends tease me about it. And with having a child, they're usually the boss of you. So sometimes you just walk out looking crazy [laughs]. Because you don't have time to dress yourself.
As a mom, then, what's your makeup routine like now?
Honestly, I have to wait for the baby to be asleep. Asleep or eating or chewing on something that doesn't belong to her. If she's doing any of those three things, that'd be the time when I want to hurry up and get my pretty on.
What are you listening to when you're attempting to get ready?
I used to be able to listen to music but if I see that Junie's asleep, I get excited and kind of just run and get shit done. I don't even get a chance to listen to much music anymore.
I never had the opportunity to make my mistakes and get back up again in private.
You're working on new music yourself. Can you tell me a little bit about that?
I'm excited about that. I think recording an album is always exciting, especially when you know what you're singing about and you're 100-percent involved — that's what I am. What motivates me even more is performing it live. I love performing so I pick songs where I go, "Oh, this beat is going to sound crazy live."
You and your sound have totally evolved since "Google Me."
You know, it's crazy because that album never officially released. That was actually a really, really good album. That song didn't even match the rest of the album. Once again, it was a politics decision. A label decision I kind of got blamed for. I think people expected more from me.
Did that deter you from putting out more music than you have in the past?
No, I think once "Google Me" dropped people didn't take it seriously. I don't blame them because I didn't take it seriously. I literally cried when I went to TRL and BET to premiere the video. I was all the way over it. To this day, if I ever hear it I'll turn it off.
So what can we expect from you now?
I'm a '90s kind of girl. I keep it nice and R&B, nice and raw.
I want to know just before we hop out, what is like for you to grow and come back home and hang with your fans? How crazy has this whole Reebok launch been for you?
So crazy. The shoe is already sold out. This is my hometown, my neck of the woods and everyone is proud of me. I love that feeling.
Photographer

Adriana De Gaspar/Hypebae
---
Share this article