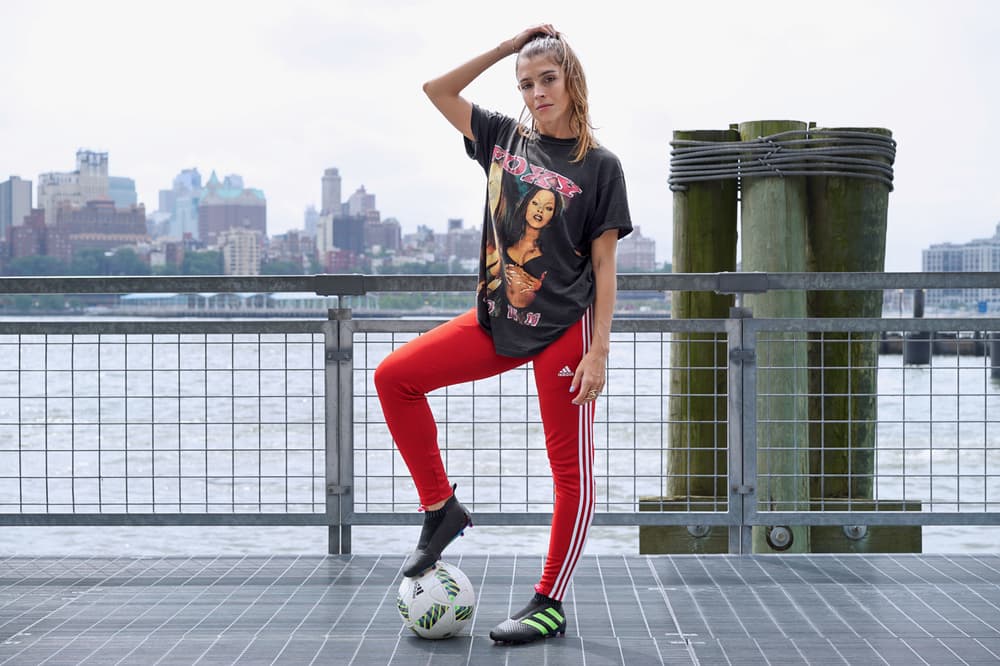 Culture
Florencia Galarza Is Fulfilling Her Soccer Destiny — One Way or Another
Athlete first, DJ and model second, what was a career-ending injury wouldn't keep her off the field for good.
Florencia Galarza Is Fulfilling Her Soccer Destiny — One Way or Another
Athlete first, DJ and model second, what was a career-ending injury wouldn't keep her off the field for good.
Perhaps you might recognize Florencia Galarza as someone who helped drive New York City's nightlife scene alongside her fellow Been Trill members. Being a part of that collective would take her around the world to DJ for the likes of Kanye West and Jay Z during their 'Watch the Throne' would tour, for example. But that aspect of her life was and will always be secondary to who she is — a born and bred soccer player. Soon after learning how to play at the age of 7, she'd take the sport seriously and join nationally-ranked teams and train with the Florida Olympic Development Program and receiving notable accolades all before high school was over. That would all come to a halt during Flo's senior year when she suffered a devastating injury: a tear in her ankle would be the end of her career – how she knew it, at least.
The truth is that we are all destined to do something, for Flo, that "something" is to kick ass on the turf. It'd take her 10 years before she'd play again, but that decade that would begin with heartbreak would lead to fulfillment in other aspects of her life. Flo would abandon her dream of wanting to move to and play in the West Coast and instead go to NYC to explore other things like DJing and modeling. The soccer field would await her return, however, and in 2014, she was back where she belonged. Today, with Been Trill being long behind her (Heron Preston is her "brother from another mother," so the bond is clearly permanent), she'll spin every once in a while at elite international events and on the sidelines for the U.S. Soccer Federation's USWNT and USMNT games and events. But with the support of adidas and role as co-captain of the KITH FC in the Bowery Premier League, her goal of going pro lives on. Check out what she has to say about it all below.
1 of 2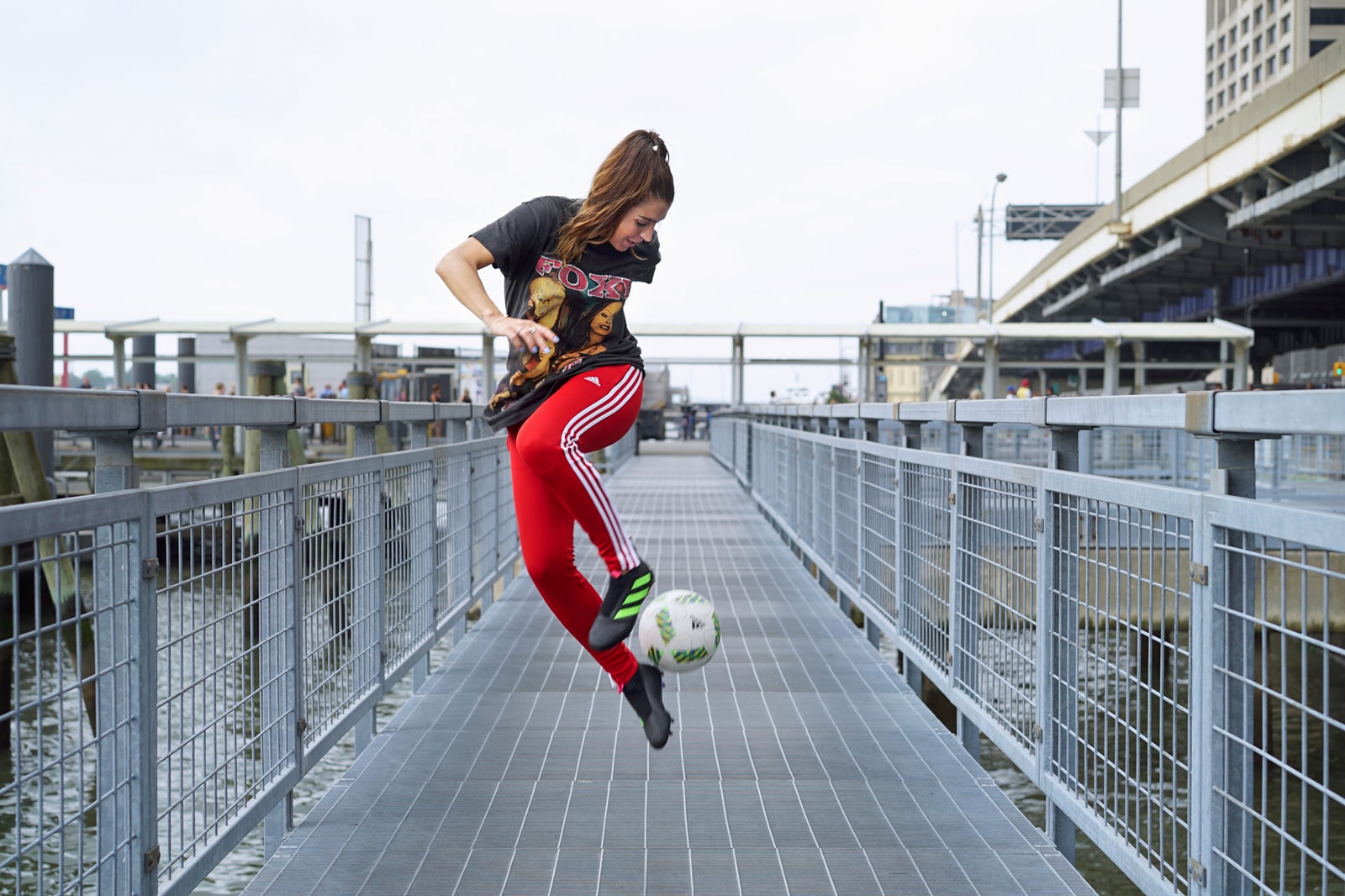 2 of 2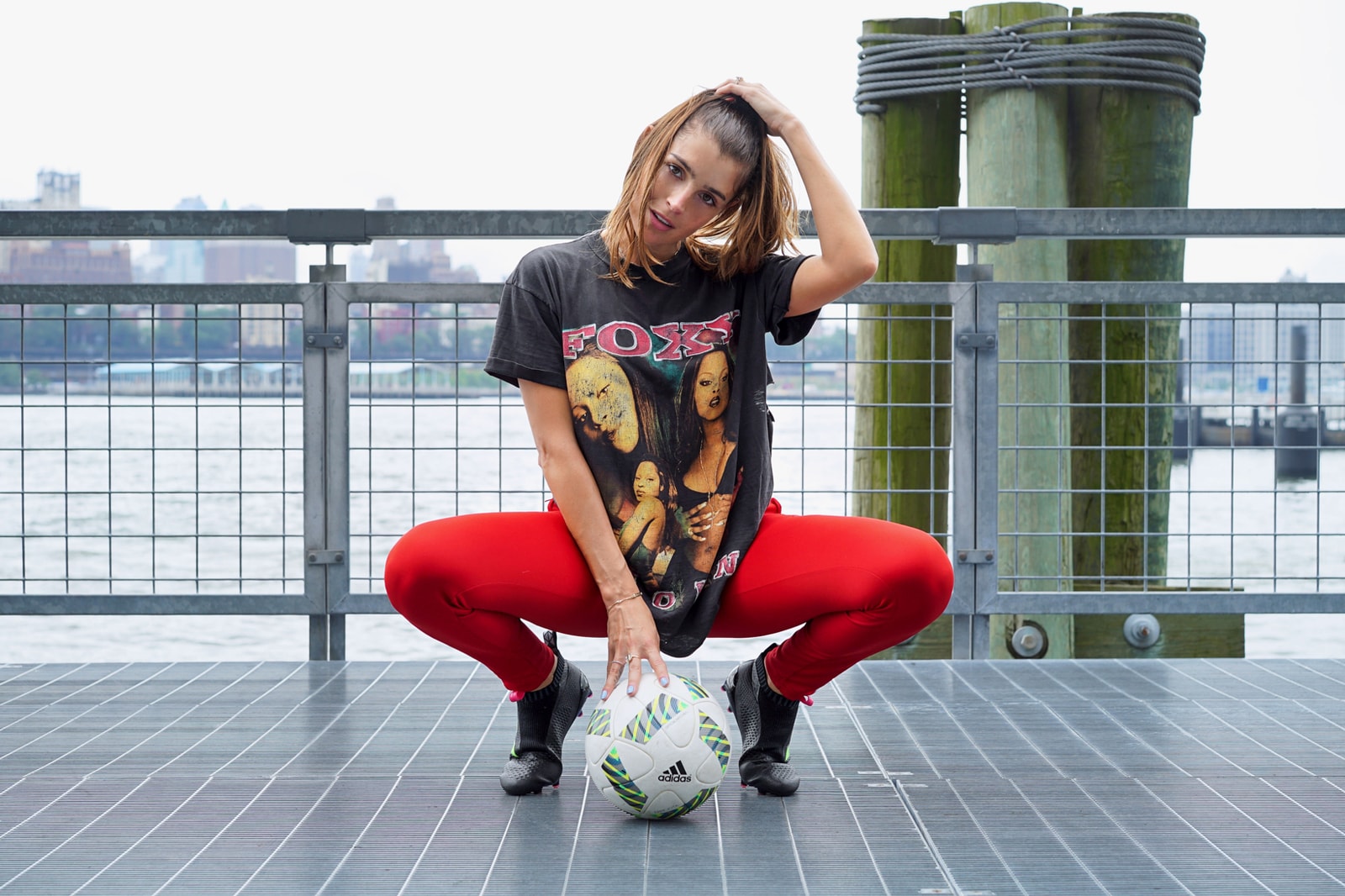 Can you tell us about your involvement with adidas?
I am a global ambassador for adidas women. Specifically for soccer, running and training. Sometimes I'm an athlete for adidas in a commercial or campaign, sometimes I'm an emcee or DJ for an adidas sporting event, sometimes I get to see and test out what's to come to market. adidas has my back and they just get me and get it. In my new journey to become a pro soccer player having adidas as a partner is an unreal reality. Dreams do come true people!
What was your road to recovery like after suffering a career-crushing injury?
My road to recovery was a bit difficult — mostly because of heartache — but moving to New York and pursuing my other favorites like art, music and fashion really helped me focus on a new career. Even though my injury seemed like a setback, it opened new doors. Rather than attending a D1 soccer school, I went to FIT and studied a ton of amazing things I've always been into. So now I'm in this phase of my life where I'm able to combine my athletic and creative sides which is pretty awesome.
1 of 2
2 of 2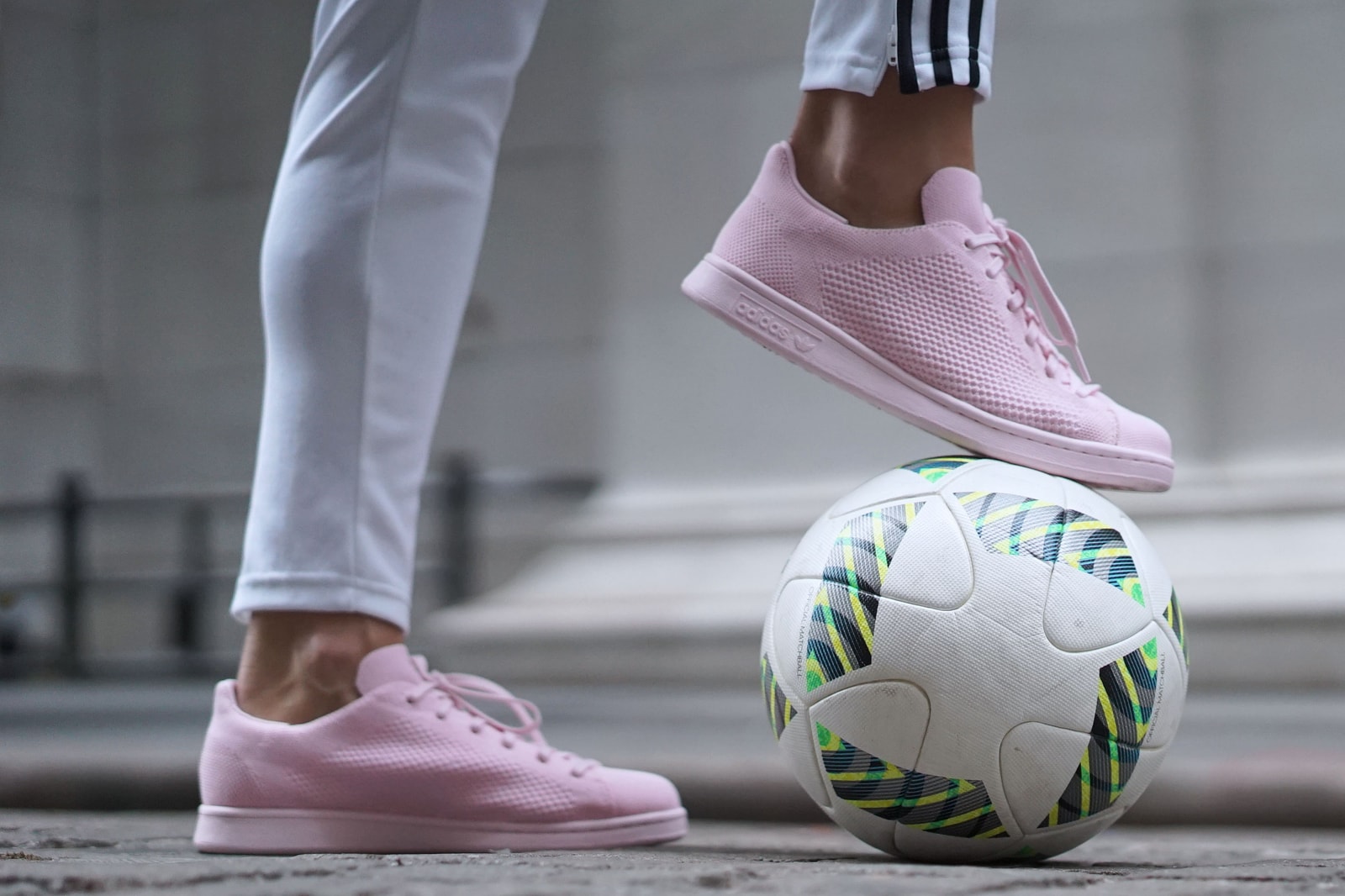 After feeling like you had to pivot your career, how instrumental was music and DJing in your healing process?
Music has always been instrumental to my healing process since I can remember so being able to play the music that I love as loud as I want to a crowd who is feeling it has been a really rewarding experience. I've always been the captain of my soccer team so being the DJ of a party gave me that same feeling.
What was your experience like DJing for Jay Z and Kanye? Have a favorite memory?
My favorite moment was DJ Kanye's Cruel Summer film premier afterparty in Cannes and only playing Jay Z. Mostly Reasonable Doubt.
When you did decide to start playing soccer again, what went through your head?
When I started playing again, I was feeling all types of things. Excited, obviously, but also nervous and immediately competitive. It took a few games for my brain to coordinate with my body! I also surprised myself by doing tricks and little things which I totally forgot about. I megged a dude my first game back after 10 years. Still got it!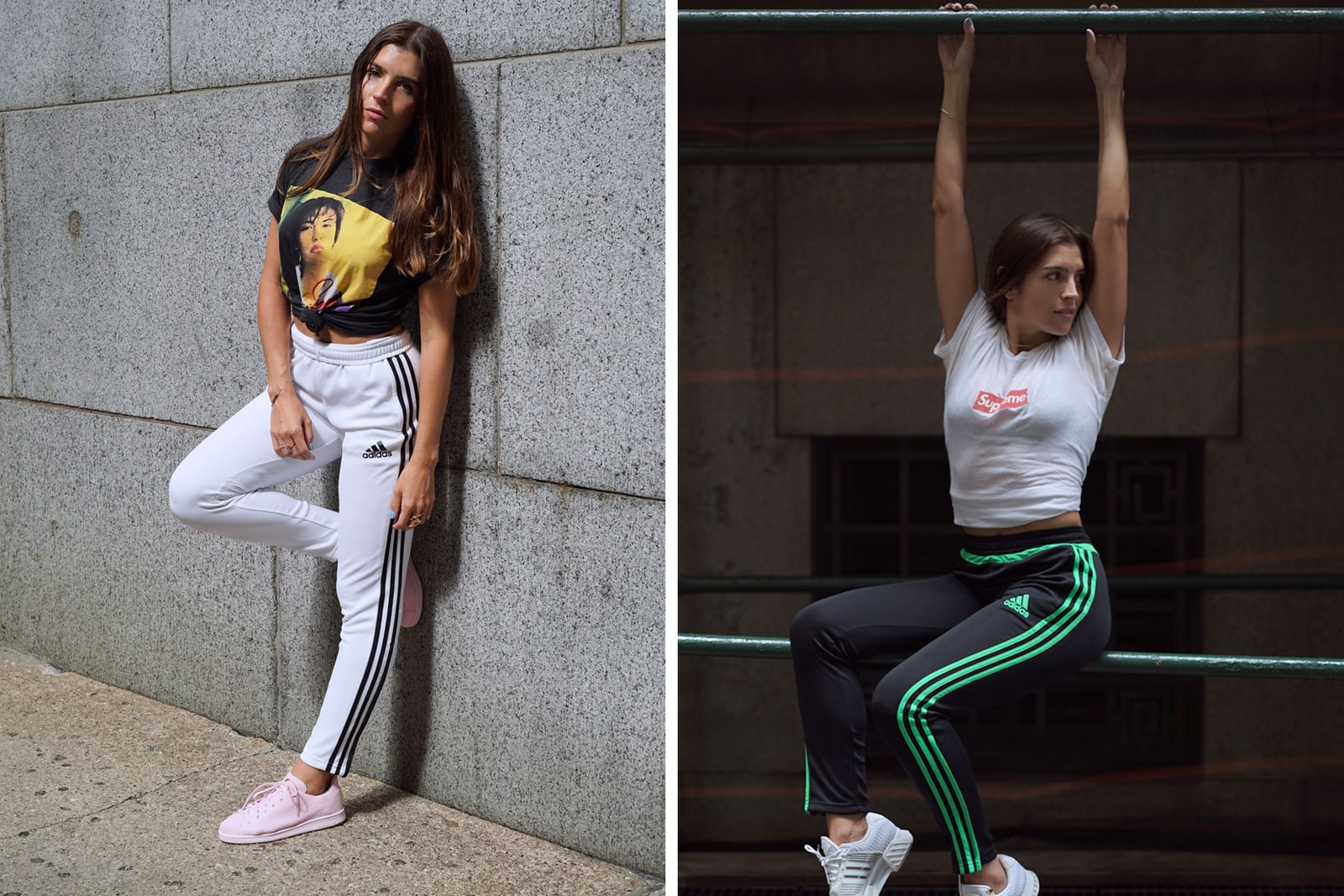 What do you listen to when you're getting in the zone for a big game?
I mean, everything from cumbia villera to Future to Limp Bizkit. "Break Stuff" will definitely get me hyped and most likely a quick yellow card. Also J Balvin, Maluma, Nicky Jam and all the popping reggaeton songs right now.
This year has seen a lot of controversy on pay inequality between male and female soccer players in the U.S. What do you think the future holds for women's soccer here?
Equal play, equal pay. It's not going to happen overnight but we are not slowing down neither on the field killing it nor off the field fighting for gender equality.
Photographer

Keith Estiler/Hypebae
Share this article