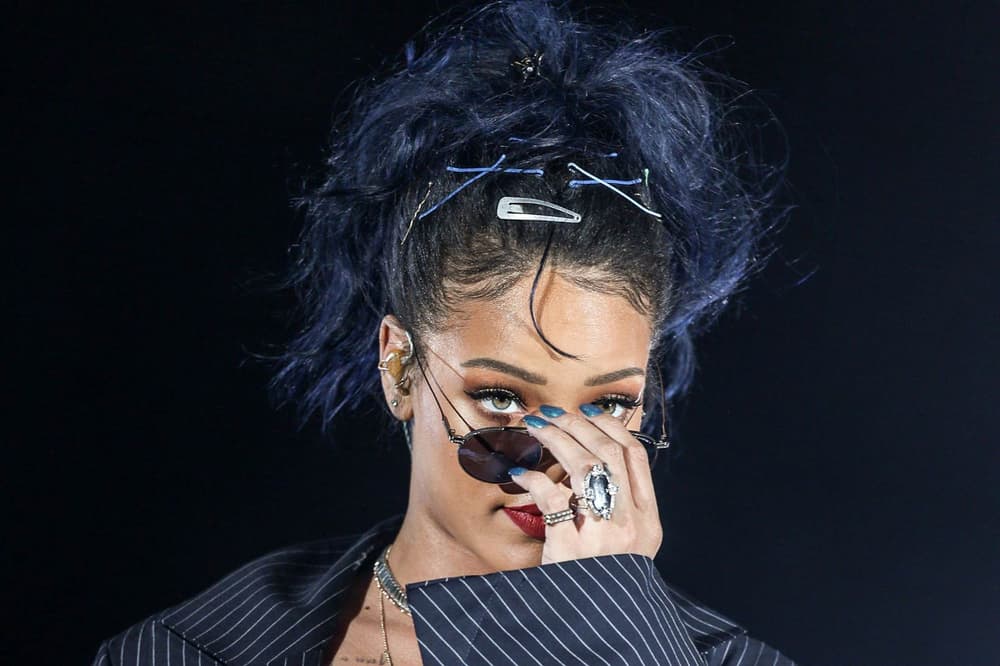 Here's a 5 Step Guide to Slaying 2018 Like Rihanna
Boss up.
With the start of a new year comes lofty goals and resolutions to improve all areas of your life. You promise yourself that you'll start that project, begin eating healthier and pick up that old hobby you've abandoned. Without intention those dreams stay that way — intangible and in your head. It's time to make those ideas real and execute them so you can enjoy the fruits of your labor. It helps to have a role model in mind for you to reference as you make moves.
Who better to emulate than the ultimate creator — Rihanna. Since taking creative control of her third studio album, Good Girl Gone Bad, the Bajan pop star has exceeded all expectations. After releasing a series of platinum albums, she began to spread her wings and tackle the world of fashion, creating one of the most successful celebrity-brand partnerships with PUMA.
A quick glance at her 2017 will make anyone tired: a Fenty PUMA show at Paris Fashion Week, a collaborative line with Manolo Blahnik, being named Harvard University's "Humanitarian of the Year," a second Fenty PUMA show at New York Fashion Week and finally, the launch of Fenty Beauty. These were just a few things on her schedule, not including her philanthropic efforts. Her work ethic is legendary and though unconventional, ladies can definitely learn a thing or two about achieving their own goals in style.
Attack the year with purpose and maybe you'll end up with a street named after you. Read on to find out how you can conquer 2018.
Set Goals and Write Them Down
You may have ideas in your head but it's crucial that you write them down to take action. Originally, with the filming of Ocean's 8, the launch of Fenty Beauty, and the final Fenty PUMA show, her schedule simply couldn't fit each of these events. After strategizing, she found she could optimize New York Fashion week by launching her beauty brand and throwing a spectacle of a show. Once you see what goals you have on paper you can begin to execute them in a way that makes sense for your lifestyle.
Research and Plan
If she is anything, Rihanna is a student of those around her. Rising under the tutelage of Roc Nation CEO Jay-Z, Rihanna was able to mimic his successful moves and avoid those that did not work. Her eighth studio album, Anti, released in 2016 but you wouldn't know it. A multi-million dollar deal with Samsung shot the project to platinum status upon release, bolstering her career in a major way. The singer then went on a 75-show tour that ended late in 2016, setting her up for 2017 success. Though the album released the year before, Rihanna was Spotify's most streamed woman of 2017, showing that a bit of business savviness and work will keep you ahead of the game.
Learn From Others Around You – Mistakes and All
Whether you're tackling a school, work or personal goal, there has most likely been someone that has completed the task before you. With this mind, see everyone as a person you can learn from. Many of the artists whose careers began when Rihann's did are no longer active and that is a testament to her vision and caution. Each step she makes is calculated and honest to her mission of promoting self-expression at the highest level.
Experiment and Don't Be Afraid to Fail
Rihanna is the queen of experimenting. She toys with her look, music and art direction to push the boundaries of what it means to be a pop star. She fearlessly attacks her new interests and because of her confidence, failure isn't a loss. Something can be gained from simply trying to do something outside of your comfort zone. It's there that you'll find the most rewards.
Stay True to Yourself
Call things how you see them. Rihanna was cited calling one of Diplo's unreleased tracks "airport reggae" — alluding to its diluted sound. She doesn't mince words and understands that her perspective is one of her most powerful weapons. Her fans relate to her realness and that is what keeps them invested in all of her moves both in and out of music. Though cliché, it is certainly true that your first instinct is usually right.
Share this article