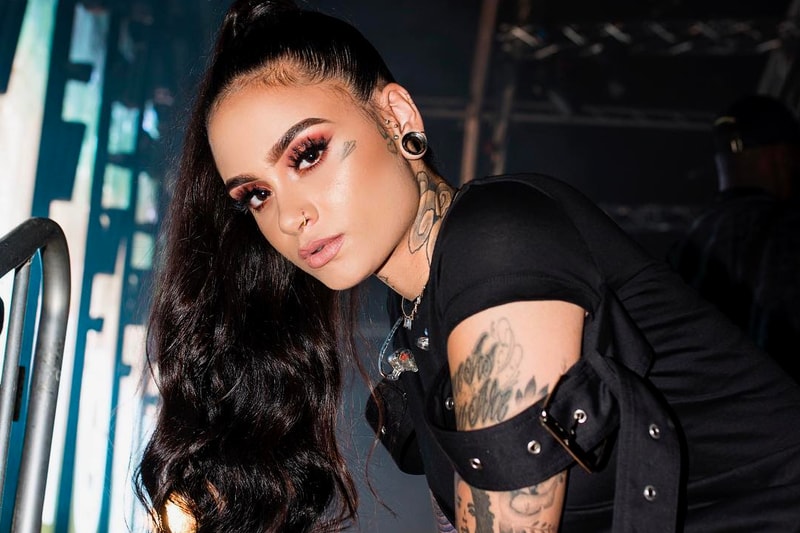 Here Are 10 Fiery Female Artists to Follow in 2018
Ears, behold.
2017 brought us numerous impactful and catchy songs like Cardi B's "Bodak Yellow" and SZA's "Quicksand," but we have a lot to look forward to in the upcoming year from emerging as well as established female musicians. We've identified an overarching theme that each artist plays on in some form: self-expression. It's fascinating to be a part of the shift that artists are portraying in their sounds, taking the industry by storm in the movement of self-acceptance and the empowerment of women.
In no particular order, here's a selection of our top 10 favorites that are scheduled to be dropping fresh work in 2018. 
Chicago-born rapper-slash-singer Kodie Shane has recently ventured into her dash as an individual after her big break as the sole female of Lil Yachty's Sailing Team. Her latest mixtape Big Trouble Little Jupiter contains atmospheric R&B energy that accurately portrays her contagious positivity and fearless approach. Get to know the artist by reading our exclusive interview with her.
Sweet, sexy and savage. Kehlani's latest album title truly encapsulates her essence as an individual. Her silky R&B tones are met with brilliant lyrics that possess pure honesty. She is unique in her range and versatility, which contributes to the success she has seen over the past few years.
Brooklyn, New York-based Nicotine provides us with licks of soul, R&B, funk and early 2000s hip-hop. Her sound ranges from laid-back summer sensations to purely honest, soulful sounds. She is backed by two-thirds of Herrick & Hooley: Ian Olney and Hunter Lewis. Together they make Nicotine's Famous Honey.
Ravyn Lenae arrived on the scene with an impressive mix of contemporary R&B that ever so slightly takes after Erykah Badu. She has made appearances on tracks headlined by Booker, Noname, Mick Jenkins and more — all while she was attending Chicago High School for the Arts. Wow.
Fatima is back with her latest single "Somebody Else" to give us a taste of her forthcoming LP later this year. Her Swedish background adds to the nomadic energy displayed in her sounds — however she is currently living in London. Another noteworthy point to be made about Fatima's success is her collaborations with a diverse array of musicians. There are few vocalists who can claim this.
You heard it right. RAY BLK (Rita Ekwere) won BBC's Sound of 2017 and was the first unsigned artist to do so. She is well known for her introspective and socio-political lyrics. Her rap-influenced vocals include a combo-hit sound of hip-hop, R&B and neo-soul – what more could your ears want?
Wafia (Electronic)
Wafia's intercontinental upbringing is evident in her dreamy, yet soulful sounds that play out in her electronic handiworks. Through her latest EP VIII, she aims to portray growth – growth as both an individual and an artist. She is hoping to release a larger body of work in 2018 so stay tuned.
R&B singer-songwriter Ella Mai continues to blow us away with her talent that was first recognized at the age of 12. Her latest release "Naked" encapsulates her powerful voice and sassy demeanor, but speaks to the hearts of most human beings and the cry to be loved and seen without the layers that are built up over a lifetime. She is a well-spoken and driven female who has a bright future ahead.
Jorja Smith's ever-growing international profile is of no surprise once you've experienced her soulful, jazz-tinged cadence, heartfelt lyrics and retro approach. The versatility she uses in her creations speak to her true talent, and she's not stopping anytime soon. Give her latest single "Let Me Down" featuring Stormzy a listen and see it for yourself.
Rapsody AKA Marianna Evans is an American-made beauty who delivers a musical palette that navigates R&B, soul and hip-hop. Her track record of collabs include Kendrick Lamar, Anderson .Paak, Busta Rhymes and many more, but her witty and honest lyrics are a taste of refreshment that are even more impressive. Check out her latest release, Laila's Wisdom, for a more than satisfying treat.
Editor

Teresa Lam/Hypebae
---
Share this article