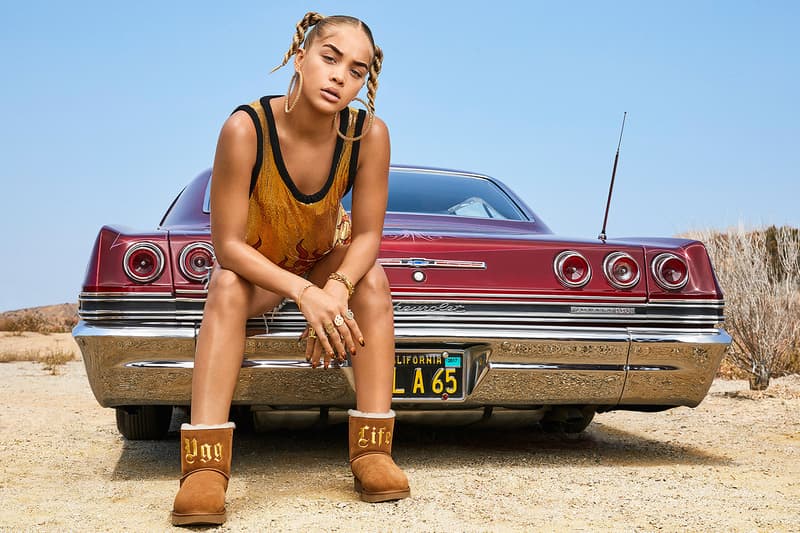 Footwear
Are UGGs Basic No More? The Fashion Industry Seems to Think So
In defense of the notoriously ugly boots, here are three reasons to embrace the UGG life in 2018.
Are UGGs Basic No More? The Fashion Industry Seems to Think So
In defense of the notoriously ugly boots, here are three reasons to embrace the UGG life in 2018.
Hear us out before you start raising those eyebrows. Like many, we're dumbfounded to see two brands putting UGGs on the runway during the recent Paris Fashion Week Men's — what are the chances, really?
First it was cult French label Y/Project, which made headlines after debuting some head-turning, crotch-high UGG boots at its Fall/Winter 2018 show. And before the buzz has even died down, Sacai's Chitose Abe also unveiled her own take on the notoriously "basic" shoes at her latest menswear presentation. It's easy to be skeptical and disapproving, but we'd like to believe that these designers are bringing UGGs back to the fashion spotlight for a reason.
Millennials would be able to recall the heyday of UGGs. Back in the early 2000s, the fleece-lined, sheepskin boots were well-loved by Paris Hilton, Kate Moss and the Olsen twins among other celebrities and fashion icons. It's a global phenomenon that girls everywhere related to. Like many style trends, however, the UGG craze eventually dwindled and the fuzzy boots that were once sought after are forgotten.
Some would rather have it remain that way for years to come but post-PFW, we're beginning to see the ugly-chic shoes in a new light. Love it or hate it, below are three reasons why you should give UGGs a second chance in 2018.
1. It's the Ultimate Cozy Girl Staple
If you're not quite convinced that UGGs should be making a comeback, then take a look at Aleali May's perfect demo of styling the boots. The celebrated stylist was recently spotted wearing the Sacai x UGG boots fresh off the Japanese brand's runway show. And albeit reluctantly, we have to say that the shoes do look great with Aleali's outfit.
In the past year or so, the cozy chic look has been all the rage within the streetwear community. And with fashion rediscovering its love for puffer jackets, Champion sweats and super oversized hoodies, UGGs naturally make the ideal footwear to complete any cozy ensemble.
2. It Fits Perfectly Into the Ugly Shoe Trend
After Christopher Kane and Balenciaga's Crocs, and not to mention a slew of chunky dad sneakers from the likes of Vetements, Acne Studios and Kanye West's YEEZY, we honestly should've seen this one coming. The "ugly" shoe trend is unstoppable and it's only going to get bigger in 2018.
The Jeremy Scott x UGG collaboration released last year, which saw the boots painted with flames and bejewled with the words "UGG life," actually blend so seamlessly into this new footwear norm. If you're willing to pay almost $1,300 USD for a pair of kicks that look beaten-up and dirty, why wouldn't you consider adding these so-bad-it's-almost-good boots to your wardrobe?
3. Let's Face It — It's the Perfect Shoe for Winter
Ditch your Gucci loafer slippers in winter, because even the fur-lined ones aren't going to keep your feet warm enough when it's freezing outside. However, the UGG boots will. Constructed with water-repellent uppers and fleece inner lining, you've got to admit that these high-tops are excellent for those colder months of the year.
Y/Project has literally taken things up a notch with a crotch-high design, which can probably make your feet and legs feel the warmest they've every felt during the wintry season. Also, we can't help but compare the extreme silhouette with Vetements x Manolo Blahnik's insane thigh-high boots from Spring/Summer 2017. If those towering boots were Rihanna-approved, then this UGG iteration might well be a new Bad Gal favorite.
Share this article