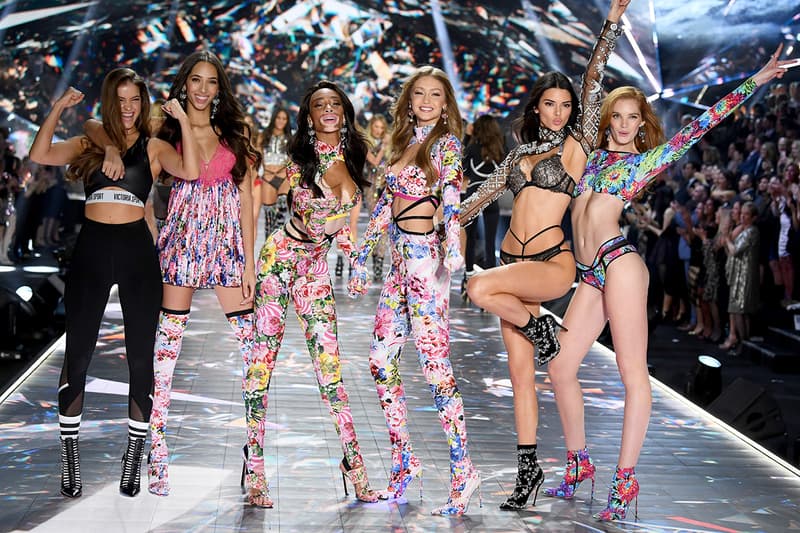 Fashion
Maybe Victoria's Secret Is Learning Its Lesson on Cultural Appropriation, but Body Diversity Is Another Issue
The lingerie megabrand keeps missing the mark.
Maybe Victoria's Secret Is Learning Its Lesson on Cultural Appropriation, but Body Diversity Is Another Issue
The lingerie megabrand keeps missing the mark.
The Victoria's Secret Fashion Show is one of the biggest, most extravagant fashion and entertainment events of the year and last night it took over New York City. With a $1 million USD Swarovski diamond-studded fantasy bra on display, modelled by Elsa Hosk and megastar performers like Halsey and Shawn Mendes, 2018's show was as star-studded and over-the-top as always. Despite all the glitz, glamour and celebrities (Kendall Jenner, Bella and Gigi Hadid all walked) its likely one thing remained at the forefront of discerning viewers' minds; has Victoria's Secret finally learned from its mistakes?
As recently as last year, Victoria's Secret has been called out for cultural appropriation – in this instance, many looks in the "Nomadic Adventures" show were inspired by traditional tribal and Native American garments including feathered headdresses and beaded body jewelry. This wasn't a one-off; in previous years, the brand has come under fire for pieces that were insensitive toward Chinese and Indigenous cultures. Whilst this years show won't air until December, images from the event have already been widely circulated online.
With over a whopping 70 looks shown, the 2018 event seemed to be pretty scandal-free in terms of the garments themselves. Featuring a Scottish-inspired segment, where models donned ultra-mini kilts, tartan bras, Argyle socks and even a sporran fashioned as a belt bag, held in place with a slinky waist chain, the show swiftly moved into glimmering crystal and feather-laden creations and the star-studded celestial-themed pieces. Interestingly, there was a section titled "Downtown Angels" that featured retro merch-inspired tees with VS Angel's faces on them and heavy chain link jewelry, which isn't entirely unproblematic. Aside from this, the 2018 offering was probably less terrible than we thought it might be. The main thing that was a major issue, however, was diversity.
Victoria's Secret has always, generally speaking, been fairly diverse when it comes to race – at least more so than many other brands out there. Yes, there's always work to be done in ensuring people of as many backgrounds as possible are represented, but VS isn't doing too badly on that front, especially with its tradition of holding the show in different locations across the world. What the brand is severely lacking in is representing body types that are anything other than what the mainstream determines as "ideal." This means plus-size, tall, petite, disabled, non gender-conforming bodies that the majority of us have, even when there are trailblazers like Ashley Graham, Hari Nef and Hanne Gabe Odiele whose profiles – and careers – are going from strength to strength.
Although this year's lineup did include Winnie Harlow, a model who has vitiligo, it's worthwhile noting that she also fits the conventional modelling industry standards. Where brands like Savage x Fenty, Aerie and LIVELY (launched by a VS alumn) champion the everyday people, Victoria's Secret it seems, sets out to exclude them from the narrative entirely. Speaking to Vogue Edward Razek, CMO at Victoria's Secret stated "We attempted to do a television special for plus-sizes [in 2000]. No one had any interest in it, still don't." To say there's no interest in plus-size people being represented is a fallacy;  sure, plus-sized models don't need their own special show – they need to be included in the one that already exists.
Additionally, if you were wondering why you might not see any transgender people represented, Razek has an answer for you there too: "Shouldn't you have transsexuals in the show? No. No, I don't think we should. Well, why not? Because the show is a fantasy." Not only did Razek use a term that's generally unfavorable to describe trans people, he indicated that trans people aren't welcome to live in VS' fantasy world and by default, not Victoria's Secret's preferred consumer.
Just taking a look through the archives of the Victoria's Secret Fashion Show, it's painfully easy to see just how little has changed. Angels who've earned their wings have always had one thing in common – the exact same body shape and the brand hasn't strayed from this norm since the debut show in 1995. Society as a whole has progressed, but Victoria's Secret has stagnated and the fact that 2017 show had the lowest ratings ever, and that sales are reportedly in decline only goes to show that if the company doesn't adapt, fast, it may well be surpassed by more inclusive and supportive brands.
Where it might have made some baby steps in the right direction when it comes to respecting other cultures, Victoria's Secret and it's namesake fashion show is severely behind the times with inclusivity. Perhaps Razek himself put it best when he said 'We market to who we sell to, and we don't market to the whole world." It seems the outdated, fantasy world Victoria's Secret exists in, isn't one most of us want any part of anyway.
Share this article