Meet LIVELY, the Lingerie Brand Redefining Sexy with Its Inclusive Underwear
Victoria's Secret alum Michelle Cordeiro Grant is making intimates you'll actually wear.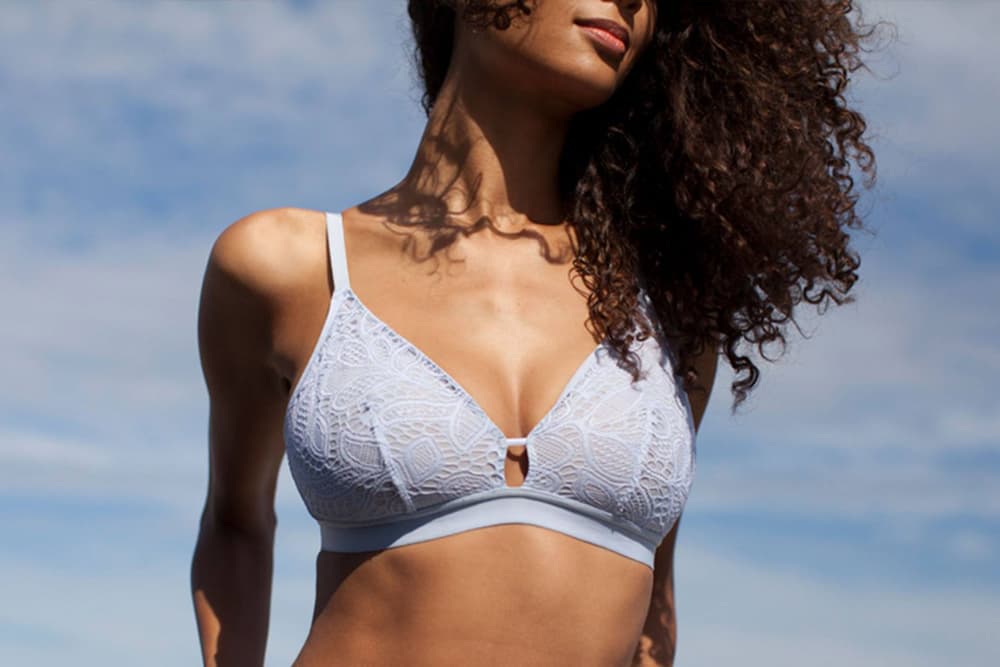 In an age of diversity, the lingerie industry is seeing a major shift in consumer taste. Restricting and excessively flirtatious underwear designs simply won't do it for millennials. The post-normcore crowd places comfort before anything else when it comes to personal style, and that begins with bras and briefs that actually fit properly without causing pain or chafing.
Having previously worked at Victoria's Secret and learning how a single brand had been dominating the market, Michelle Cordeiro Grant takes it upon herself to change the narrative with her body-positive lingerie brand, LIVELY. Fusing athleisure and intimates, the label produces minimalist-chic and comfy undergarments for girls and women of all sizes — we're talking up to cup size DDD. This spring, LIVELY is even branching into the beauty category with its first-ever fragrance, which perfectly complements the effortlessly cool feel of its underwear range.
We recently caught up with Michelle to talk about everything from how she started her company to why inclusivity plays such a major role in LIVELY's branding. Read on for our full conversation.
To purchase LIVELY's debut fragrance Jasmine. Sea. Sun., head over to wearlively.com.
What motivated you to start your own lingerie brand in the first place?
While at Victoria's Secret, I realized that this $13 billion USD lingerie category in the U.S. alone was dominated by this one brand, with one POV. I knew that one day I was going to create a completely new experience for the bras and undies category, that was inspired by real life. The concept of LIVELY began around what I always thought was missing from the lingerie category — a brand that delivered on what it means to be sexy today — smart, healthy, active and confident. Now more than ever, women are finding an incredible amount of confidence and appreciating their individual beauty. LIVELY sets out to delivers on high style and ultimate comfort in one place so you can live your life 14 hours a day and not compromise. Looking back, it's amazing to see that every experience truly shaped the ethos and purpose of this brand and where I landed.
At LIVELY, you've started a new movement called Leisurée. Can you tell us a little bit about the meaning behind this concept?
With our mission in mind, and our experience in hand, we knew we wanted to do things differently. At LIVELY, we wanted to wipe the slate clean and take our time pulling together elements of high style, function, femininity and comfort that we personally love. We started by buying yoga pants and cutting the waistbands off and stapling them to feminine bralettes because this is what we wanted to wear all day. Before LIVELY, I used to live in my bikinis all summer because there wasn't a bra that gave me that same sensibility that I could show under my tank. We realized that the end product was so authentic in concept and design that we created a whole new product category — one that blurs the lines of active, lingerie and swim called Leisurée.
How did your time at Victoria's Secret impact the way you run your own business?
Working for a top retailer like Victoria's Secret teaches you how critical it is to create a strong brand with a clear point of view. To create a world-class brand, it does not just live with the product alone, it is about the entire experience. The product, the packaging, the shopping experience, the customer service and the inspiration the brand constantly reminds consumers of day after day. Travelling the globe to meet with world-class manufacturers also makes you understand the importance of building a quality product — no smoke and mirrors. I gained experience and knowledge on the best trims, components and suppliers. Bras have 25-40 components. It is one of the most complicated products to make. Therefore to make a quality bra, you need a team with experience and expertise.
What are some design elements you've incorporated in your lingerie line to make it appeal to the modern woman?
LIVELY pulls together elements from active, lingerie and swim to build a new POV. We draw in the best components of function and femininity when it comes to our design elements: memory foam pads, front adjusters, J-hook backs and gorgeous geometric laces. By combining all of these elements we have created a brand and product that can have a women's "back" for 14 hours a day.
Inclusivity plays a huge role in LIVELY's brand identity. From product sizing to campaign imagery, how do you ensure that your brand is catering to different consumers?
Since LIVELY's inception, the development of the brand has been rooted in an open dialogue with our community. The process of listening to what our girls need and want from us, and incorporating them into our process is in the DNA of everything we do. The launch of the Busty Bralette is a perfect example of this and demonstrates our brand in its truest form. It is built on a campaign that we could not be more proud of. One that is so deeply based on our LIVELY crew and community.
Our DD and DDD girls asked us to make a bralette for them and not only did we deliver, but we incorporated them in every facet of the marketing and sharing of this new launch. It has been heralded as a groundbreaking style — creating a bralette specifically for a wider range of sizes. The response from the community has been incredible — The Busty Bralette sold out in less than 24 hours. After the launch, there were over 3,000 people on the waitlist, having already pre-ordered the Busty Bralette knowing it would be months before a restock. We have seen how much this piece resonates, not just in sales, but as a dialogue on social, with the press and traffic well beyond anything we have seen.
Our goal as a brand is to empower women with images that embrace body positivity. We want our girls to come to the site and feel amazing, feel included in our conversation, feel inspired to continue doing the things they love to do.
Shopping for bras online could be pretty tricky. How do you make it easier for customers to purchase the perfect style and size from your website?
We launched the LIVELY Girl Fit Guide, which features real women from our community, and a range of backgrounds, sizes and body types wearing LIVELY styles to show what fit is like. Through an Instagram open casting call, we had 30 amazing girls (our customers, followers and overall brand lovers) come to our office — telling their stories, trying on the pieces, sharing how it made them feel. Narrowing down to four, we created the LIVELY Girl Fit Guide.
During the shoot, the girls truly came to life, so clearly comfortable in their own skin and in the pieces they were wearing. Our goal as a brand is to empower women with images that embrace body positivity. We want our girls to come to the site and feel amazing, feel included in our conversation, feel inspired to continue doing the things they love to do. Quite simply, to continue #livingLIVELY. Since the creation of the Busty Bralette, we've done the same for our DD and DDD crew and have a 2.0 version of the Fit Guide. The energy on set is always incredible and completely infectious — it is the energy around our brand and community truly coming to life.
Apart from pop-ups, are there any plans to open a permanent, brick and mortar LIVELY store somewhere down the line?
2018 marks an exciting year for LIVELY as we are turning our online-only model into brick-and-mortar retail experiences. We just completed the first leg of our U.S. pop-up tour in Dallas where we created one-of-a-kind shopping experiences spanning across 12 in-store event activations ranging from a focus of self-empowerment to community networking. The next stop on our LIVELY tour is Nashville. We'll be there from April 5 to April 10. Regarding a permanent store — stay tuned for more updates, we're excited for what the future holds for LIVELY.
I hope that women and girls who struggle with body image realize that their biggest assets are themselves and that they don't need to conform and be like everyone else.
As someone who's trying to make a difference in the lingerie industry, what advice do you have for girls and women who struggle with body image?
We created LIVELY for women to celebrate their individual uniqueness and unlock their inner confidence. The purpose of LIVELY is to empower women, encourage nonconformity and celebrate individuality. I hope that women and girls who struggle with body image realize that their biggest assets are themselves and that they don't need to conform and be like everyone else. When they are able to tap into their inner confidence, they'll be able to enjoy life and live more passionately and purposefully.
LIVELY has recently expanded into the beauty category with its very first fragrance. What can you tell us about the perfume launch?
We are very excited about launching our first fragrance, marking our first expansion into the beauty category. The LIVELY fragrance called Jasmine. Sea. Sun. is an extension of our brand that our customers will want to wear everywhere. Using notes of jasmine petals and a hint of sea salt, these key ingredients enhance the elements that make you, you. We created this fragrance to be radiant from start to finish, inside and out and to take the LIVELY girl to a place where she can be free and feel empowered and confident. This is a scent for our crew that conforms to them and rests in the midst of their daily hustle.
What can we expect from LIVELY's beauty line in the future?
The most exciting part of this launch is that it is our first foray into the beauty category. We are using this launch as a learning experience to continue to expand into new products. Stay tuned for future updates but we can definitely say, for any future product we make, it will always drive back to our mission of the importance of self-care and that LIVELY's got your "back."