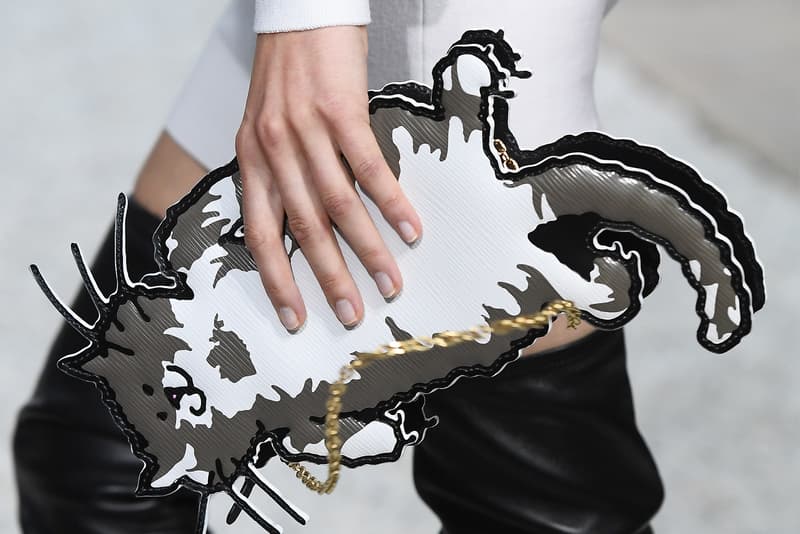 Fashion
Cats Are Taking over Luxury Fashion and Not Without Good Reason
The dog days are over – the proof is on the catwalk.
Cats Are Taking over Luxury Fashion and Not Without Good Reason
The dog days are over – the proof is on the catwalk.
I hate cats. How is it that an animal that coughs out fur balls and scratches furniture to oblivion is considered cute and adorable, capable of inducing love and devotion from obsessed owners? Frankly, the only thing cats have ever induced in me up until now are severe allergies. Half an hour around one and I'm swollen and suffocating.
So if it weren't for Tom Ford's pair of unapologetically loud bright pink, glitter covered, kitten-heeled sling backs with "PUSSY POWER" spelled in all caps across the vamp, I would never have batted half an eyelid at the cat trend that's once again making its rounds in fashion.
Thanks to the 2017 Women's Marches though, where the pink Pussyhat was worn as a new expression of female solidarity, everybody else's favourite pussycat is having its moment across all areas, including politics.
Designers have hopped onto this bandwagon with abandon – everybody grabbing back the proverbial pussy. Just this past International Women's Day, Olivia Von Halle, purveyor of luxury silk sleepwear created an exclusive set of pyjamas with the slogan, "My neck, my back, my pussy will grab back," stitched to the back of the shirt and paired the set with a sleep mask that has "Stay Woke" emblazoned in all caps. Profits went to Bloody Good Period, an organisation that provides menstrual supplies to those who can't afford them and refugees.
If any cats are still taking naps, they clearly aren't going to be able now. Once a sort of fringe basic bitch obsession, I blame the Internet for its rise. Apparently, Louis Vuitton and Gucci have emerged as the millennial's favourite brand because both engage with and appeal to millennial culture and way of living – and we all know any good millennial worth their salt is not going to be reading Alexandre Dumas, they're going to be scrolling through the 300 cat Instagram accounts they follow and updating their pet's own account.
Cue Gucci's perennially popular cat jumpers, which I begrudgingly admit that I kind of love. No longer a strange possibly cat lady, possibly Harajuku favourite, the cat has been adopted by the industry, in yet another bid to take some form of subculture and morph it into luxury fashion. The cats on the Gucci jumpers tend to depict some form of sassy cat. There's the angry cat set upon a rainbow jumper, there's the side eye cat, rendered in very good sketch with green eyes, there's the cat that's kind of rolling its eyes and many more. These aren't your average house pets. Fashion gives it attitude. Fashion has something to say.
It's an appropriate creature to take on the task of essentially sticking up the middle finger. These guys don't really need you, the affectionate owner. They don't really need an owner at all but they like you a little bit more if you feed them and provide your body as warm bed. Karl Lagerfeld, in his infinite wisdom, admitted to press years ago that he only got Choupette because he is too famous to be seen strolling down the street with a dog. Cats are illusive, answer to no one, require low levels of commitment and love to preen. Are you in fashion? Does this sound familiar?
It's why Grace Coddington, with her heavy fashion schedule can afford to keep not one, but two Persians – Pumpkin and Blanket. Both now star in the "Catogram" collection in Coddington's collaboration with Louis Vuitton alongside Nicholas Ghesquiere's dog Léon. Patches of all three cover everything from ready-to-wear and shoes to bags and leather goods. There's a particularly compelling clutch made up of a ragamuffin feline in mid-leap.
Basically, these days, fashion prefers cats to humans. Look at PUSS PUSS, a bi-annual magazine that sincerely celebrates all this cat from owners to pets. Have you been shot by Juergen Teller for a cover? I think not. But Coddington's Persian, Blanket has. Miu Miu has cats all over her collections every other year – this year is one of them. Head to stores or the Internet to get your cat embellished cotton t-shirt. Stella McCartney only just retired the Daria coat, a blazer with an all-over cat jacquard.
Who's to blame fashion for a bit of frivolity and sass though? It's a dark world out there. We're in a time where women are trying to take back agency and everybody is working through the muddied waters of everything from gender to race. A cartoon cat brings back a tiny bit of childhood levity and the connotations of mystery, independence and attitude make it a hopeful emblem of better times to come.
It's the same sort of logic that has seen a Mickey Mouse and Muppets surge across fashion brands this season. But that's a conversation for another article. In the meantime, if you've previously been allergic, it's time to take that Zyrtec and hop on board. I'm not kitten.
Editor

Zarah Cheng/Hypebae
Share this article