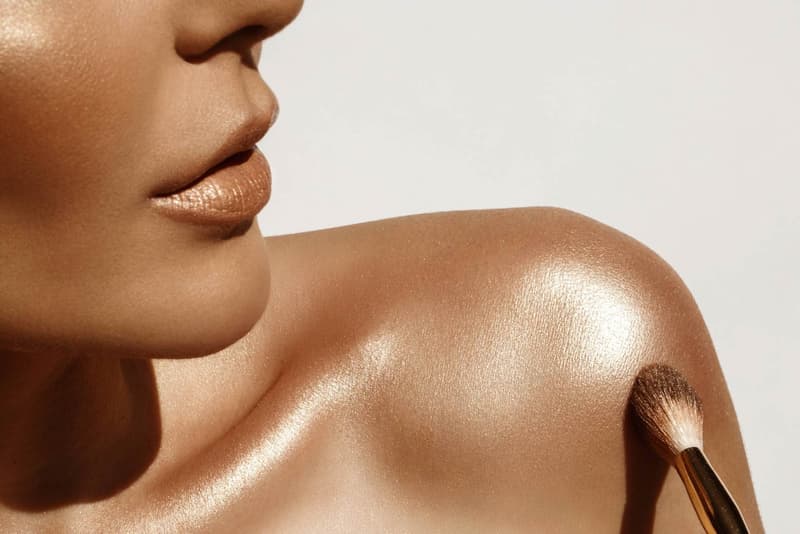 8 Affordable Alternatives to Rihanna's Body Lava Luminizers
Glow on a budget.
When Rihanna began to upload mini tutorials showcasing Fenty Beauty's new body highlights fans were elated. We later learned that the "Beach, Please!" collection included not only Body Lava luminizers, but also include a glitter-infused, pom pom and kabuki brush.
Instantly, ladies started to dream up ways they would use the skin highlighters that will be arriving in two shades: a rose gold "Who Needs Clothes?!" and bronzy "Brown Sugar." Some suggested that they would mix the gel medium with the brand's Pro Fil'r foundation and others wanted to test it out below the Killawatt pigments. Before the Internet could think of any other clever ways to apply the luminizers the price of the product was released and caused a small frenzy. The Body Lava is set to retail for $60 USD, a steep value for the seasonal beauty item.
We all want to glow like the Bajan pop star, but it looks like it'll truly cost us. Fenty Beauty products have always sold at the mid-to-upper range of makeup but this release puts the brand up there with products like NARS' Monoi Body Glow ($60 USD) and Tom Ford's Soleil Blanc Shimmering Body Oil ($100 USD). In an effort to save some cash we have rounded up eight body highlighters that retail for under $45 USD. You can still sparkle like a human disco ball without dipping into the savings account.
Two of our favorite picks include Frank Body's Shimmer Scrub and Melanie Mills' Gleaming Body Radiance lotion. The Shimmer Scrub has sold out every time it's been stocked but this week you're in luck. Using a combination of sugar, salt and nourishing oils, the scrub exfoliates and leaves behind hydrating and shimmering skin. Melanie Mills' Gleam Radiance lotion can be used to prime your face and illuminate the skin. The product is transfer-resistant and will last throughout a day of spring and summer activities. Among these options are six others that will have you looking like a glazed donut.
Peep our selects below.
---
Share this article