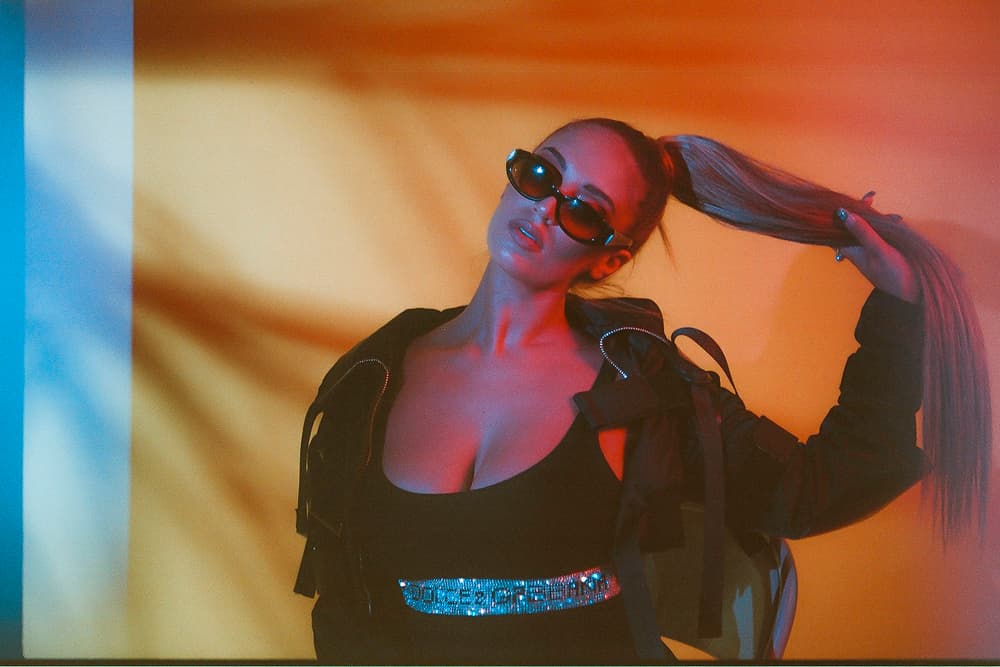 BAEwatch: Alina Baraz
The songstress breaks down the inspiration behind 'The Color of You.'
Alina Baraz is only 24 years old and she's just getting started. After teaming up with Galimatias for the critically-acclaimed Urban Flora in 2015, she dropped The Color of You, a surprise nine-track project officially introducing herself to the world on her own terms. The singer-songwriter gives a glimpse into what's to be expected from her debut album, with dazzling, warm vocals over sleek production that's become her signature sound. But don't even think about putting her in a box, just "listen to the music." If it's any indication, we're in for something special.
In our exclusive interview, we talk to Alina about the inspiration behind The Color of You, the challenges of being in the music industry, and working with Khalid. Learn more about our latest BAEwatch star by reading our conversation below.
Tell me a little bit about your background. What was your childhood like relative to music? When did you first know you wanted to pursue music?
I grew up in Ohio. My parents were both classically trained and, so I grew up mostly around the piano because they both played it and composed themselves. That's my earliest memory of [music]. And then I kind of looked up to my brother and he was obsessed with hip-hop, so I think it was a blend of classical music and hip-hop and then R&B.
I remember from a very young age, I've always wanted to do music. It was a really weird mentality that I lived with because I grew up thinking I couldn't sing, but at the same time I knew it would be my career. But I'd always planned and dreamed about it maybe since sixth grade.
What is your creative process like?
I think it changes with every project. My first project that I had made, I didn't know what anything was and I didn't have any comparisons or anything, so it was just kind of falling out of me. Whereas this time around for The Color of You, I wasn't really looking back on a moment. I would just go to the studio and the song was made right there, and I kind of captured my mood of the day rather than looking back on a situation and trying to understand it. I just kind of tried to understand myself, how I was feeling that day.
A lot of people describe your sound as R&B electronic. Do you agree with that description?
No, I don't think I'll ever be content with my own answer, which is why I don't really answer what the description of my music is. I think I would just kind of start confusing myself and probably others more. The only thing I could really call it is, I would like it to form into your mood. I don't really want to bring you as much into my world, I want to go into yours, and I want it to just kind of live in whatever moment you want it to be.
What do you draw inspiration from the most?
Sound-wise, no matter what my environment inspires me. So I think it's just mostly my environment. Colors inspire me.
Is that where the title The Color of You comes from?
The Color of You came from me trying to capture the moment someone or something coming into your life, and you don't really know what it is, and I don't have anything to compare it to. So to me, I looked at that person as a color that didn't exist and it's me trying to define what exactly that is and what that color is.
Switching gears a little bit, I'd love to know how you met Galimatias and created Urban Flora? What was that like?
It's one of my favorite stories because everything about it is not-of-this-life feeling. I discovered him originally on SoundCloud and it was during my favorite time of music on SoundCloud in, like, 2013. I discovered his song and we ended up talking over SoundCloud. Then we just made the project over the Internet — we met when the project was done. We just communicated over Facebook Messenger.
I look back at it now and I had never made a project or any type of musical piece before, so I had nothing to compare it to. I feel like if I went back and did it with someone else now, it just wouldn't work. I think it was a really special, rare type of moment. I think the bond and the connection has to be strong enough for you to just do something when you're in two different countries across the Internet. But I look back at it now and think of it as this magical, out-of-worldly experience. He was in Denmark and I was living in LA at the time.
What did you want to accomplish with The Color of You as your first solo project? Is there a certain story you wanted to tell with it?
I think what I really wanted to accomplish was getting out of my comfort zone. After Urban Flora, I didn't really expect the reaction and the success of it, but I think a lot of pressure and expectations came into the way. So, my one goal was just to make music purely out of expression and not because someone is expecting me to make something. I feel content with that as my one goal.
You're getting the purest, closest to me that you could get and I wanted it to just be very direct. I love using metaphors and I love writing poetically, but I didn't really want to hide behind a metaphor this time. I wanted it to be an exact timeline of my life where I could pinpoint this is where it started and this is where it ended.
A lot of your music is about love. Is that a theme that resonates with you the most?
I'm forever writing love stories or about love. I think it's a huge part of my life and something I'm constantly trying to decipher, and it's always been alluring to me to capture every stage of it. I got to really capture the good things about it on Urban Flora and then with The Color of You, I think I was less afraid. I let go that it was a burden to talk about the bad things that happened. I love talking about every stage of love.
You have two songs with Khalid on the project. What was it like working with him?
Khalid is just my favorite person. I love his energy. The first time around we were in two different states making ["Electric"] and for "Floating," we got to work in the studio. I don't really believe in things meant to be or destined, but every time we get on a track, it feels like this is exactly what I'm supposed to be doing.
Do you have any dream collaborators?
I would love to collaborate with André 3000. I'm just very inspired by him stylistically, sonically. Down to a basic, I just love his voice.
I know you performed at Coachella this year, what was that like for you? Do you prefer performing in smaller venues or festivals?
Coachella, for me, was a milestone. I promised myself I wouldn't go until I was on stage. So it definitely felt like a milestone and it felt like I had reached the closest as to what I want to be as a performer.
I appreciate any live aspect, whether it's a festival or my own show. I will say I love my own shows just because I get to do meet-and-greets after and I get to physically talk with every single person and see the impact, and just kind of exchange energy. But at a festival, it's always really cool inviting new listeners and I also just love a sunset performance outside. There's really nothing like it.
What would you say is the biggest lesson you've learned as you're navigating your way through this industry? Were there any specific challenges that you've had to overcome?
I think the biggest lesson I've learned is just to remember my roots, remember why I started this, and do things not from expectation and pressure, but through expression. The biggest challenge was that time period after Urban Flora. It was really just a time when I felt like every single piece of music was because someone expected it of me and I overcame that. It was really as simple as me realizing I just have to go live my life and find the need to express myself again.
What do you want people to know about Alina Baraz?
I want you to listen to the music because as soon as I try to explain anything, I think I just get lost in translation. I just want you to listen to the music.
So what's next for you?
What's next for me is going back into the studio and finishing the next piece of work.
Will it be your debut album?
It's going to be another piece of me.
On another note, you have a great sense of style. What are your fashion rules?
Throw the word safety out and just go with however you feel that day.
Editor

Teresa Lam/Hypebae
Share this article