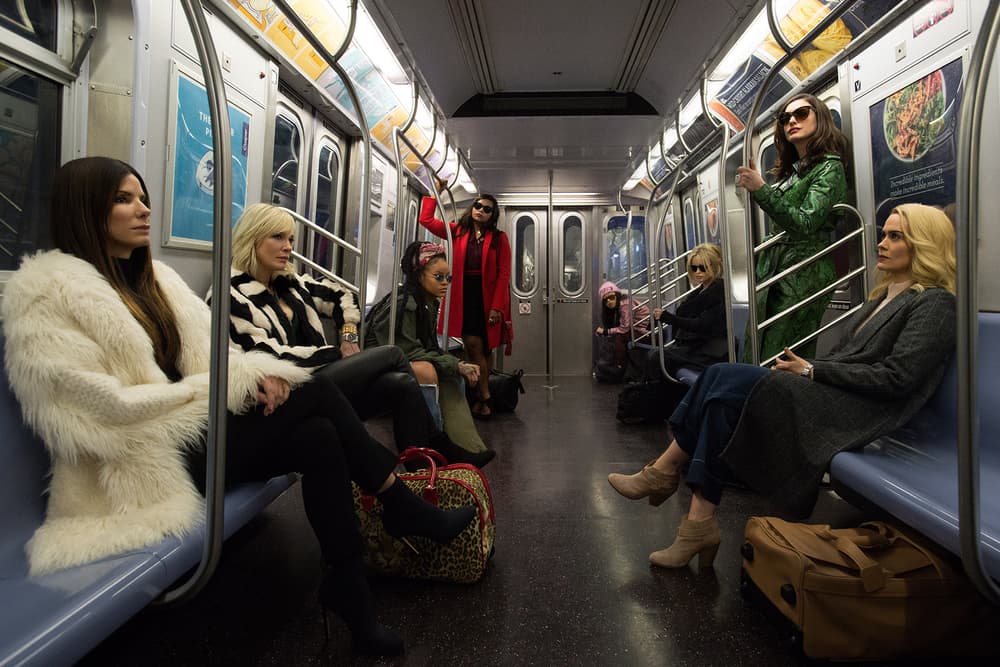 Culture
8 Things You Need to Know About 'Ocean's 8' Before Watching the Movie
Meet the baddest con women who're robbing the Met Gala.
8 Things You Need to Know About 'Ocean's 8' Before Watching the Movie
Meet the baddest con women who're robbing the Met Gala.
Making Friday night plans is easy this week thanks to the official release of Ocean's 8. Ever since the all-female successor of the Ocean's franchise was announced back in 2016, we've been eagerly awaiting to see what Sandra Bullock and co. have to offer, especially with our favorite Bad Gal Rihanna featured in the movie. Well, the wait is finally over. Today (June 8) marks the general release of the summer blockbuster in the U.S. and a few other countries, and we simply can't wait to see it for ourselves.
For those who've been following the news surrounding Ocean's 8, you'll probably know by now that the film is a parallel story to Ocean's Eleven, focusing on Bullock's role Debbie Ocean who's attempting to pull off a major heist at NYC's fête of the year, the Met Gala. Plot aside, we've gathered some more information about the film that you might be curious about.
Before heading to the cinema this weekend, check out eight things you should know about Ocean's 8 below.
1. The Movie Is a Spin-off to the Ocean's Trilogy.
As suggested by its title, Ocean's 8 is essentially a spin-off to the George Clooney-led Ocean's Eleven trilogy, which debuted back in the early 2000s. While Clooney's master thief character Danny Ocean is absent from the new movie, his connection to the Ocean's brand remains. In the reboot, Sandra Bullock plays Debbie Ocean, the estranged sister of Danny who's just released from prison and has quickly had her mind set to instigate a massive-scale robbery. Why? Simply because it's what she's good at. Needless to say, scheming runs in the family for the Oceans.
2. What Exactly Is Debbie Ocean Trying to Steal?
"In three and a half weeks, the Met will be hosting its annual ball, and we're going to rob it," says Debbie in an official trailer. Having her eyes on an opulent diamond necklace worth over $150 million USD, the protagonist attempts to organize what's described as "the heist of the century" at the star-studded Met Gala – but not without the help of an all-star team. For those who're wondering who the gang is trying to steal from, the target is Daphne Kluger (played by Anne Hathaway), a socialite who's invited to the Met Ball.
3. Who Are the Ocean's 8?
One of the things that get us really excited about the film is its all-female cast. In addition to Bullock's Debbie Ocean, the squad is made up of several other badass women including Debbie's partner-in-crime Lou (Cate Blanchett), millennial thief Constance (Nora Lum, AKA Awkwafina), Caribbean hacker Nine Ball (Rihanna), jewelry maker Amita (Mindy Kaling), fashion designer Rose Weil (Helena Bonham Carter), and finally Tammy (Sarah Paulson), a suburban mom who happens to deal in stolen goods. Now the real question is, who is that mysterious eighth member of the gang? Some speculate that it's Hathaway's Daphne Kluger, making the heist an inside job. At this point, however, we're not sure if that's actually the case. For those who've already seen the movie, no spoilers, please.
4. Expect to See Many Celebrity Cameos, Including Anna Wintour and the Kardashian-Jenners.
As if it doesn't have enough star power already with its core ensemble, Ocean's 8 includes a long list of celebrity cameos that you'll be surprised to see on the silver screen. With Debbie's planned robbery taking place at the Met Gala, it's only natural that real-life regulars of the event appear in some of the scenes. The likes of Kim Kardashian, Kendall and Kylie Jenner, Gigi Hadid, Lily Aldridge, Serena Williams and Hailey Baldwin are said to be making appearances in the movie. According to ELLE, a number of designers including Alexander Wang and Zac Posen are featured in the film as well. And of course, Vogue's very own Anna Wintour is in it, too.
5. The Film Is Directed by Gary Ross, Best Known for Pleasantville and The Hunger Games.
In addition to an A-list cast, Ocean's 8 has brought together a top-notch crew as well. Famously known for his 1998 comedy-drama Pleasantville as well as The Hunger Games (2012), director Gary Ross co-wrote the screenplay of the film with newcomer Olivia Milch. Notably, director Steven Soderbergh and executive producer Susan Ekins of the original Ocean's movies both serve as producers of Ocean's 8. As longtime friends and colleagues for nearly two decades, it made perfect sense for Ross and Soderbergh to join forces on this project, but the team wouldn't be complete without recent Yale graduate Milch (who, by the way, is only 29 years old). Ross reflects on the collaboration in an interview with /Film,
"I reached out to Olivia Milch, because…this is about eight women and I'm not arrogant enough, and hopefully not stupid enough, to think that I can write that by myself, and this was somebody with whom I'd had a collaboration on a couple other things before. And I love Olivia, and I hadn't really written with anybody since Big, with Anne Spielberg. Ever since Big…I'd written everything by myself, and suddenly I was just in this really cool world where I had a collaborator again."
6. What Is the Significance of the All-Female Cast?
From the very start, Ross knew that he'd work on Ocean's 8 only if the movie centers around women. In the same /Film feature, the director cites The Hunger Games, which stars Jennifer Lawrence as the strong and empowering character Katniss Everdeen, as a source of inspiration for his latest work:
"After Hunger Games, the thing that sort of stayed with me after I left the franchise, that resonated me the most, was how girls were taken with and moved by the fact that there was a protagonist in a movie that they could relate to that they hadn't seen in a movie like that before, and that that was so resonant to them and that it made a difference to them."
Realizing that there hasn't been any heist drama in film history that for once puts the spotlight on a group of con women, Ross decided to create his own story — and the idea of Ocean's 8 was born.
7. Who Is Responsible for All the Amazing Costumes We Have Seen So Far?
A stellar cast (and a Met Gala scene) calls for an equally outstanding wardrobe department. Delivering all the outfits in Ocean's 8 is costume designer Sarah Edwards, who gave each and every character an instantly recognizable look that we remember by heart just by watching the trailers. In an interview with Hollywood Reporter, Edwards breaks down the closet of each actress: Bullock's character is mostly seen in minimalist pieces by Stella McCartney and Prada, while Blanchett's look is informed by rock musician Keith Richards, made possible by custom Burberry velvet suits and retro accessories. On Rihanna's Nine Ball, the designer notes that the singer-slash-actress completely embraced the Bob Marley-esque baggy jeans and army jacket combo, which is a signature of her character.
8. When Is Ocean's 8 Releasing Outside of the U.S.?
Following the premiere of the film in New York on June 5, Ocean's 8 will be hitting theaters across the globe on different release dates. Head over here to find out when you'll be able to watch the movie in your country.