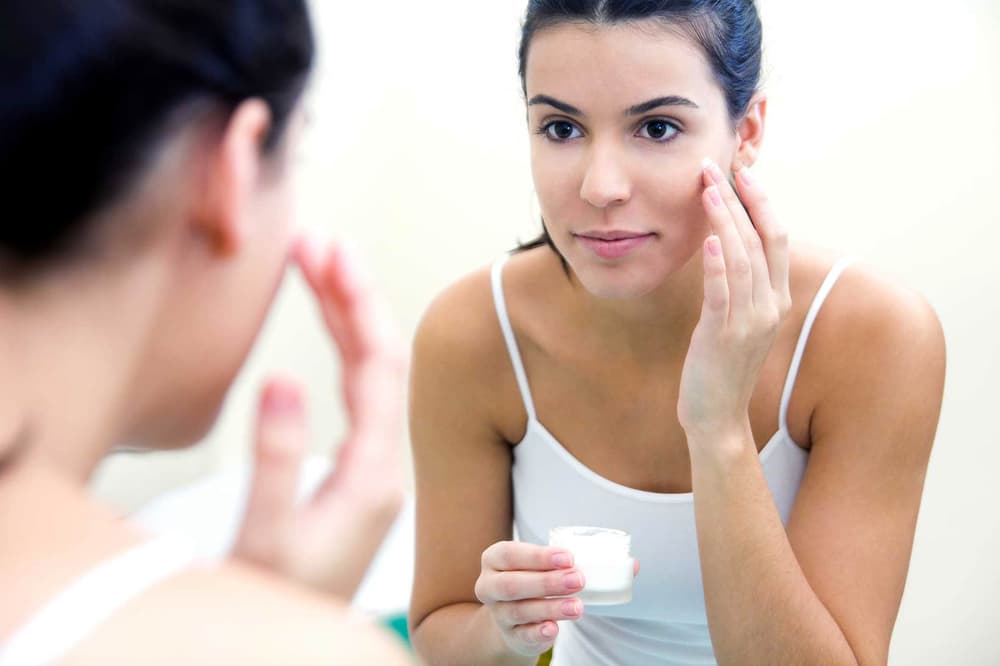 This Is How I Prevent Acne Breakouts When I'm on My Period
Works every time.
It's a brutal cycle. Every 28 days when my period begins not only does it bring cramps and a bloated mid-section — it also causes acne. Honestly it's not the breakouts that bother me but more so the scars they leave behind. Acne-related hyperpigmentation is difficult to get rid of so I'd rather avoid it if possible. After months of trying out different products I've finally locked down a reliable routine to stave off any pimples or bumps. What's important to realize is that hormonal acne is a result of excess oil production in the skin. Often women are urged to try birth control but the right topical formulas can do the trick as well.
I begin with making sure my face is as clean as possible. Makeup, sweat and other oils build on the face causing clogged pores that can become even more inflamed during this time. For a morning wash, I pick up Panacea's Aegis Daily Facial cleanser. This sulfate-free cleanser foams up to draw out impurities without stripping the skin. It's important to maintain moisture which is what exactly this product helps with. At night, I use Peter Thomas Roth's Acne Face & Body Scrub that gently exfoliates the face with one-percent salicylic acid. I use this miracle worker daily until my cycle ends to ensure that I won't be hit with an unexpected breakout.
Face masks and chocolate are mandatory during this time. My two favorite masks to switch between are Generation Clay's Detoxifying Charcoal Clay Mask and Dr. Roebuck's Hydrating Mask. The charcoal mask helps keep my oily skin in check. Aloe vera and witch hazel work to minimize the appearance of pores and soothe the skin. What I've learned the hard way is that you have to hydrate your skin all year long. Dr. Roebuck's Icebergs mask is infused with red algae, hyaluronic acid and cucumber to refresh and replenish the skin.
Before I tried out retinol I was hooked on products with benzoyl peroxide. This ingredient is popular in drug store acne treatments and for the most part is effective. One of its side effects is dryness which is something I refuse to add to the equation when my body is already under attack. I've been slowly introducing ASARAI's Sleepercell Retinol Serum into my nighttime routine and the results have been unbelievable. The Vitamin A formula works to correct scarring, uneven skin tone and signs of aging all at once. By using these products, I no longer wake up to any additional surprises. My skin is clear and I can continue to live my life peacefully despite my shedding uterus.
Share this article