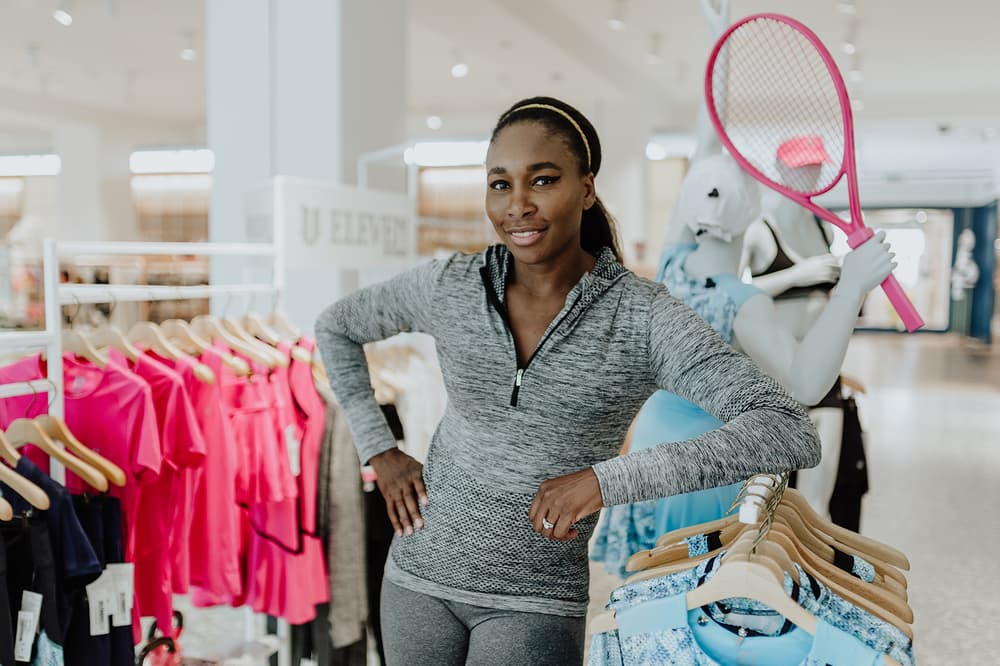 Fashion
Venus Williams on the Best Advice Serena Ever Gave Her and Juggling Careers in Tennis and Fashion
We speak to the athlete at her EleVen pop up in Selfridges.
Venus Williams on the Best Advice Serena Ever Gave Her and Juggling Careers in Tennis and Fashion
We speak to the athlete at her EleVen pop up in Selfridges.
By now, Venus Williams' name is easily synonymous with tennis. The multiple-time Grand Slam and Wimbledon champ is widely regarded as one of the greatest tennis players of all time alongside her younger sister Serena, but she's also been serving up aces when it comes to activewear.
Having successfully obtained a degree in fashion design from the Art Institute of Fort Lauderdale in 2007 (the same year she won her fourth Wimbledon title), Venus launched her fitness apparel brand, EleVen, which has been growing steadily ever since. Applying her first-hand knowledge of the technical fabrics and practical elements athletes actually need when it comes to activewear with her keen eye for detail and design, EleVen is the perfect fusion of fashion meets function. We caught up with Venus at the EleVen pop-up in London's Selfridges to talk about the brand, the best advice she's ever gotten from Serena and of course, Wimbledon – read on for more and to take a peek at the new Atlanta range by EleVen.

Do you have any personal mantras before stepping on court?
Yeah, just enjoy the battle.
What's the best piece of advice Serena's ever given you, about tennis or life?
Yeah! She says "If you take your opportunities, more will come."
When you first launched EleVen, how did you approach design? Was it more about what you thought was lacking in activewear at the time, or updating items that were already available?
I think part of it in the very beginning was about what was lacking but really now it's about my vision and what I'd like to see in activewear and just forever pushing the fashion envelope.
"If you take your opportunities, more will come."
I can't imagine how tricky it must be managing two very different careers. How do you find the time to juggle it all?
If it was just me, it would never happen. I have a great team and they love EleVen just as much as I do and it's all of our babies and the baby just keeps growing up.
Last time you had a new range you launched it in Hong Kong, right?
Yeah, we did an exclusive capsule collection with Lane Crawford, another amazing department store. It's amazing to be able to go to Hong Kong and see people appreciate the collection and get people moving and looking fashionable.
What made you choose the UK and more specifically, Selfridges, as the best fit to launch the new collection?
Selfridges is extremely fashionable – it's really the place to shop in London so it makes sense to have this partnership and it's been amazing to have the pop-up start right during Wimbledon.
When you're in London, where is your favorite place to check out? 
The good problem to have is not check much out because you're playing a match. If you're not playing a match, it means you're not in the tournament. So, I like to check out Centre Court at Wimbledon!