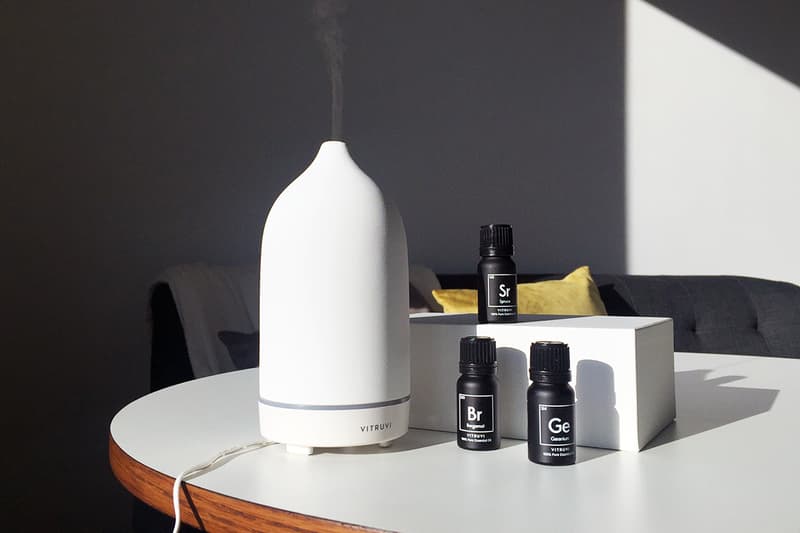 Beauty
7 Tips on Using Essential Oils to Improve Your Sleep and Boost Your Beauty Routine
Here are the basics.
7 Tips on Using Essential Oils to Improve Your Sleep and Boost Your Beauty Routine
Here are the basics.
Scents such as lavender and bergamot are believed to be effective in lifting our mood and helping us unwind after a long day. If you ever need a hangover cure or something to help improve the quality of your sleep, essential oils will be your best bet. While they're usually used with a diffuser to fill a room with fragrance, essential oils can actually be used in conjunction with products in your makeup bag and skincare cabinet to spice up your beauty routine. Certain scents are also great for adding a soothing aroma to your bath.
To learn more about the benefits of essential oils, we've consulted with co-founder of Canadian lifestyle brand vitruvi, Sara Panton, about some of the best and safest ways to use them. Continue reading for some tips on incorporating essential oils into your daily life.
To shop vitruvi's Stone Diffuser and essential oils, head to the brand's website.
What are essential oils typically made of?
Essential oils are extracts taken from plant materials such as leaves, flowers, bark or resins. The highest quality oils are extracted by one of two methods: steam distillation or cold pressing. These two methods ensure that the oils are completely natural and don't use any chemical solvents or extraction solutions. When purchasing essential oils, it's important to make sure they are 100-percent pure, which means they have absolutely no fillers, diluting oils, synthetic fragrances or unnatural components of any kind.
What are some ways to incorporate essential oils into your skincare or makeup routine?
At vitruvi, we are passionate about incorporating essential oils into beauty and skincare routines — it's a super simple and natural way to elevate your existing skincare rituals and allows a woman to completely personalize her skincare routine to her skin needs in that moment. When applying essential oils to the skin (especially for the first time), it's important to mix them with a carrier oil and do a small patch test on your skin — just to make sure you aren't sensitive to them. We love using essential oils like lavender, grapefruit, geranium, sweet orange and ylang ylang in our beauty and skincare routines because they're super gentle and smell amazing.
Here are a few of our favorites tips and tricks:
Lavender Lashes: Mascara typically has a shelf-life of six months. Because lavender essential oil has natural antibacterial properties, adding two drops to your mascara tube can help extend the shelf life for up to two weeks. Plus, the soothing floral scent can be a wonderful addition to your morning makeup routine.
Sweet Orange Moisturizer: Citrus essential oils are packed with vitamin C and can be super refreshing and invigorating for the skin. In the morning, try adding one to three drops of sweet orange essential oil to your current face moisturizer for a little extra flow. The fresh aroma helps wake you up in the morning.
Gentle Grapefruit Spot Treatment: Grapefruit has antibacterial properties and when mixed with a carrier oil like jojoba or sweet almond oil, it works as a super gentle spot treatment. Apply it with a Q-tip and you have a great way to naturally treat unwanted breakouts.
What are the benefits of using a scented diffuser?
Scent is such a powerful yet understated way to influence our mood. Using scent strategically can help us feel more energized, calm or focused, and specific aromas have even been shown to influence different parts of the brain. Using a scented diffuser regularly helps to establish rituals and patterns that can help signal the brain that it's time to wake up, sleep, focus, relax, etc. For example, diffusing lavender and frankincense essential oil an hour before going to sleep fills your bedroom with a relaxing, grounding aroma, and the consistency [of doing that] every evening helps cue your brain that it's time for bed.
How should you pick an essential oil for yourself?
When it comes to choosing your favorite scents, it's really up to personal preference, but different scent families can also help you achieve specific goals. For example, citrus scents like grapefruit and sweet orange can be great to add a boost to your morning ritual and help you wake up naturally. Similarly, woodsy and floral scents together can be calming and grounding, and are nice to wind down with in an evening bath or with a book before bed.
If you're completely new to essential oils, it can be good to start with oils from different scent families to see what you are most drawn to. A few of our favorites are lavender (floral), grapefruit (citrus), spruce (woodsy) and eucalyptus (herbal). All of these oils blend really well together, and are a great place to start building custom blends as you get more comfortable with essential oils.
How do scents interact with our brain to help it relax?
I was first drawn to using aroma strategically while studying neuropsychology in university. The brain is inherently lazy and loves repetition. Bedtime routines around sleep is an area where a scent routine can be really beneficial. Using the same essential oils every night will start to cue your brain that it's time to drift off.
Here are a few of our favorites to help you get your beauty sleep, naturally:
Lavender: The floral scent is iconically known to help with sleep. Our favorite is our organic French Lavender — it truly smells like France in a bottle. This calming and gentle scent is also safe to use topically and makes a great addition to a warm evening bath. It's so effective it was said that in the 1800s women would put dried lavender under their husbands' pillows when they wanted them to go to sleep quickly and not be "in the mood."
Cedarwood: This is a rare essential oil that's steam-distilled in India and brings the experience of a cedar sauna to you, wherever you are. The grounding properties of woodsy aromas are great to use before bed because they inspire deep breathing and can create a cozy bedroom vibe before falling asleep.
What are other lesser known tricks to use essential oils?
Essential oils are so versatile, and therefore incredibly simple to integrate into your routines and elevate moments throughout your day. They are also super portable, allowing you to maintain your sense of ritual no matter where you are in the world. One of our favorite, most simple ways to use essential oils is keeping eucalyptus in your shower. When you shower in the morning, just add three drops of eucalyptus to the palm of your hands. When you rub them together, hold your palms up to your face and breathe deeply, the heat from the water/steam will help release the aroma and intensify it. It's like a mini spa moment you can enjoy every morning, no matter where you are.
Are there any particular essential oils that would come in handy during fall and winter?
As the weather gets colder and the days get shorter transitioning into fall, we all tend to spend more time inside our homes. A few of our favorite essential oils for cozying up this fall and winter are:
Bergamot: The scent is naturally relaxing and lovely for unwinding after a long day. It's actually what gives Earl Grey tea its distinctive smell, so it's perfect for warming you up on a cold night.
Spruce: It helps bring nature indoors when you may be experiencing a little cabin fever from spending more time inside.
Frankincense: It is incredibly grounding, and helps promote relaxation. It has a spicy, masculine scent, which is great for fall.
Rosemary: It is herbal and woodsy, and it's as nice to incorporate into your beauty routine as a natural brow oil (it helps stimulate hair follicles) as it is to diffuse in your kitchen.
---
Share this article