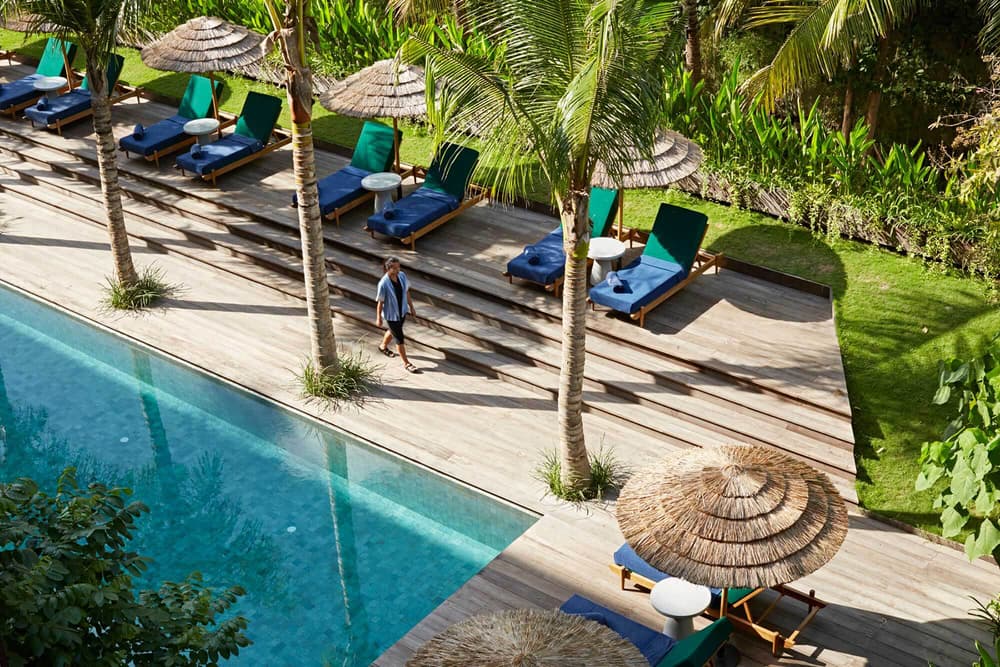 Culture
Look Inside 10 of the Most Instagram-Worthy Hotels Around the World
We're taking you from Marrakech all the way to Iceland.
Look Inside 10 of the Most Instagram-Worthy Hotels Around the World
We're taking you from Marrakech all the way to Iceland.
You need a break to travel to that city you've always dreamed of visiting. Just because you're stuck at the office doesn't mean your mind can't wander off somewhere else and do some plotting for your next trip. With the help of Flight Centre, we've compiled a list of some of the most Instagrammable hotels from across the globe. Whether you're looking to have a laid-back vacation in Bali or a little bit of adventure in Marrakech, take a look at our top recommendations below.
For more travel inspiration, be sure to check out our city guides to Moscow, Tokyo as well as Chicago.
WHERE IS IT: Bali, Indonesia
WHY IT'S WORTH VISITING: Located in the heart of Canggu, newly-opened resort The Slow is the ideal place to stay in Bali, especially for those who have an appreciation for tasteful interior design. Featuring 12 retro-modern suites, the boutique hotel creates a welcoming atmosphere not only with its floor-to-ceiling windows, but also plentiful of greenery as well as furniture and crafts made by local artisans.
WHERE IS IT: Bali, Indonesia
WHY IT'S WORTH VISITING: Another paradise-like hotel found in Bali, Katamama is a beautiful creation dreamed up by Indonesian architect Andra Matin. From the well thought-out spatial structure of the property, down to the furniture inside the 58 suites in the building, every single detail in the hotel is perfectly photogenic. The tropical pool decked out in tiki umbrellas and colorful lounging chairs are just the cherry on top.
WHERE IS IT: The Maldives
WHY IT'S WORTH VISITING: With its thatched roof villas built around a blue lagoon and on a breathtaking beach, Anantara Kihavah will easily be one of the dreamiest accommodations you'll have ever stayed at. In addition to its ocean-facing bathtubs which you've probably seen on Instagram, the resort also boasts an underwater restaurant where you'll be accompanied by marine life as you enjoy your meal.
WHERE IS IT: Marrakech, Morocco
WHY IT'S WORTH VISITING: Taking inspiration from the Bahia Palace, La Sultana is designed in a Moroccan maximalist style that appeals to those who have an affinity for opulent structures, eye catching colors and intricate patterns. From the grand courtyards to the luxe bathing pools, there's a photo opportunity at literally every turn.
WHERE IS IT: Chiang Rai, Thailand
WHY IT'S WORTH VISITING: Located between Thailand, Burma and Laos (also known as Asia's historic Golden Triangle region), the Four Seasons Tented Camp resort is the definition of #glamping. Each tent has its own air conditioning, bathroom and beds, offering visitors the comfort of home while allowing them to also experience nature through mountain trail hikes and riverboat excursions.
WHERE IS IT: Phuket, Thailand
WHY IT'S WORTH VISITING: For an idyllic weekend getaway, look no further than Keemala in Phuket. Positioned in the hills, the villa overlooks the scenic views of the Kamala Village and the Andaman Sea. In particular, the resort is known for its Bird's Nest Pool Villa which features a swimming pool suspended amidst the forest trees.
WHERE IS IT: New York, United States
WHY IT'S WORTH VISITING: The next time you travel to the Big Apple, treat yourself to a stay at the Williamsburg Hotel. From the Art Deco-inspired furniture to the luxurious bathrooms facing the stunning views of Brooklyn, Manhattan and the East River, every design element of the hotel is simply on-point.
WHERE IS IT: Iceland
WHY IT'S WORTH VISITING: Located in Selfoss, a south-western town in Iceland, the ION Adventure Hotel is one of the chicest accommodations you'll find in the country. Guests are often spotted taking photos at the partially exposed Lava Spa, and in front of the sophisticated facade of the hotel. If you're lucky, you may even catch the northern lights during your visit.
WHERE IS IT: Saint Lucia
WHY IT'S WORTH VISITING: Take in the picturesque mountain and ocean views of Saint Lucia by staying at its famed Jade Mountain. Constructed at an elevated position above sea-level, the resort is known for its infinity pools facing the Gros Piton mountains. No matter the hour, it's always a great time for a selfie against the clear, wide skies of the Caribbean.
WHERE IS IT: Nairobi, Kenya
WHY IT'S WORTH VISITING: For those who identify as animal lovers, you'll most probably be delighted to stay at Giraffe Manor, a five-star colonial hotel that also serves as a sanctuary for endangered Rothschild giraffes. Imagine having breakfast alongside a herd of these animal friends. No, you're not daydreaming.
Share this article