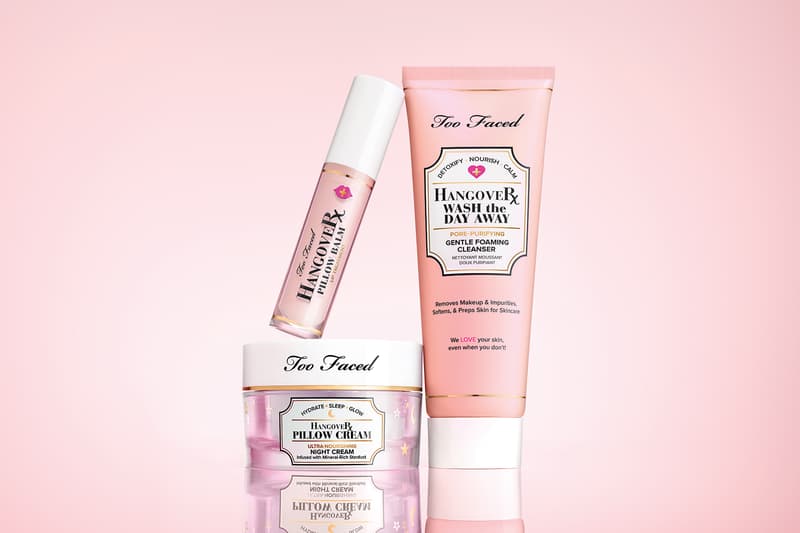 Beauty
Too Faced to Drop a Second Round of Skincare for Its "Hangover" Collection
Co-founder Jerrod Blandino walks us through the benefits of each product, as well as how to use them.
Too Faced to Drop a Second Round of Skincare for Its "Hangover" Collection
Co-founder Jerrod Blandino walks us through the benefits of each product, as well as how to use them.
Last year, Too Faced finally launched its very own skincare line and released a range of products spanning from moisturizers and hyaluronic acid, to serums and face masks. Fans of the beauty brand have been asking for more and earlier this week, co-founder Jerrod Blandino teased three new products as part of the cosmetics company's second drop for the "Hangover" collection.
The Hangover Wash The Day Away gentle-foaming cleanser allows you to draw out impurities accumulated throughout the day and purify your pores. It arrives in a creamy wash texture and has been infused with the "Hangover" range's signature coconut water and probiotic ingredients. The Hangover Pillow Cream is a rich moisturizer that absorbs into the skin overnight to replenish moisture and provides a beautiful nighttime glow from its special ingredient – real stardust. Last but not least, the ultra-hydrating Hangover Pillow Balm arrives in a rich texture that glides seamlessly upon application and creates a protective barrier that prevents your lips from drying.
To find out more about the new launch, read our interview below with Blandino who talks about the inspiration behind drop number two and what makes Too Faced's skincare formula stand out from the rest.
In related news, be sure to check out Chanel's luxe skincare collection powered by the vanilla plant.
Why did you decide to take inspiration from the "Hangover" makeup collection for Too Faced's skincare products?
It was the idea of our Too Faced fans. I heard through social media that they were using our Hangover Primer as a hydrating serum because they loved the effect so much under their makeup and they were putting it under their nighttime moisturizer as well. When I created Hangover Primer, I based it off of some of my favorite serums and moisturizers, it was so unexpected and genius of them and I loved that they were using it in this way. If you're going to put something on your face, it should be doing good for your skin.
What are the skincare benefits of the Hangover Pillow Cream and how does it – being infused with "real stardust" – differ from other night creams?
Stardust is one of the most powerful antioxidants in the universe which provides a luminous shield over your face protecting you from all free radicals and environmental aggressors. We stuffed it like a silk pillowcase full of good plush ingredients that will plump and replenish your skin through moisture. We also added in aromatherapy to reduce stress and relieve anxiety so you can fall into a deeper sleep which will allow the actives to work at their optimal levels. You'll wake up glowing in the morning looking like you just had a facial.
Is there a round three of skincare range currently in the works or other new products coming up for the brand?
Hell yes. We're constantly creating products based on cutting edge science, dreams and holy grail ideas.
---
Share this article