Billie Eilish Is Going On a World Tour — Find out When You Can Cop Tickets
She kicks off the European leg in March.
UPDATE (February 4, 2019): Billie Eilish has released the North American dates for her upcoming world tour. Following the release of her debut album, WHEN WE ALL FALL ASLEEP, WHERE DO WE GO?, she will start the European leg of the series. Stateside fans near New York City, Los Angeles and Chicago will be able to see the young pop star live with special guest Florida MC Denzel Curry.
Tickets go on sale beginning on February 7 via Ticketmaster's Verified Fans pre-sale. General sales begin on February 8 (12 p.m. local time). Peep the dates below to see if she's coming to a venue near you.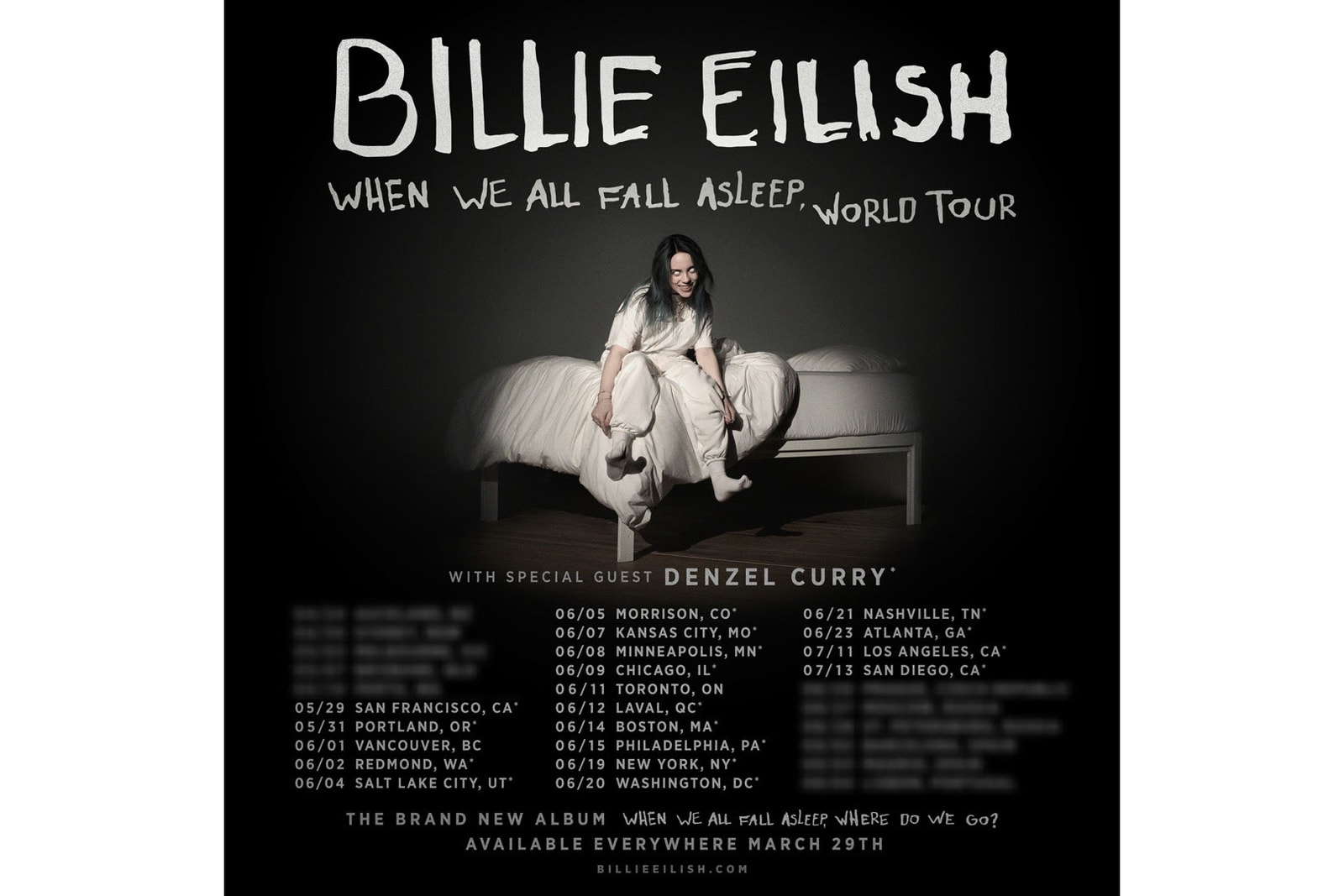 ---
Billie Eilish's long-awaited debut album WHEN WE ALL FALL ASLEEP, WHERE DO WE GO? is scheduled to release early this spring following her 2017 EP Don't Smile at Me. The 17-year-old artist shared the news along with the album's tracklist and lead single, "bury a friend," which came with a haunting visual. WHEN WE ALL FALL ASLEEP, WHERE DO WE GO? will be 14 tracks-long including "you should see me in a crown." Eilish shares via a press release that after writing "bury a friend" the rest of the album fell into place:
"When we made 'bury a friend,' the whole album clicked in my head. I immediately knew what it was going to be about, what the visuals were going to be, and everything in terms of how I wanted it to be perceived. It inspired what the album is about. 'bury a friend' is literally from the perspective of the monster under my bed. If you put yourself in that mindset, what is this creature doing or feeling? I also confess that I'm this monster, because I'm my own worst enemy. I might be the monster under your bed too."
Watch the album's first video above and be sure to peep the tracklist below. WHEN WE ALL FALL ASLEEP, WHERE DO WE GO? will hit all streaming platforms on March 29.
1. !!!!!!!
2. bad guy
3. xanny
4. you should see me in a crown
5. all the good girls go to hell
6. wish you were gay
7. when the party's over
8. 8
9. my strange addiction
10. bury a friend
11. ilomilo
12. listen before i go
13. i love you
14. goodbye