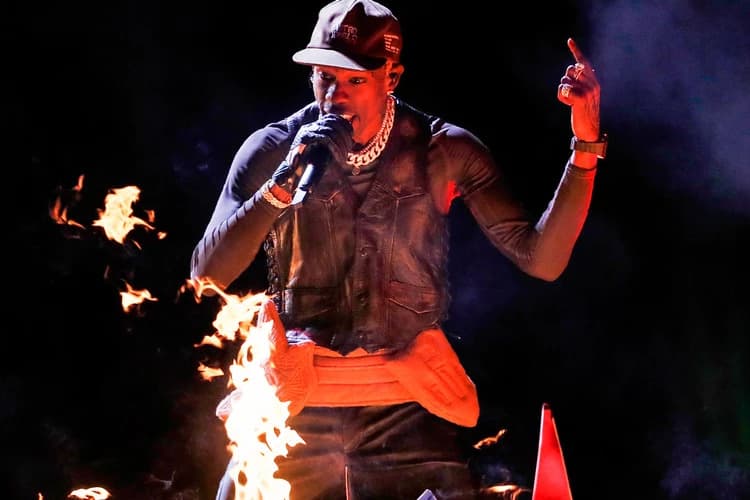 Music
Watch the Most Iconic Super Bowl Performances of All Time
Featuring Maroon 5, Travis Scott and more.
Watch the Most Iconic Super Bowl Performances of All Time
Featuring Maroon 5, Travis Scott and more.
The 53rd National Football League championship game has officially come and gone. In case you didn't know, the New England Patriots took home the prestigious win against the Los Angeles Rams. The Patriots and Rams played in the lowest-scoring Super Bowl in NFL history. Global fans definitely tune in for the game, but many tune in for the featured performances.
In celebration of arguably the biggest night in sports, we've rounded up a few of the top performances over the years. Top performers including Beyoncé, Lady Gaga and Justin Timberlake have graced the Super Bowl during the halftime performance slot. Years ago Michael Jackson gave an iconic performance that set a high pedestal for entertainers. Take a look at our favorite performances below.
2019 – Maroon 5, Travis Scott and Big Boi
Maroon 5, fronted by Adam Levine began their Atlanta Super Bowl debut with energetic vibes. Levine spearheaded the performance which included the band's hits "Harder to Breathe," "She Will Be Loved," "Sugar" and "Moves Like Jagger." Levine was a ball of energy throughout the set. During the band's set they were joined by a drumline and a choir which added a bit of southern flavor to the stage. A Spongebob Squarepants segue was followed by the appearances of Travis Scott and Big Boi who both commanded the attention of the crowd pretty well. Scott gave a memorable rendition of his hit single "Sicko Mode," and Big Boi performed OutKast's "The Way You Move."
2018 – Justin Timberlake
Justin Timberlake arguably one of the most memorable performers of the aughts graced Minneapolis's U.S. Bank Stadium back in 2018. During his set he reached into his archives and pulled out his top hits including "Rock Your Body," "Cry Me a River," "SexyBack," "Señorita" and more. During one part of his set, there was even a purple projection paying homage to Minneapolis' star performer Prince. Timberlake's performance was also marked by a single he released ahead of his performance, "Filthy."
2017 – Lady Gaga
Last year Lady Gaga took the Super Bowl stage with her critically acclaimed performance, with many arguing that the act was among the "best Super Bowl halftime performances in history." Her show also had a higher viewership than the game itself, with 117.5 million television viewers, making it the second-most-watched Super Bowl halftime show. Gaga performed the full show solo, with songs like the uptempo "Telephone" and "Just Dance," as well as her emotional hit "Million Reasons" from her album Joanne. Not only is the performance one to remember, Lady Gaga jumping off the ceiling also created one of the biggest memes of the year.
2016 – Coldplay, Beyoncé and Bruno Mars
Coldplay's colorful performance brought Beyoncé and Bruno Mars to the stage, where they performed some of their biggest hits together, including "Uptown Funk," "Formation," and "Crazy in Love." The show ended with the band performing their hits "Fix You" and "Up&Up" with Beyoncé, Mars and everyone taking part in the show, singing along. Coldplay also included a video montage of previous performers, such as Bruce Springsteen, Missy Elliott, Katy Perry, The Rolling Stones, Paul McCartney, Stevie Wonder, Diana Ross, James Brown, Whitney Houston, Michael Jackson, The Black Eyed Peas, U2 and Prince.
2013 – Katy Perry, Lenny Kravitz and Missy Elliot
2013 was the year of the left shark, and of course, Katy Perry. Her extravagant show was kicked off with the singer riding in on a huge mechanical lion, as well as included advanced light projections throughout. Perry also invited Lenny Kravitz and Missy Elliott to share the stage with her, and wore custom made pieces designed by Jeremy Scott throughout the show. The show also won two Emmys in 2015.
2013 – Madonna
Madonna collaborated with Cirque de Soleil for her captivating performance which featured more than 500 costumes designed by Riccardo Tisci, Givenchy, Jeremy Scott, Miu Miu and Prada. The queen of pop was also joined on stage by Nicki Minaj, M.I.A, Cee Lo Green and LMFAO, putting on a show filled with dance and songs like "Vogue," "Give Me All Your Luvin" and "Like A Prayer."
2007 – Prince
Prince delivered what critics referred to as "the best performance in Super Bowl history" with his renditions of popular hits like "We Will Rock You" by Queen, as well as his own songs including "Let's Go Crazy" and the iconic "Purple Rain." The show was seen by 140 million people, and amassed more than 299,000 tweets per minute on Twitter – making it the then second most tweeted moment in history.
1993 – Michael Jackson
Of course, the list wouldn't be complete without one of the earlier performances. Michael Jackson took the stage in 1993 and brought a show filled with his iconic dance moves, as well as songs like "Black or White," "Billie Jean" and "We are the World." Jackson's performance made history as it marked the first time in Super Bowl history where ratings increased between the halves of the game. The King of Pop's performance was also the catalyst for NFL, sparking a new trend of hiring big celebrities and performers to provide entertainment during halftime.
2004 – Janet Jackson and Justin Timberlake
We saved this performance for last, because not only is it one of the most iconic moments in Super Bowl history, Justin Timberlake will also be performing during the half-time show this year. With the release of his latest album Man of the Woods, we can expect a grand performance from Timberlake, including some of his biggest hits, great dancing, and hopefully an appearance by Janet Jackson herself.
Share this article