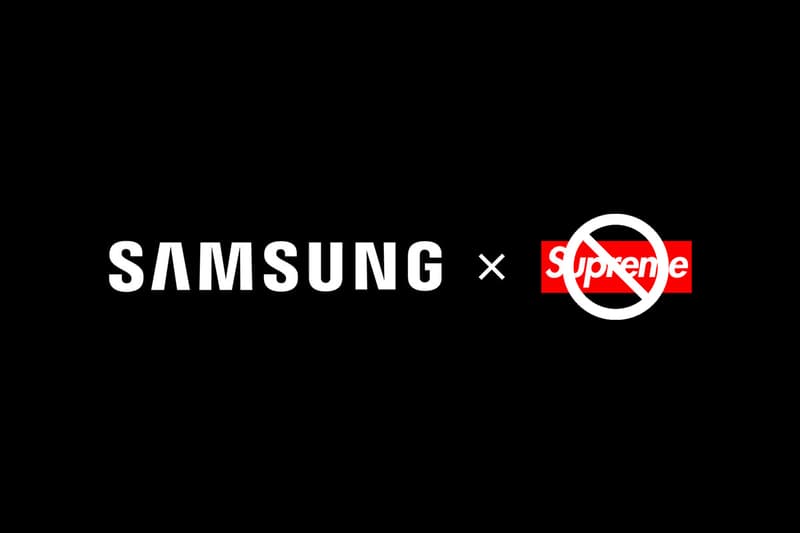 UPDATE: Samsung Cancels Collaboration With Supreme Italia
Read the official statement here.
UPDATE (February 4, 2019): Shortly after revealing that the reported collaboration with Supreme was indeed with Supreme Italia more news has been revealed regarding the deal. According to Engadget, the collaboration between Samsung and Supreme Italia has been cancelled. The translated message from Weibo can be read below:
"Samsung Electronics had previously mentioned a collaboration with Supreme Italia at the Galaxy A8s China launch event on December 10th, Samsung Electronics has now decided to terminate this collaboration."
---
UPDATE: Supreme has responded to Samsung collaboration allegations with an official statement, denying all claims:
"Supreme is not working with Samsung, opening a flagship location in Beijing or participating in a Mercedes-Benz runway show. These claims are blatantly false and propagated by a counterfeit organization."
Prior to Supreme's announcement, Leo Lau, Samsung China's digital marketing manager replied to the move on Weibo:
"We are collaborating with Supreme Italia – not Supreme NYC. Supreme NYC has no sales and marketing authorization in China, but Supreme Italia has obtained product sales and market authorizations in the Asia Pacific region (except Japan).
---
Samsung has been in the news for using an old stock photo to promote its "Portrait Mode" feature for the past week, and now the tech giant is once again making headlines – for announcing a collaboration with fake "Supreme."
At Samsung's latest launch conference in China, the company's Head of Marketing announced a joint project with streetwear label Supreme, which surprised attendees. After building up the collaboration and announcing that this would be the first time the brand would have presence in China, a duo who claimed to be the CEOs of Supreme took the stage to speak on the collaboration. In addition, the fakers also began speaking about an upcoming seven-story flagship in Sanlitun, Beijing set to open in 2019, as well as a ridiculous Supreme runway show at the Mercedes-Benz Cultural Center in Shanghai next year.
Samsung and Supreme have yet to comment on the spectacle, but check out the stream of the announcement here (18:18) and stay tuned as the story unfolds.