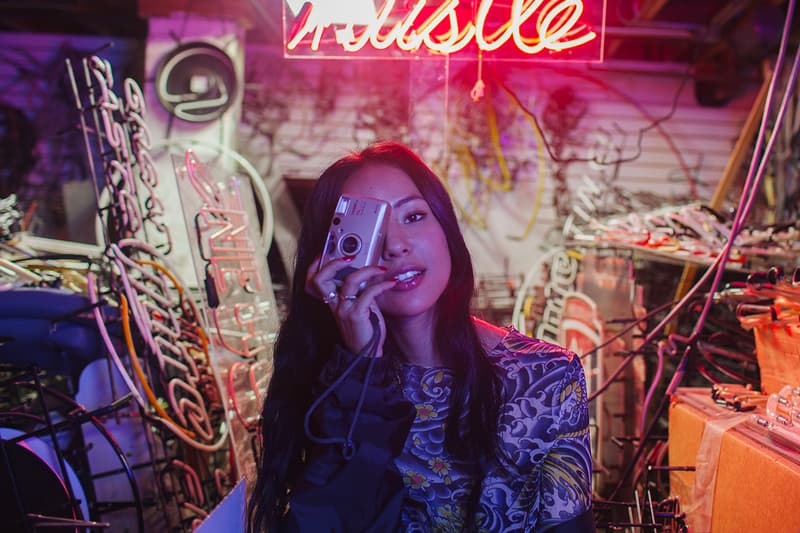 Art
Celebrating Women: 10 Creatives Telling Powerful Stories From the Female Point of View
Get to know some of our favorite artists, photographers and filmmakers.
Celebrating Women: 10 Creatives Telling Powerful Stories From the Female Point of View
Get to know some of our favorite artists, photographers and filmmakers.
Ask any artist what influences her creative process, and you'll be surprised by how frequently "strong women" are cited as a source of inspiration. Whether it's the complexities of being a teenage girl, the wisdom of mothers, the powerful bond of female friendships, or the hustle of women in roles big or small, we could all learn something from her story.
In honor of International Women's Day, we're spotlighting 10 photographers, filmmakers, visual artists and authors who each has been making the strength and the softness of women a main focus of their work.
For the style-obsessed, read about five female creative directors who're making waves in the fashion industry today.
Website: karenaevans.com
Hailing from Toronto, Canada, Karena Evans is the director behind some of your favorite music videos from 2018, including the visuals of Drake's female anthem "Nice For What" and "In My Feelings." In the former video, which resonates with many, the 23-year-old filmmaker worked alongside an A-list group of women such as Yara Shahidi, Jourdan Dunn and Syd for a cinematic depiction of the badass feminine attitude.
Website: renellmedrano.com
Chances are you've seen pictures taken by Bronx-born photographer Renell Medrano of her friends. With familiar faces like Bella Hadid, Winnie Harlow and Kendall Jenner in front of her camera, Medrano offers an intimate look at some of fashion and entertainment's buzziest names with her "female gaze." Most recently, she's been tapped by Tiffany & Co. to produce a portrait series titled "Modern Love," which celebrates love in its many different forms.
Website: carlotaguerrero.com
One of Solange's favorite collaborators, photographer Carlota Guerrero is responsible for the album art of A Seat at the Table, as well as the jaw-droppingly beautiful art for the songstress' new film, When I Get Home. Her personal portfolio is filled with images that explore the meanings of womanhood, often featuring a diverse cast of models of different skin tones, ages and sizes.
Website: johnyuyi.com
Taiwanese artist John Yuyi has risen to social media fame with her whimsical and impactful ways of storytelling, including her epic self-portraits and the clever use of temporary face and body tattoos. Her images, which often highlight and embrace the female body, have attracted brands like Gucci, KARA and KENZO to collaborate with her on memorable campaigns.
Website: alphabodies.store
Alphabodies is the brainchild of yoga and wellness instructor Lydia Neubauer and photographer Elizabeth De La Piedra. Described by the duo as "an expression against the censorship of the female form," the 26-image project sees graphics of the English alphabet formed by women's bodies, directly challenging societal constraints on the female gender.
Website: sarahbahbah.com
One of the recurring themes of artist Sarah Bahbah's work is the desires and pleasures of women. Her photo series are composed of cinematic stills captioned with subtitles that delve deep into the complex emotions of being in love — or falling out of it. Her portrayal of modern day relationships is raw, passionate, vulnerable, at times heartbreaking but almost always relatable.
Website: rupikaur.com
Known for her New York Times bestsellers Milk and Honey and The Sun and Her Flowers, celebrated writer Rupi Kaur has taken Instagram by storm with her collection of poems, with topics ranging from sexuality to self-love. Her words are unapologetically feminine and are often praised for their ability to accurately illustrate the universal experiences shared by women.
Website: orioncarloto.com
In her debut collection of poetry and prose, Flux, Los Angeles-based author Orion Carloto pens what it's like to be in grief and left brokenhearted. From the feeling of solitude, to the bittersweet moments of being in an unrequited relationship, her work poignantly describes the various stages of love, loss and picking oneself up again.
Website: jadepurplebrown.com
The delightfully bold and vibrant illustrations by artist Jade Purple Brown see strong women as the main subject. Her colorful creations not only send an empowering message that women can do anything they dream of, but they're also a reminder of how important it is for girls to unite and to support one another.