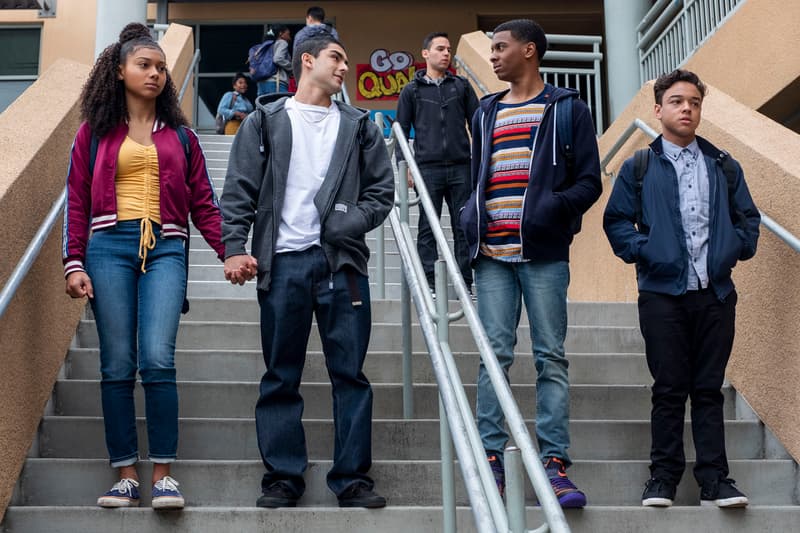 Culture
The Top 8 College & High-School Themed Shows and Movies We're Obsessed With
Featuring 'On My Block' and 'SKAM Austin.'
The Top 8 College & High-School Themed Shows and Movies We're Obsessed With
Featuring 'On My Block' and 'SKAM Austin.'
College and high school for many make up some of the most memorable years of their lives. But for some, those years are filled with awkward moments, politically driven decisions and dating drama. Television and movies have been depicting these experiences for quite some time. Both mediums are known to provide a chance for viewers to relive their "glory days" without having to go back in time. Reliving these experiences goes two ways — it's either relatable or inaccurate and dead wrong. For those who are looking for college and high school-themed shows and movies that you won't grow tired of, we've rounded up some of our favorites. Read on to figure out why these picks made our list.
On My Block
Set in a gritty South Central Los Angeles neighborhood, Netflix's On My Block explores the dynamics of four close friends as they navigate high school, relationships and issues in their community. Co-created by Lauren Iungerich (showrunner), Eddie Gonzalez (executive producer) and Jeremy Haft (executive producer), the show offers an inside look at the dynamics of being a young person of color. One of the most dynamic roles is the character, Monse (played by Sierra Capri) who is a voice of reason amongst her friend group made up of all boys. Back in season one, Monse, Ruby (Jason Genao), Jamal (Brett Gray) and Cesar (Diego Tineco) have tried their best to stay tight-knit despite the adversity that wreaked havoc on their lives. This show is for you if you're into scripted series marked by humor, romance and murder mysteries.
Chilling Adventures of Sabrina
Created by Roberto Aguirre-Sacasa, this horror drama is a freaky reboot of Sabrina: the Teenage Witch of the aughts. Officially debuting in 2018, the show centers around Sabrina (played by Kiernan Shipka) and her woes and positive moments as a half-witch and half-mortal. The main cast features Harvey (Ross Lynch), Jaz Sinclair (Rosalind), Susie or Theo (Lachlan Watson), Prudence (Tati Gabrielle) and more. Throughout season one, Sabrina is forced to choose between her mortal life and her darker side that worships Satan. That means she must figure out high school, dating, living with her aunts and Satan's force in her life. In total, this scripted series is filled with humorous moments, touches on feminism and has gentle nods to dark religious practices.
SKAM Austin
Based off of the Norwegian series Skam, SKAM Austin created by Julie Andem is a drama that focuses on the lives of a group of high school-aged girls. The focus of season one is placed on Megan (played by Julie Rocha), Grace (Kennedy Hermansen) and Kelsey (Shelby Surdam). The first season managed to touch on the topics of sexuality, feminism and mental health. Now in its second season, SKAM Austin is now addressing a completely different theme and centers around the daily life of Grace, her hobbies, a budding romance and more.
What's unique about it is that it not only broadcasts on Facebook Watch, but each of the main characters also has official Instagram accounts that viewers are encouraged to follow. This notion of immersive storytelling creates a counter-narrative and means that if the characters are at a party when the show drops in real time, they will be posting about that party on their feeds. Real elements pulled from social media and text messages are also a large part of the show.
Dear White People
Originally debuting as a film in 2014, creator Justin Siemen's peek into the inner workings of black campus life at a predominately white Ivy League institution is a wild ride. The show officially which released its second season on Netflix last year is filled with witty banter, racial politics and plenty of "code-switching." The actresses in the show steal the spotlight in almost every scene: Sam (played by Logan Browning), Colandrea "Coco" (Antoinette Robertson) and Joelle Brooks (Ashley Blaine Featherson). What's most poignant about this show is the way the series handles college happenings through the lens of young adults struggling to come into their own.
Grown-ish
Yara Shahidi stars in this modern-day depiction of college life at California University after graduating and leaving behind her family from the cast of Black-ish. The series follows her dating woes, relationships with her set of friends and provides a closer look at how millennials live. The diverse writer's room filled with women helmed by creator Kenya Barris presents college through a humorous, bubbly lens. The biggest takeaways from this show are the accurate depiction of the fast-paced lives of Gen Z in regards to campus politics, sex and gender issues. It goes without saying, but the way that the show juggles first world problems isn't just admirable, it's also relatable and very easy to follow.
School Daze
Spike Lee's college-themed film which originally debuted in 1988 follows cliques on a historically black college campus. The major premise includes a deep dive into colorism, Pan-African ideals in addition to the inner workings of fraternity and sorority life. The cinematography expertly captures college life in a way that no other film has ever accomplished since. The main character Half Pint (Spike Lee) is going through his pledging process, which is filled with hilarious and not-so-funny moments. Look to this film if you've been on the hunt for a movie that paints a vivid picture of what it was like attending HBCU's in the '90s. Come for a taste of '90s culture and stay for the intense acting by Dap (Laurence Fishburne) and Jane Toussaint (Tisha Campbell-Martin).
A Different World
Starting off as a spin-off of The Cosby Show, this college-themed show which Grown-ish has been compared to counts Lisa Bonet as an original cast member. The series which follows Denise Huxtable as she starts her college life portrays Hillman College as a space in which sexual assault, the AIDS epidemic, dating and Greek sororities and fraternities are presented as topics. Iconic characters like Whitley Gilbert (Jasmine Guy) and Dwayne Wayne (Kadeem Hardison) set the stage for an accurate depiction of black love. The freedom of the characters and the exploration of class conflict are also notable themes highlighted throughout the six seasons which ran from 1987 to 1993.
Legally Blonde
If you've been searching for a feel-good, women's empowerment movie, look no further than the film which in my opinion catapulted Reese Witherspoon's career. Witherspoon plays Elle Woods, a heartbroken, glamorous sorority girl who sets her eyes on attending Harvard Law School to win back her ex. Along the way, Witherspoon is met with double standards, her ex's new fiancé and sexist commentary from a professor and even her peers. The depiction of Elle Woods as a heroine stands out amongst the slew of movies which debuted in 2001. Nevertheless, the fluffy film is filled with daring fashion paired with feminist ideals.