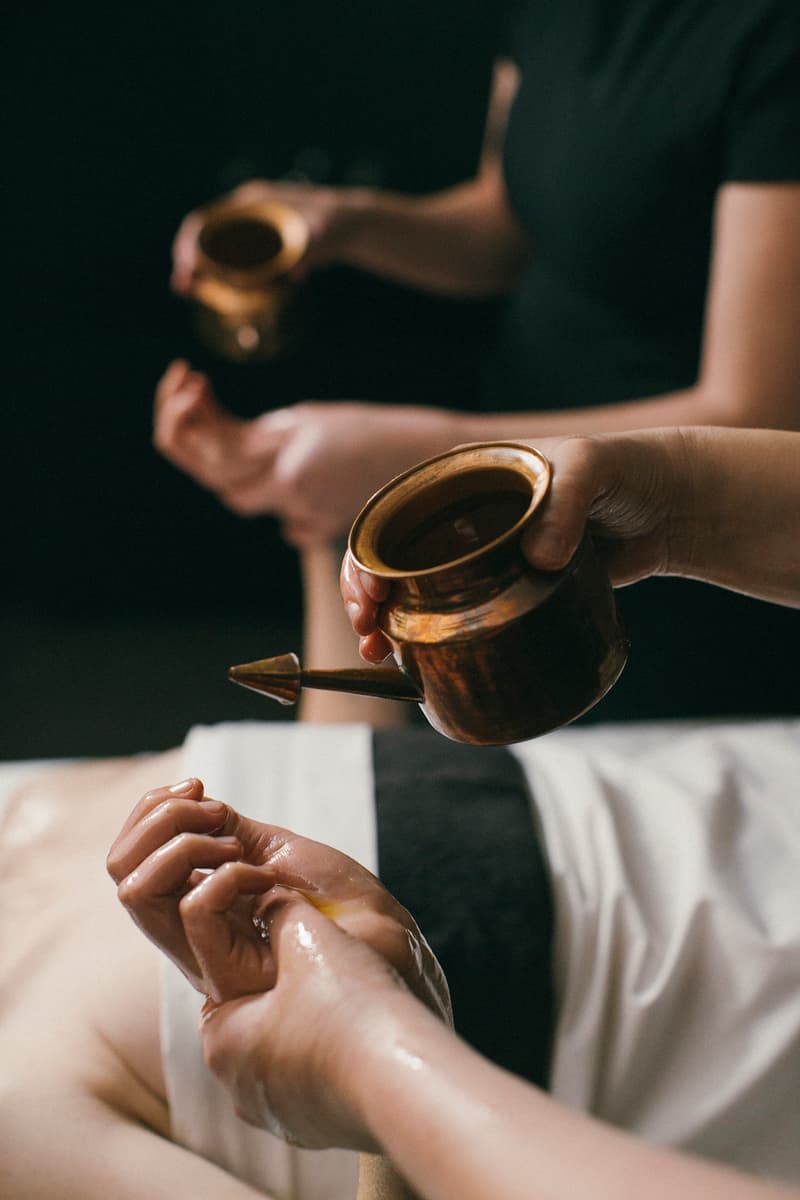 I Tried a LUSH Karmic Spa Treatment with Two Masseuses and Here's What Happened
The brand's new Karma treatment is like no other.
Beauty
I Tried a LUSH Karmic Spa Treatment with Two Masseuses and Here's What Happened
The brand's new Karma treatment is like no other.
I've always been a fan of LUSH's products, but it wasn't until I moved to Hong Kong that I found out the cruelty-free brand also has a spa department. From facials and massages to sound baths and mineral soaks, the cosmetic company's spa offerings aim to provide unique experiences that relax and rejuvenate not only the body but the mind and soul.
The newest treatment on LUSH Spa Hong Kong's roster is the "Abhyanga" (four-handed) oil massage Karma Treatment. I have never tried a massage with two masseuses before, so read on to see what I thought of the experience.
Since this was my first time at a LUSH Spa, I took a tour of the Hong Kong location. The shop boasts three floors of English cottage-inspired interiors, complete with kitchen areas for consultations, bathrooms and showers (stocked with LUSH products, of course) and a terrace and cozy chairs to lounge around in post-treatment.
From the moment the elevator doors opened, I was completely transported from Hong Kong's hectic city center to the rural European countryside. With decor flown in from UK vintage shops and sound recordings of birds playing through the speaker system, every detail of the space added to the feeling that I was off on a mini-vacation.
Before going into the treatment room, I had a quick consultation and walkthrough with one of the masseuses. After I got ready for the massage, the masseuses began by pouring hot oil on my body. The massage oil is melted from a solid massage bar scented with patchouli, sweet orange, lemongrass and pine. I thought the smell would be overwhelming, because of how many different oils are mixed in, but it was actually quite light and pleasant.
Throughout the 65-minute massage, they played traditional Indian folk music that had nature sounds woven through. I found this really unique since the masseuses massaged to the beat of the music, and the soundtrack lulled me in and out of sleep. At one point, the masseuses whispered a few phrases into my ears, which I think was meant to be calming and empowering, but I wasn't expecting it, so it was a bit jarring for me.
The masseuses also used heated pouches filled with patchouli, sweet orange, pine and oatmeal on various pressure points and hit a singing bowl. To finish, they poured warm coconut water on my forehead for a Shirodhara hair-cleansing ritual and used a Karma Yantra Bath Bomb as a fizzling "vapor bomb" while I got dressed again.
The massage is medium-pressure, and although I prefer more heavy-handed massages, I wouldn't have wanted anything stronger than that because there were two masseuses. One thing to note is that when they pour oil on you – it's a lot of oil and it coats your entire body. Make sure to bring an extra pair of underwear and to wear easy-to-wash clothes since the aftermath is a bit sticky. Also, some of the oil got in my hair and although the coconut water cleanse was refreshing, I needed to wash my hair after.
I was told that the combination of massaging energy pressure points, musical harmonies and scents was supposed to help align my chakras and top up my "prana." I'm not entirely sure if the treatment did that, but I was definitely relaxed. The treatment is a sensory overload but in a good way. I saw it as emotional white noise, and it helped me to completely de-stress and take my mind off things for an hour. Also, what I was the most impressed by is how synchronized the two masseuses were. At times, it actually felt as if there was one person with four hands massaging me.
You can treat yourself to the LUSH Karma Spa Treatment for $3,200 HKD (approximately $408 USD), and if you love LUSH products, read our review on the brand's Green Tea Jelly Face Mask.
---
Share this article