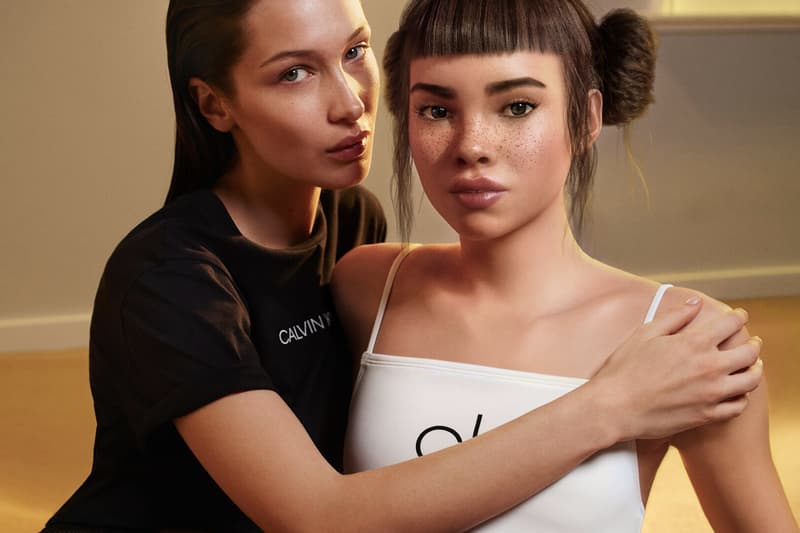 Fashion
Bella Hadid and Lil Miquela Kiss in Calvin Klein's Latest Ad, Ignites Controversy
The internet calls out the ad for "Queerbaiting."
Bella Hadid and Lil Miquela Kiss in Calvin Klein's Latest Ad, Ignites Controversy
The internet calls out the ad for "Queerbaiting."
After revealing its campaign starring Noah Centineo, Shawn Mendes, Billie Eilish and Chika Oranika, Calvin Klein has just launched its second installation of ads which feature creatives like A$AP Rocky, Kevin Abstract, Bella Hadid and more.
In Bella Hadid's video for the label the supermodel is seen sporting a CK branded T-shirt and biker shorts, before she approaches CGI influencer Lil Miquela, clad in a tracksuit from the brand. The two start kissing, while Hadid's voiceover says "Life is about opening doors. Creating dreams you never knew could exist," before the scene ends and cuts to black. Titled "Bella Hadid and Lil Miquela Get Surreal," the 30-second long video has caused a lot of conversation across the internet accusing Calvin Klein of "Queerbaiting."
Following the release of the video Twitter users were quick to comment that the campaign comes off as tone deaf and out-of-touch. "A corporate brand will show Lil Miquela and Bella Hadid making out but not an actual gay couple," said Twitter user @hemsflower, with many others sharing the same concern. Seeing as Bella Hadid has been in an on-and-off relationship with The Weeknd, and is as far as the internet is concerned heterosexual, the internet has been quick to point out the issues with a campaign like this, adding that the media has an ongoing issue of fetishising bisexuality and lesbians to sell product.
Watch the video below, and read what the internet had to say about the controversial video. Let us know your thoughts in the comments below.
not her pretending to be bi PLEASE dear lord I'm so tired of these straight girls pretending they're bi just to look cute

— ??: ????? ????? ⎊ (@starksblink) May 17, 2019
so queerbaiting https://t.co/RZStv2iw1l

— ♡ ♡ ♡ (@constellationz) May 17, 2019
queerbaiting has reached a whole new level https://t.co/GrIeFH4Qqw

— crunchy (@iozines) May 16, 2019
a corporate brand will show lil miquela and bella hadid making out but not an actual gay couple https://t.co/qonqi099nZ

— lily (@hemsflower) May 16, 2019
who is gonna tell Calvin Klein you're supposed to wait until June for your tone-deaf queer-bait ad campaigns!! lil miquela and bella hadid out here smooching two weeks too early!!!

— Madison Malone Kircher (@4evrmalone) May 16, 2019
Share this article