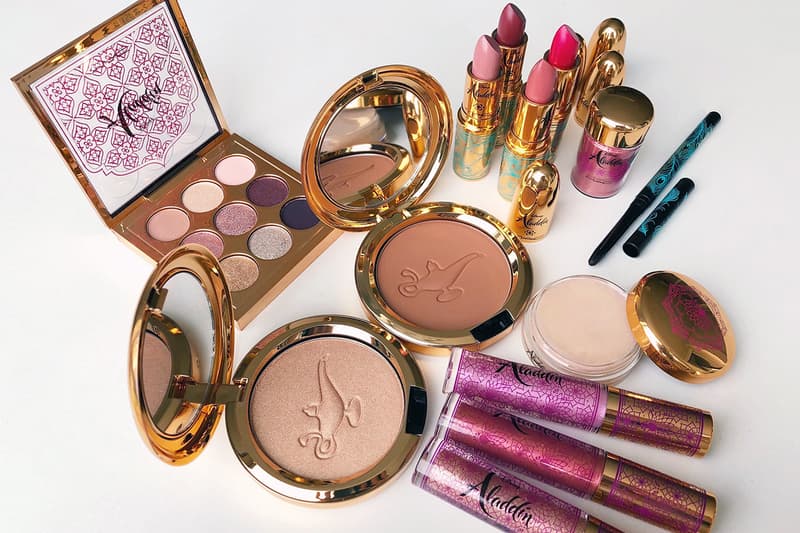 Beauty
Our Editor Tests All Products From Disney x MAC's 'Aladdin' Makeup Collection
Find out if they really are as "shining, shimmering, splendid" as we expected.
Our Editor Tests All Products From Disney x MAC's 'Aladdin' Makeup Collection
Find out if they really are as "shining, shimmering, splendid" as we expected.
As we countdown to the premiere of Aladdin, the latest film from Disney's long list of live-action remakes, the House of Mouse has linked up with MAC Cosmetics to launch one of the most exciting collaborations created to celebrate the upcoming movie release.
Designed with special-edition packaging coming in the form of gleaming gold compacts and Agrabah-inspired patterns, the makeup collection is laced with childhood nostalgia and is undeniably a collectible for the ultimate Disney fan. The entire range is now available for purchase at MAC, and in case you're wondering whether the products are truly as "shining, shimmering, splendid" as they seem, read our editor's review on the collection to find out.
Powder Blush
I'm typically a dewy highlighter girl who swears by no-makeup makeup options like the RMS Living Luminizer or Chanel's Baume Essentiel, so sweeping a powder highlighter like this one onto my cheeks always feels like an adventure. Dubbed "Always One Jump Ahead," this golden highlighter ($35 USD) is actually less intimidating to use than I thought. The shimmer is fine and subtle, but it really pops when the light hits. The shade looks beautiful on the cupid's bow and on the nose as well.
Also embossed with Genie's lamp, the "Your Wish Is My Command" shade is a matte, warm-toned brown that is great for creating a sun-kissed look. The bronzer ($35 USD) may appear a bit orangey when you first apply it onto your face, but it looks much more natural once it's blended out with a brush.
Eye Shadow x 9
This is one of those eyeshadow palettes that simply tick all the boxes for smokey eye wearers. With a travel-friendly packaging, the product contains three neutral, matte shades (including mauve, a light rose color and a very deep plum) as well as six metallic options, ranging from the frosty gold "Rags to Riches" (I like to use this on the inner corner of my eyes and on the center of my eyelids) to the shimmery purple "Abu!" (ideal for adding definition around the outer corners).
The shade that I find the most unique from this $35 USD palette, however, is the duo chrome eyeshadow in "Princess Jasmine." With a reddish, brown undertone, this option is packed with blue-green shimmer reminiscent of the outfit of the beloved Disney princess. When applied with a wet brush, you can really see the dazzling specks of turquoise under the right light.
Crystal Glaze Gloss
I didn't realize that this is actually a lip gloss ($24 USD) and had totally applied it on top of my eyeshadow when I first used the product. Well, it worked out — the clear gloss really did give my eye makeup that sought-after editorial, "wet" look. That lasted for a good few hours before the glossy appearance faded away, leaving behind an even eyeshadow color that still looked decent. When applied onto the lips, the product will instantly give you that juicy, plump-looking pout.
Lipstick
MAC has long been known for its creamy and long-wearing lipsticks, and the four limited-edition shades ($20 USD each) created for the Aladdin collection are no exception. The cool-tone fuchsia "Whole New World" reminds me of an old MAC favorite, the vibrant pink Cremesheen "Lickable," except it is more opaque and doesn't contain any shimmer.
"Princess Incognito" is a much more wearable option and my top pick out of all four shades. It's a neutral, coral-rose color that works perfectly as a my-lips-but-better shade for my warm skin tone. My second favorite, "Rajah," may seem like a deep burgundy color at first glance, but it actually wears more like a subdued, berry red.
The only shade that I didn't like as much is the light beige "Friend Like Me," as it appeared too pale on my lips and made my face look a bit washed out. That being said, I imagine that the color would look amazing on skin tones different from mine.
Lipglass
Much like the Crystal Glaze Gloss, these three lip toppers are very moisturizing and will give your pout that high-gloss, glass-like look. The main difference between the two products is that the Lipglass ($19 USD) comes with more visible shimmer than the other.
"Diamond in the Rough" is a gold, almost-clear gloss with golden shimmer, while "Magic Carpet Ride" is a soft pink (also nearly clear) gloss with pink pearls. The third option, "Jewels on Jewels," actually looks quite similar to the Fenty Beauty Gloss Bomb in "Fenty Glow." Both MAC and Rihanna's lip glosses feature a warm pink color, but the former appears more sparkly than the other thanks to its light-reflecting shimmer.
Pigment
Pigments are not my forte, but having watched enough YouTube tutorials, I figured I'd mix the product ($24 USD) with a little bit of water to intensify the color. Using my go-to 217 blending brush from MAC for application, the result is a foil-like, copper-rose look on the eyelid that lasts literally all day. The golden sparkle also adds a beautiful sheen to the eyeshadow.
Technakohl Liner
While its packaging may not be as eye-catching as some of the other products from the collaboration, the Technakohl Liner ($20 USD) is certainly an excellent eyeliner that's easy to maneuver, even for someone like myself who isn't particularly skilled at drawing eyeliner. The black eye pencil is creamy, glides on the eyelid smoothly and is highly pigmented. I've worn this product both on the eyelid and in the waterline — and, to my delight, it barely smudges or transfers throughout the day.
Share this article