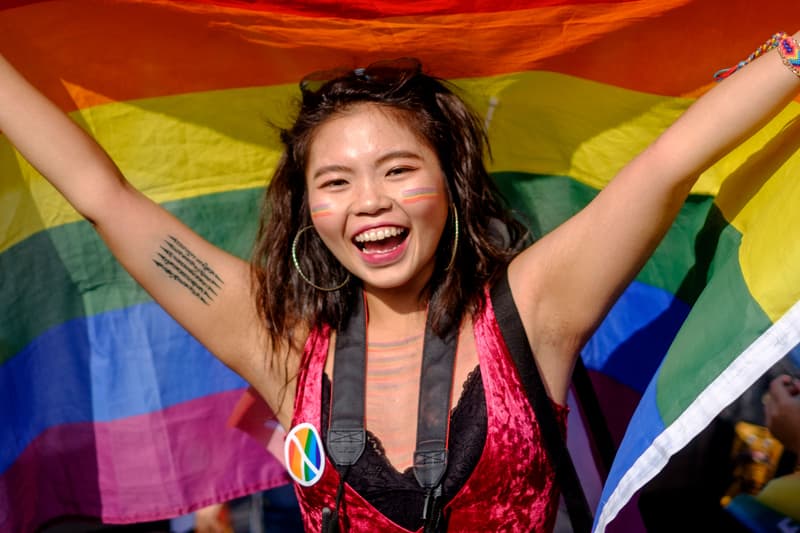 Culture
Taiwan Becomes First Place in Asia to Legalize Same-Sex Marriage
A landmark decision made just before Pride Month 2019.
Taiwan Becomes First Place in Asia to Legalize Same-Sex Marriage
A landmark decision made just before Pride Month 2019.
Taiwan has become the first place in Asia to legalize same-sex marriage following the passing of a new bill. The landmark decision was made today two years after Taiwan's Constitutional Court ruled that the existing law banning same-sex marriage was unconstitutional. The struggle to pass the amendment has been well documented via the Taiwan Alliance to Promote Civil Partnership Rights and other LGBTQ groups in the area.
Tens of thousands of people stood outside the Legislative Yuan in Taipai awaiting the news of the three bills lawmakers voted on. The other bills were eventually tabled by the conservative opposition but Article 4 was passed confirming that same-sex marriage would be allow though basic rights like adoption and cross-national marriage would be limited. This achievement sets Taiwan apart from the rest of Asia where people are still fighting to basic union rights and freedom to live peacefully without fear of prosecution. The bill will go into effect on May 24.
Ahead of Pride Month 2019, check out the latest LGBT-themed collections from Reebok, Dr. Martens and Converse.
BREAKING: Legislators just passed article 4, which means #Taiwan just legalized same-sex marriage and will be implemented on May 24th#First in #Asia#LGBT #LoveWins pic.twitter.com/FDjWNBAxru

— Equal Love Taiwan (@equallovetw) May 17, 2019
Good morning #Taiwan. Today, we have a chance to make history & show the world that progressive values can take root in an East Asian society.

Today, we can show the world that #LoveWins. pic.twitter.com/PCPZCTi87M

— 蔡英文 Tsai Ing-wen (@iingwen) May 17, 2019
Share this article