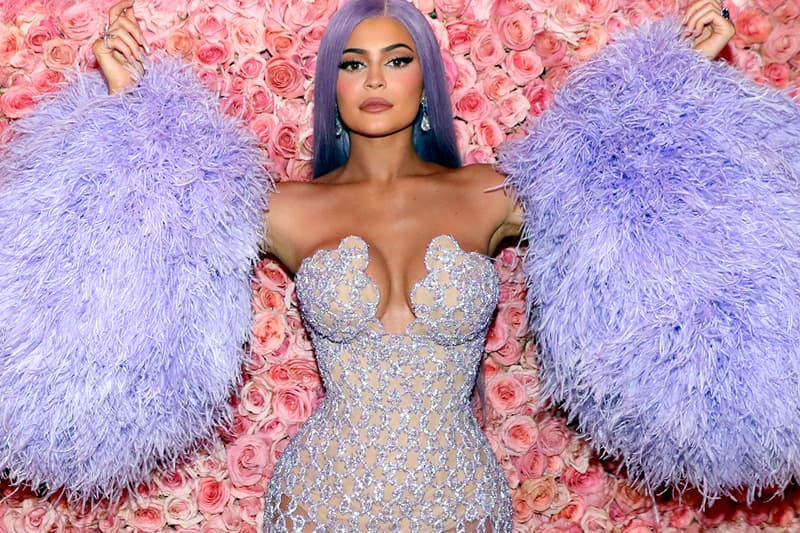 Beauty
Kylie Jenner Moves Into Skincare With New Beauty Brand, Kylie Skin
She has unveiled even more products from the upcoming launch.
Kylie Jenner Moves Into Skincare With New Beauty Brand, Kylie Skin
She has unveiled even more products from the upcoming launch.
UPDATE (May 14, 2019): About a week away from Kylie Skin's official launch, Kylie Jenner has unveiled even more products from her skincare line. In addition to the previously announced six-piece skin set, the brand will also be selling a pink makeup bag ($22 USD) as well as makeup removing wipes ($10 USD).
Take a look at the products below. Kylie Skin by Kylie Jenner will officially become available to shop at the brand's website on May 22.
---
UPDATE (May 11, 2019): Kylie Jenner has just revealed the complete product lineup of her eponymous skincare brand, Kylie Skin. In a teaser video, she offers fans a look at her six-piece "skin set" that includes the Foaming Face Wash, Walnut Face Scrub, Vanilla Milk Toner, Face Moisturizer, Vitamin C Serum and Eye Cream — all packaged in millennial pink tubes and bottles.
On her Instagram Stories, Kylie shares with her followers that "everything is under $30 USD" in her first collection, and that the six products can be purchased as a bundle for $125 USD.
Kylie then explains that her skincare line is fragrance-free, except for the toner and face wash that have a "very light fragrance." The toner is alcohol-free.
Designed with a self-applicator, the eye cream is formulated with ingredients such as green tea, pomegranate extract, caffeine and vitamin E.
As for the moisturizer, it's made with shea butter, orange peel extract and has "blue light protection."
While the first Kylie Skin drop is suitable for all skin types, Kylie shares that she is currently working on "personalized skincare" specific for "acne-prone skin, dry skin, congested skin [and] oily skin."
---
UPDATE (May 11, 2019): On Kylie Skin's social media accounts, Kylie Jenner has unveiled a sneak peek at her first skincare product, a Foaming Face Wash. Pictured below is the facial cleanser, which is packaged in a bottle printed with the pink logo of Kylie's new beauty brand.
Keep your eyes peeled for more from the forthcoming Kylie Skin launch.
---
Kylie Jenner is ready to expand her fast-growing beauty empire with her new skincare brand, Kylie Skin. After dropping multiple hints at a "big project" of hers this past week, the 21-year-old reality star-turned-entrepreneur has taken to social media to announce the launch of her new venture.
"Skincare and makeup go hand in hand and Kylie Skin was something I dreamt up soon after Kylie Cosmetics," Kylie writes on Instagram. "Building my makeup line from the ground up has taught me a lot and I'm so blessed with that knowledge to apply to my brand, new company! Birthing a whole new team, manufacturing, fulfillment etc separate from my cosmetics line was challenging but here we are."
According to the announcement, Kylie Skin will offer a range of skincare products that are all "cruelty-free, vegan, gluten-free, paraben- and sulfate-free and suitable for all skin types."
On a newly-created @kylieskin Instagram account, the beauty mogul has unveiled the logo of her new beauty company, along with a video teaser previewing the forthcoming launch. In said clip, Kylie who's typically perfectly glammed up is seen with no-makeup makeup, with certain blemishes on her face clearly captured on camera. She also gives fans a first look at a pastel pink-packaged tube as well as what appear to be two different products — one seem to be a cream with a translucent, gel-like texture, while the other could possibly be a facial exfoliator.
Rumors surrounding a Kylie Jenner-branded skincare line first surfaced last October when reports revealed that Kylie Cosmetics has submitted trademark applications for both "Kylie Skin by Kylie Jenner" as well as "Kylie Skin." Kylie's sister, model Kendall Jenner, also recently filed for trademarks for a potential beauty brand this May.
---
Share this article