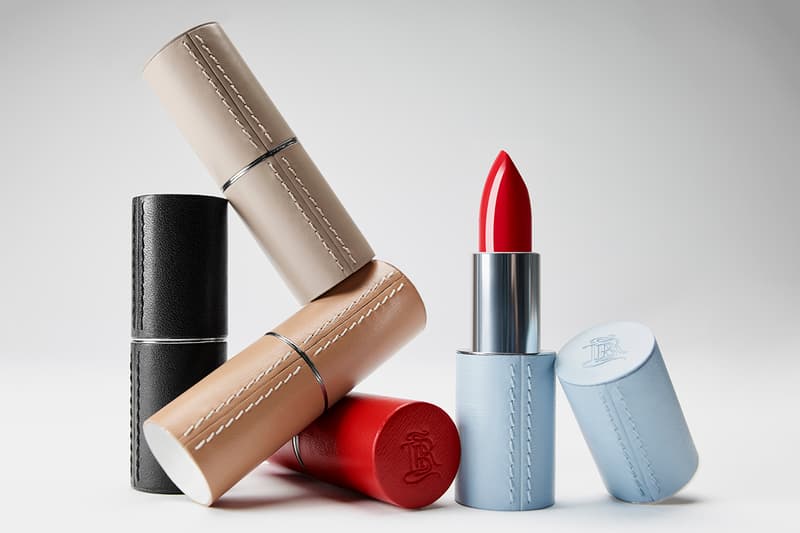 Beauty
La Bouche Rouge Is the French Lipstick Brand Marrying Luxury Makeup With Sustainability
Because beauty shouldn't be pursued at the expense of the environment.
La Bouche Rouge Is the French Lipstick Brand Marrying Luxury Makeup With Sustainability
Because beauty shouldn't be pursued at the expense of the environment.
Sustainability is a word that's been thrown around a lot in the beauty-sphere lately. But for an industry that is notorious for contributing to plastic waste, developing cosmetics products that appeal to makeup-obsessed customers without putting the environment at risk is often easier said than done.
In Paris, a maison de maquillage named La Bouche Rouge shows that creating quality beauty products while preserving nature at the same time is possible if a brand is willing to make the effort. Proudly calling itself the "first luxury sustainable makeup brand," the French-chic lipstick line is cruelty-free and vegan, and is known for its clean formula free from micro-plastics and animal fats. Each lipstick and lip balm is encased in a beautifully-crafted tube made with vegetable-tanned leather — coming in a range of colors including red, baby blue and beige — and is refillable when the product runs out.
With its recent launch at Hong Kong retailer Lane Crawford, which marks La Bouche Rouge's first appearance in the city, we spoke to the brand's co-founder Nicolas Gerlier about why building an eco-friendly beauty company is important to him, as well as how the brand turns its sustainability ambitions into action.
What made you decide to place sustainability at the core of the brand's vision when you're first conceptualizing La Bouche Rouge?
I have been working in the beauty industry for over 10 years, and I see it gradually evolving, transforming, fluctuating. At L'Oréal Luxe, I led projects such as Acqua For Life for Giorgio Armani. I am convinced that my generation cannot continue to think, produce and consume like previous generations. I have been inspired by the work of designers and business people trying to change things in every industry.
La Bouche Rouge co-founder and Creative Director Ezra Petronio inspired me to develop this brand. This is a beautiful creative story, which is as always the result of team work.
From packaging to the formula of the lipsticks and lip balms, what makes La Bouche Rouge a truly sustainable beauty brand?
Sustainability should be considered as whole process from the way we design, produce, distribute and consume the product throughout its lifespan. It is an ongoing process. La Bouche Rouge is the first luxury sustainable makeup brand, creating pure lipstick formulas and clean refillable cases for the future of the planet.
For our lipstick, we designed a plastic-free and reusable lipstick case that lasts a lifetime. Our lipstick mechanism is the first microplastics-free system made in France — we received a French packaging award for this innovation. All our packaging is made out of paper and plastic-free. In our formulas, we manage to avoid PMMA, as nobody wants to eat microplastics. We have replaced preservatives with a natural anti-oxidant, free from animal fat, parabens and paraffin.
Regarding animal welfare, our products are not tested on animals and we recently decided to remove beeswax from our formulas as bees exploitation in the cosmetic industry is not acceptable.
We also care about our work environment and production process: Our Atelier is where we make pure products and we really wanted to be sustainable in the
production process as well. The first thing that we changed from the usual lipstick industry manufacturing process is the fact that we produce in reusable metal molds — that we clean with a dry cleaning process requiring no water. The classic industry uses single-use silicon molds that go to waste after every batch produced. From the way we produce our lipsticks — mostly small batches — we are able to minimize waste. Our internal goal at the lab, is that a full week's waste should fit in a small carton. That's a very concrete goal, [and] that is a motivation for the whole team.
As for our commitment to water stewardship, we use the strict minimum for cleaning and we developed a dry-cleaning process for our equipment. In the office, we have banned plastic bottles and use reusable coffee mugs. We never use plastic dishes for lunch either. We avoid printing as much as possible and have zero-percent waste — we literally have no garbage cans and recycle cartons from the shipments we receive.
Besides being eco-responsible, has it been important for you to create lipsticks that feel luxurious and chic to use as well?
Sustainable beauty should be the perfect balance between beauty, product performance and sustainability. At La Bouche Rouge, we talk about being "beautifully sustainable". We believe in creating the desire to consume differently and we are convinced that this is achievable through designing beautiful objects. We should not do any compromise between glamour and sustainability. My approach is truly to reconcile both universe, each one being equally important.
French beauty is often about being effortlessly charming and embracing one's natural self, no matter one's age. Does this perspective on beauty influence the branding and philosophy of La Bouche Rouge?
Definitely! What we stand for is that a beautiful skin and bold red lips are all you need to convey elegant assurance. A Bouche Rouge — red lips — is very French but also a strong statement. It is what you need — no matter your age — to dress-up your look. "Red lips" also stands for "using your voice" in French and this is very important to me to affirm this revolutionary spirit.
Your brand has recently expanded to Asia with its launch at Lane Crawford in Hong Kong. Are there plans to bring La Bouche Rouge to other parts of the world in the near future?
Of course we do want to grow internationally, firstly other parts of Asia with Korea and Japan.
Would you ever consider growing La Bouche Rouge's offering with other kinds of sustainable makeup or skincare products?
Our next step is to create and develop other beauty products as beautiful and sustainable as our lipsticks, but this takes time and our whole R&D team is working on it.
---
Share this article