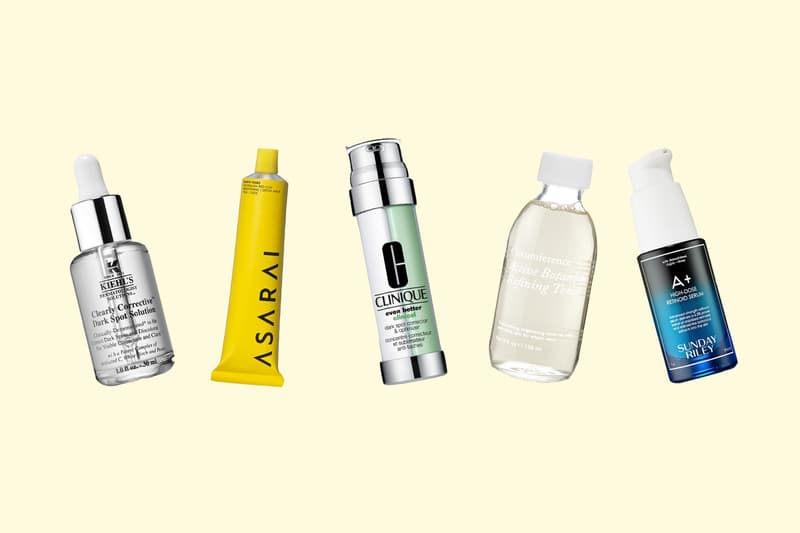 Beauty
The 5 Best Skincare Products for Correcting Dark Spots & Blemishes
Don't sleep on these picks from Sunday Riley, Kiehl's and Clinique.
The 5 Best Skincare Products for Correcting Dark Spots & Blemishes
Don't sleep on these picks from Sunday Riley, Kiehl's and Clinique.
If your summer is already jampacked, it's likely that your skincare regimen is taking a hit. That simply means that your skin could be experiencing blemishes, random breakouts and irritation as the days keep getting hotter. We've been dealing with a few of the same woes so we decided to share a few tricks for correcting dark spots and giving your skin a second chance. To remedy the common skin issues, we've tallied up products including a mask we love, a facial toner that's completely transformed our skin and more.
A few options we highly recommend include Sunday Riley's A+ High Dose Retinol Serum and ASARAI's Earth Tones Mask. The serum features ingredients that ultimately alter fine lines, wrinkles and dark spots, while the aforementioned mask brightens dull complexion and calms irritated skin.
Keep scrolling to take a look at our top beauty picks for clearing up blemishes, and to find out where you can purchase them.
Formula: Created with Hawaiian white honey, bisabolol, cactus extract, and ginger.
What It Is: This advanced-strength retinoid serum fights the signs of aging and also improves the look of congested and UV-damaged skin. We're an avid fan of the way it helps improve the appearance of dark spots and acne. It actually balances out skin that is classified with hyperpigmentation in addition to soothing the skin for a more even-toned complexion.
Buy Now: $85 USD at Sephora.
Formula: Created with lavender hydrosol, organic aloe leaf juice and more.
What It Is: This facial toner is packed with refreshing ingredients that provide a natural, gentle astringent. The formula minimizes your pores, hydrates your skin and give your face an overall stunning glow. For best use, pour the toner on a cotton pad or ball and apply it in the evening and also in the morning ahead of your skincare routine.
Buy Now: $60 USD at Circumference.
Formula: Created with a vitamin C derivative, white birch extract and peony extract.
What It Is: This highly effective serum targets and visibly diminishes the number and intensity of dark spots. Additionally, the combination of ingredients is known to alter discoloration and penetrate the skin's surface to correct and even skin tones. In total, it creates brighter and clearer skin.
Buy Now: $52 USD at Sephora.
Formula: Key ingredients include Australian red clay, sunflower seed oil and aloe vera juice to name a few.
What It Is: This product detoxifies and brightens your skin after one thanks to its slew of refreshing ingredients which also includes Kakadu plum, rainforest lime fruit extract and Australian white Kaolin clay. The formula combines to fight inflammation, provide tighter skin, smoothen out target areas and more.
Buy Now: $29 USD at ASARAI.
Formula:: Does not include parabens, phthalates, oil or fragrance.
What It Is: Clinique's dermatologist-approved optimizer helps reverse dark spots and problem areas. Before moisturizing, apply the calming product all over your face and neck. Simply use this product twice a day, during the morning and during the evening for best results.
Buy Now: $81 USD at Sephora.
---
Share this article