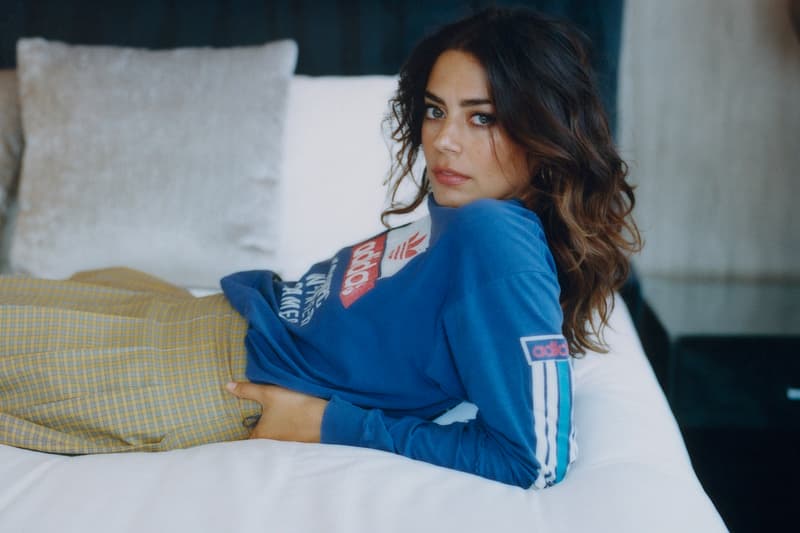 Culture
Lorenza Izzo Is the Actress Taking Hollywood by Storm
Starring in 'Once Upon A Time In Hollywood' alongside Brad Pitt, Leonardo DiCaprio and Margot Robbie.
Lorenza Izzo Is the Actress Taking Hollywood by Storm
Starring in 'Once Upon A Time In Hollywood' alongside Brad Pitt, Leonardo DiCaprio and Margot Robbie.
Chilean actress Lorenza Izzo is about to be the name on everyone's lips this summer. Acting alongside big names like Margot Robbie, Leonardo DiCaprio and Brad Pitt in Quentin Tarantino's anticipated film Once Upon A Time in Hollywood, she is about to take the world by storm.
You may be familiar with Lorenza Izzo from films like Sex Ed, Knock Knock and The House with a Clock in Its Walls, and this year she's got much more in the pipeline. In her upcoming Tarantino film she takes on the character of Francesca Capucci, starring in the comedy-drama production set in 1960s Los Angeles following the story of an ageing actor and his stunt double, as they embark on a journey to make it in Hollywood.
We had the chance to catch up with Lorenza at Dream Hollywood Hotel before the premiere of the film to talk about her character, what it was like working on the film as well as with the star-studded cast and Quentin Tarantino. Keep reading below to learn more about the actress, and don't miss Once Upon A Time in Hollywood when it hits theatres on July 26.
Introduce us to Francesca Capucci in your upcoming role in Once Upon a Time in Hollywood.
She's a fiery, strong, and funny Italian actress in the '60s. She is not based off of a real person as many characters in the movie are, but she is, in a sense, an homage to those Italian bombshell leading ladies of the time. Playing her was absolute bliss and pure fun – it's not every day you get to dive into the Italian culture of the '60s!
What attracted you to Quentin Tarantino's new project?
Quentin is a dream director to work with, it's one of those rare chances you get in life that may never come again. I'm still pinching myself that it actually happened.
Did you know about the Manson murders prior to this role? How does it all fit into this film?
Of course I did! It was one of those events that was heard about around the world and really changed how I understood human behavior. I can't reveal how it actually fits into the film because it would ruin it, however, 1969 was an inflection point not only within society but for cinema as well. It was a moment of crisis and industry change that had the whole town on edge. And you see that happen through Rick's (Leonardo DiCaprio's character) journey.
Tell us about the experience of working with Tarantino and your all-star cast mates.
It was the warmest set I've ever worked on – the same crew has worked together for most of his movies, so it was like walking into a family that truly loves every second of their work. There was a very special energy on set. The rules were absolutely no cell phones on or near the set and it truly made the whole shoot an incredible experience. I not only got to check one box for working with a dream director but also for working with a dream cast.
Once Upon a Time in Hollywood is said to be an ode to the golden age of Hollywood. What was that era like, reinterpreted through Tarantino's lens?
I can't speak for Mr. Tarantino himself, but I can say that I've never met anyone so passionate and knowledgeable about movies, television, music, and just history in general. It's most definitely an ode to the golden age, with all the glamour, the color, and the allure. It's a spectacular feast for the eyes.
What about through your own lens? What have you learned most through this experience?
I have to say I had so much fun shooting. Quentin has been the most nurturing, fun, and exact director I've ever worked with. He allowed me to take risks and fully go for it. He also taught me that there is no such thing as wrong. Working with him was a true gift
Make-Up

Lilly Keys For Exclusive Artists Using Charlotte Tilbury
Hair Stylist

Aviva Perea At Starworks Artists
Stylist

Brit + Kara Elkin At Starworks Artists
Interviewer

Lily Chen/Hypebae
Location

Dream Hollywood Hotel
---
Share this article