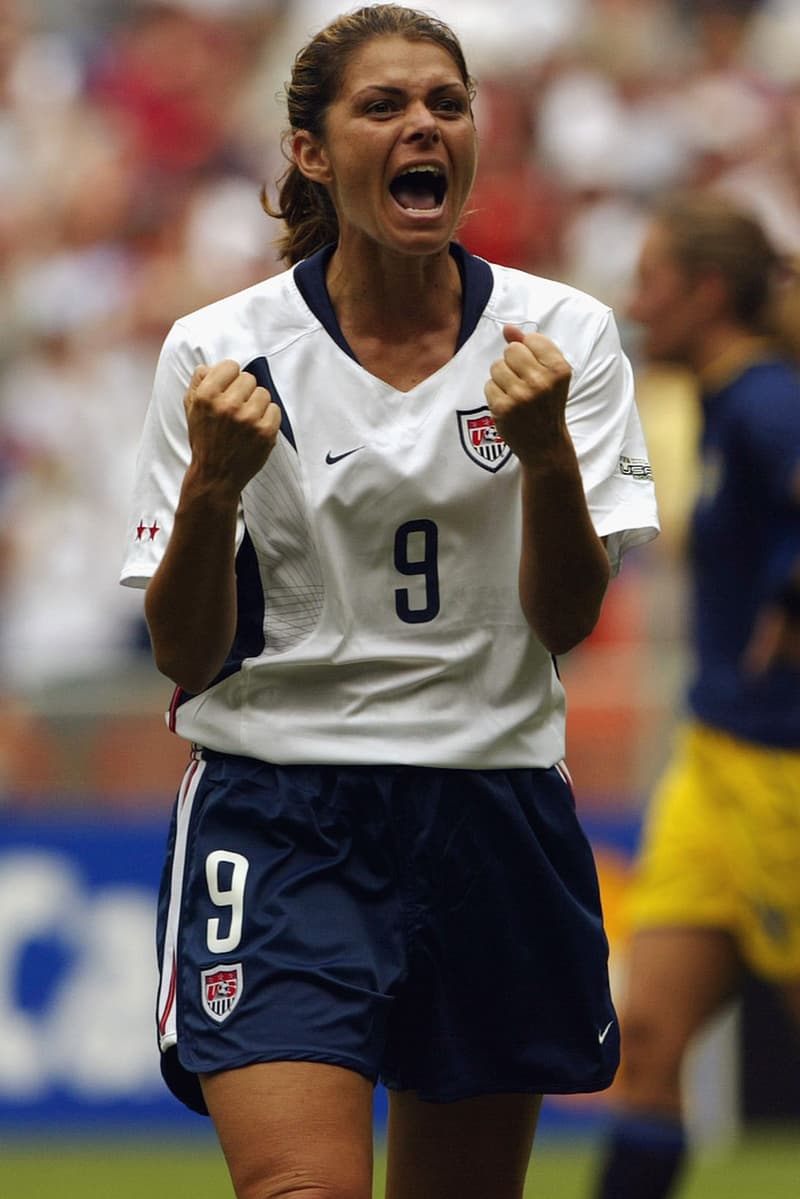 Mia Hamm on Her Pride for the Current U.S. Women's Football Team and the Legacy of the '99ers
We speak to the soccer legend ahead of the 2019 FIFA Women's World Cup final.
Culture
Mia Hamm on Her Pride for the Current U.S. Women's Football Team and the Legacy of the '99ers
We speak to the soccer legend ahead of the 2019 FIFA Women's World Cup final.
The 2019 FIFA Women's World Cup has had fans of the sport, old and new, on the edge of their seats this past month. It's brought the women's game to a whole new level, where a larger amount of funding and focus than ever before has been placed on the world's best female footballers. Just to put it into perspective, the England vs USA match drew in 11.7 million UK viewers, making it the most-watched television broadcast in Britain this year. Similarly, the U.S. women's national team home shirt has become the number one soccer jersey – mens or women's – ever sold on Nike.com in one season.
Now, all eyes are on firmly the superstar USWNT as they're led into the final by captains Alex Morgan, Megan Rapinoe, Carli Lloyd and Becky Sauerbrunn against the Netherlands on July 7. Regardless of the result, this entire tournament has proved just how dynamic women's football and its players are, and the icons they have become both on and off the field.
We caught up with American soccer legend Mia Hamm, widely regarded as one of the greatest players of all time, at Hyundai's World Cup exhibition in Paris ahead of the final. Read on to hear her thoughts on the legacy of the '99ers, how she's seen women's football develop over the years and her love for the phenomenal current USWNT team.
You have a unique vantage point, having played at the inaugural Women's World Cup, through the decades to where we're at now. What are some of the biggest developments you've seen from the sport and tournament in that time?
I don't even think people knew in '91 what was happening. Unless you were friends and family of the players in the tournament or you lived in China at the time. I think the coverage is so much greater than it has been. Just looking at the U.S., how many media members are here to cover it and the financial investment people have made. I think also just the style of play on the field has improved so much. Not just individual players but the system of these team's plays, there's versatility in their lineups, versatility in their formations and that's been the growth of the game on both sides, mens and women's, but it's made our game better.
Are there any aspects of the women's game that have been slower to progress, or haven't progressed at all in that time, in your opinion? What are the challenges still faced and the changes that need to be made?

There are definitely areas that have been slower to progress. We could continue to have greater financial investment, sponsorship, marketing, development money and having more consistency globally. Looking at the teams in the quarter finals, it's the U.S. and European countries. We've had five first-timers this World Cup which is something to celebrate. I'd love to see the tournament expanded; get more teams, more investment happens. There are going to be some growing pains with that but that's ok because these teams will go back to their federations and confederations and say "listen, this is important for us to do."
"We all want to see more young girls finding confidence and playing the game, more outreach."
You made the USWNT aged just 15 – how do you feel that experience shaped you as a person and athlete?
I think making the team at such a young age made me realize that I wasn't a very good soccer player. I was a good athlete, but so was everyone else I played against. I needed to invest in my craft if this is what I wanted to do. I just remember walking away from the first two training camps and telling my dad "I want to be on this team for a long time," and I think the first thing I asked him to get me was running shoes. I'd never got a pair of running shoes before in my life, so we went out and got those because I needed to be fitter, I needed to be faster. I had to commit every single day to being better.
The Hyundai pop-up exhibition includes mementos charting the history of women's football. What did it mean to you to see those pieces together? Did any of the pieces spark any specific memories or emotions?
Being here at the exhibit, we're celebrating the history of women's football. In terms of what sparks emotions, obviously this [FIFA Women's World Cup] trophy. The one we won had a really big dent in the top so I think they've replaced it! For me, this is a global game and you're competitors when you're in-between the lines and when you're off the field, we all want the same thing. We all want to see more young girls finding confidence and playing the game, more outreach. We will never say "It's just a game" but in the end we wanted to elevate the game when we were on the field and I feel we did that.
It goes without saying that you're one of the most celebrated footballers of all time, and you and your teammates in '99 have built a lasting legacy that's inspiring to this day. What are some of the pressures that go alongside that?

Being on the '99 team and having that opportunity, we didn't feel any pressure. This was a conscious conversation that we had with each other about the opportunity to change women's sports forever. We have a platform and people were committed to making this the best tournament that's ever been played. The pressure for us was just being on the field. Leaving a lasting legacy was an honor to be a part of and we felt every player that had played before us, the history in this room – we owed it to them to do everything we could to make sure it was better for the next generation.
Your legacy extends to the work you do in the present day to champion women in sports. What are your thoughts on the current generation of young female footballers coming through the ranks and the USWNT, some of which I'm sure were inspired to take up football directly because of the impact you had on them and the sport?
I'm inspired by the current USWNT. I think they're bold, I think they're colorful, I think they're unapologetic. I think they've embraced this opportunity as role models and moving our game forward and I'm just incredibly proud of them.
---
Share this article