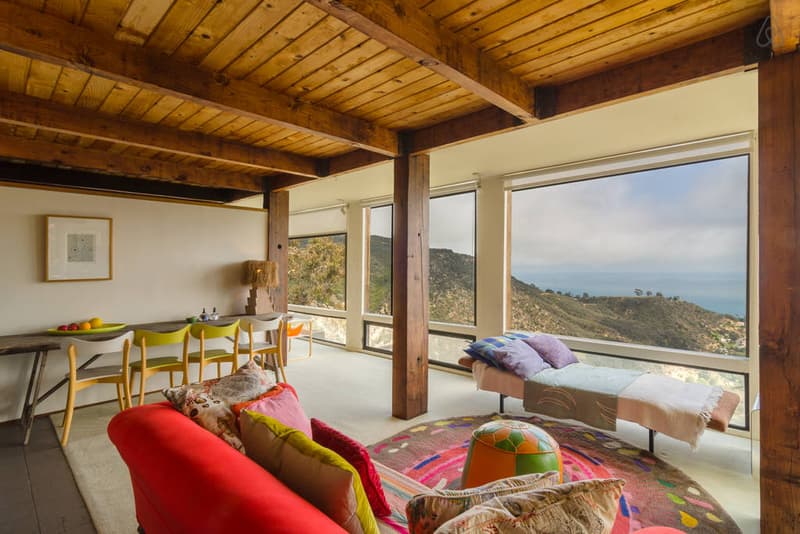 Culture
The 10 Most Unique and Wish-Listed Airbnb Destinations in the U.S.
Locations spanning the South, the West Coast and more.
The 10 Most Unique and Wish-Listed Airbnb Destinations in the U.S.
Locations spanning the South, the West Coast and more.
This summer is all about buckling down and actually taking time to travel, especially if you spent last summer working nonstop and barely taking time to sit back and unwind. To ease your wanderlust, instead of thinking globally it's actually easier on your wallet to seek out locations here in the United States.
For that reason, Airbnb's newest list of the top 10 wish-listed destinations in the U.S. comes in handy. The affordable, relaxing locations on this list features spots in Atlanta, Joshua Tree and San Francisco among other places. Keep scrolling to figure out the 10 most wish-listed Airbnb homes in the U.S.
Headlining the list is this stunning secluded treehouse that is described as "an urban retreat like no other." Located minutes from downtown, this location provides an intimate and restful experience for two guests. It consists of one bedroom and one bathroom, in addition, it's ideal for couples looking for a romantic weekend getaway.
Price: $375 USD per night.
A resting place for dreamers, the Joshua Tree House is a two bed, two bath estate located just ten minutes from the West entrance of Joshua Tree National Park. Expertly designed as a place for individuals to unwind, one of the home's main features is a relaxing hot tub. At this oasis, you'll be able to take in incredible views of the well-known space.
Price: $185 USD per night.
Located in the mountainside of the Columbia River Gorge, this getaway upon first glance is marked by an iconic round doorway. If you book it you'll be able to see the wondrous views of the mountains. Additionally, this space which includes one bedroom and one bathroom is designed with adventure in mind. During your stay you'll have access to six acres to hike and explore.
Price: $400 USD per night.
This personal paradise is nestled on top of stilts 15 inches up in the canopy of the local flora. Featuring one bedroom and one bathroom, the space also includes handcrafted porthole windows and a natural theme throughout. Additionally, you'll find that the Volcano National Park is located just 10 miles away.
Price: $300 USD per night.
Ranked as the number one cabin in the world, this geodesic dome loft features a large deck in the trees. Referred to as "The Mushroom," this home is equipped with one bedroom and two bathrooms. This is an ideal location for you if you're into quirky destinations with their own style. It's been listed since 2009 and has great reviews in case you're curious.
Price: $130 USD per night.
Surrounded by nature, this pick located near Lake Tahoe features three bedrooms and two bathrooms. It's ideal for families or groups with up to eight guests. Located a short drive from casinos, this pick is perfect for relaxing. Other features include a BBQ grill and a large picnic table for entertainment.
Price: $112 USD per night.
An architectural gem, this home was recently highlighted by the Los Angeles Times as one of the best houses of all time in Southern California. It's completely off-grid and is the prototype for the pre-engineered system known as the IT House. It features two bedrooms and one bathroom in addition to raw industrial aesthetics paired with green design cues. Lastly, it's powered by solar panels for energy and hot water.
Price: $400 USD per night.
Placed on a sea-facing canyon, this selection is surrounded by three acres of beautiful gardens and vegetation such as oranges, figs and lemons. Comprised of a bedroom, a bathroom, a galley kitchen, a large sitting room and a private sea-facing terrace, this Airbnb is a hidden gem. With easy access to Malibu beaches, the Santa Monica Mountains and critically acclaimed restaurants we're adding this selection to the top of our travel destination wish list.
Price: $325 per night.
The Pondhouse is coined as the "ultimate rustic getaway" due to its beautiful view in the night hours. The space is home to an outdoor fire pit, meditation spots surrounding the pond and trails nearby perfect for relaxing. Features include three beds, one bedroom and one bathroom.
Price: $250 USD per night.
Located four miles down at Kealakekua Bay in Hawaii is the stunning Bali Cottage. This jewel features a large ficus tree and one of its most significant features is its antique Bali panels. Set within a peaceful village, this space is equipped with one bedroom and one bathroom. The listing shares that it's in a peaceful location, steps away from Neighborhood Beach Park where you can access the Kealakekua Bay to swim and snorkel.
Price: $175 per night.
---
Share this article