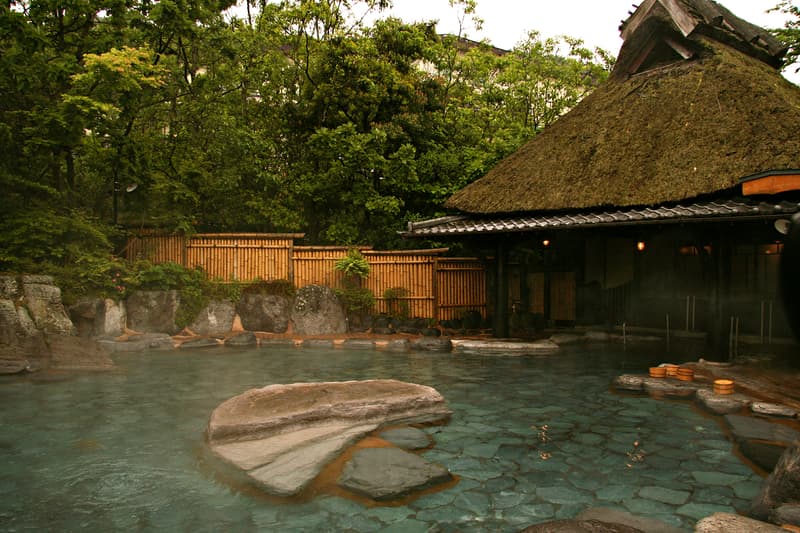 Here Are the 5 Most Relaxing Private Onsens to Visit in Japan
Peak self-care.
When it comes to self-care, what could be more relaxing than a trip to an onsen? The traditional Japanese hot spring spas are filled with steamy, natural mineral waters that is not only great for de-stressing but are also said to have healing powers and beauty benefits. The culture of hadaka no tsukiai or "naked communication" in Japan is extremely valuable, but for some travelers, it could be something new and potentially uncomfortable. While we're all about body positivity here, we know that it doesn't equate to being 100-percent confident in your birthday suit, so luckily enough, South China Morning Post has rounded up the best private onsens to visit while you're in Japan.
An oasis in the middle of Tokyo, Sayano Yudokoro gives the feeling of a neighborhood bathhouse but with private room booking. The hot spring water is pumped from 4900 feet underground, and the onsen is complete with a zen garden. To add to the experience, you can book a room that comes with adorable rubber ducks for those nostalgic bath times.
Address: 3 Chome-41-1 Maenocho, Itabashi City, Tokyo 174-0063, Japan
Just a stone's throw away from Tokyo, Hakone Yuryo is impressive with 19 private onsen spaces. The onsen is designed like a traditional ryokan, which makes you feel at home even if you're just dropping by. Make sure to make a reservation before visiting.
Address: 4 Tonosawa, Hakone, Ashigarashimo District, Kanagawa 250-0315, Japan
This onsen features six open air-style baths that can be used privately, as well as private bathrooms that you can rent. If you couldn't bear to part ways with your dog while travelling and brought your pup along for the journey, Yajikitanoyu also offers a dog spa for your furry friend.
Address: 694 Yumoto, Hakone, Ashigarashimo District, Kanagawa 250-0311, Japan
In case you're wondering if hot spring amusement parks are a thing, they are. Hakone Kowakien Yunessun has every type of bath you can imagine – indoor, outdoor, private and public – not to mention, wine, coffee, sake and green tea baths and tubs shaped like instant noodle ramen bowls. There are also water slides in case that isn't enough excitement for you.
Address: 1297 Ninotaira, Hakone, Ashigarashimo District, Kanagawa 250-0407, Japan
If you haven't seen it on Instagram yet, Shibu Onsen is a photo-worthy historical town known for its snow monkeys. At the Snow Monkey Park, the monkeys can be spotted bathing in hot springs and enjoying themselves as much as you are. Onsen Toomi-no-Yu is part of Hotel Selan that is free for guests and also open to the public. The open air bath has a mountain view and also private bath reservations.
Address: 7005-1 Yomase, Yamanochi, Shimotakai District, Nagano 381-0405, Japan
---
Share this article