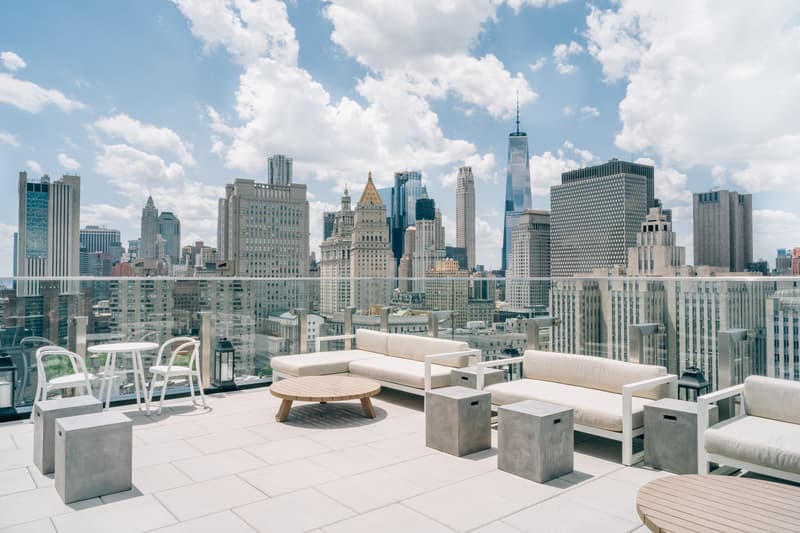 Food
The Best Rooftop Bars in New York City & Brooklyn That We Love
Our editor-approved picks include The Crown, Ophelia and more.
The Best Rooftop Bars in New York City & Brooklyn That We Love
Our editor-approved picks include The Crown, Ophelia and more.
Rooftop bars are a perfect place to catch up with friends, network or just to kick back and relax. And in New York City, there are plenty of amazing bar options that you can visit on holidays or during the weekends. To help make your life easier, we've rounded up nine editor-favorite rooftop bars in NYC and Brooklyn. Refreshing drinks and cheap appetizers during happy hours aside, these bars also offer gorgeous views of the city's skyline.
Continue reading for our top picks, and while you're at it, check out the most Instagrammable hotels in NYC for all budgets.
The Crown Rooftop which is located on the top floor of Hotel 50 Bowery in Chinatown is a hidden gem. At this newly renovated spot, you'll be able to take in unobstructed views of the Manhattan and Brooklyn skylines. Details include two outdoor terraces and an indoor bar with luxe seating and massive windows.
Address: 50 Bowery, New York, NY 10013
The wildly popular rooftop bar at PUBLIC Hotel features a stunning view of New York City's skyscrapers. The expansive space also sees an outdoor terrace equipped with lounge furniture, a private outdoor bar and panoramic views. Additionally, there are floor-to-ceiling windows and chef-driven menus by Jean-Georges Vongerichten. There's also a private roof entrance available exclusively for guests of the hotel.
Address: 215 Chrystie St., New York, NY 10002
The Fleur Room created by the well-known Tao Hospitality Group is located on Moxy Chelsea's 35th floor. Outfitted in a chic botanical theme, the rooftop features a copper-clad bar, a water-droplet chandelier and a large vintage disco ball. Notably, at the touch of a button, the glass walls of the lounge retract to unveil a stunning sky veranda. At this location, you can take in 360-views of the Manhattan skyline.
Address: 105 W 28th St., New York, NY 10001
Lemon's at Wythe Hotel in Brooklyn takes direct inspiration from Italy in the '60s and the laid-back culture of that era. At this chill bar, you'll be able to enjoy summery drinks and luxe small plates. While taking in great views at night, you can relax as you listen to old school funk, soul and even disco.
Address: 80 Wythe Ave., Brooklyn, NY 11249
Located at 1 Hotel Brooklyn Bridge, Harriet's Rooftop & Lounge features inclinations inspired by old-fashioned cocktail lounges. A large emphasis is placed on the greenery which is present throughout the space. The bar is also stocked with fresh and seasonal ingredients which are paired with the well-stocked spirits. Live DJs are typically spinning at this lush location as well.
Address: 60 Furman St., Brooklyn, NY 11201
Strategically placed in short proximity to Hudon Yards is the Cachet Boutique NYC Hotel. The pristine open-air terrace is made up of lush green grass and eye-catching furniture. What makes this rooftop destination unique is the fact that artwork from emerging artists is on display in key areas.
Address: 510 W 42nd St., New York, NY 10036
A rooftop duplex bar and lounge, Bar Hugo is located at Hotel Hugo. In and outside of the 20th floor, you can view the Hudson River, the Freedom Tower and the Statue of Liberty. Design details include concrete, chrome and luxurious leather finishes. Within the two-level space, you can grab delicious, hand-crafted cocktails.
Address: 525 Greenwich St., New York, NY 10013
If you're ever in NYC's ultra-busy Theater District, you should consider hitting up Haven Rooftop at the top of Sanctuary Hotel. Hand-crafted cocktails, American cuisine, and good vibes are what this spot is known for. Who wouldn't want to purchase a few great drinks and then head over to an unforgettable show?
Address: 132 W. 47th St., New York, NY 10036
Originally constructed in 1928, the iconic, art deco Beekman Tower recently reopened its 26th floor as Ophelia. According to the lounge's official website, it previously served as a women's-only club and hotel space for the national Greek-letter sororities. The striking location was designed by John Mead Howells and features sculptures by Rene Paul Chambellan.
Address: 3 Mitchell Pl., 26/F, New York, NY 10017
We discourage irresponsible and/or underage drinking. Drink responsibly and legally.
Share this article