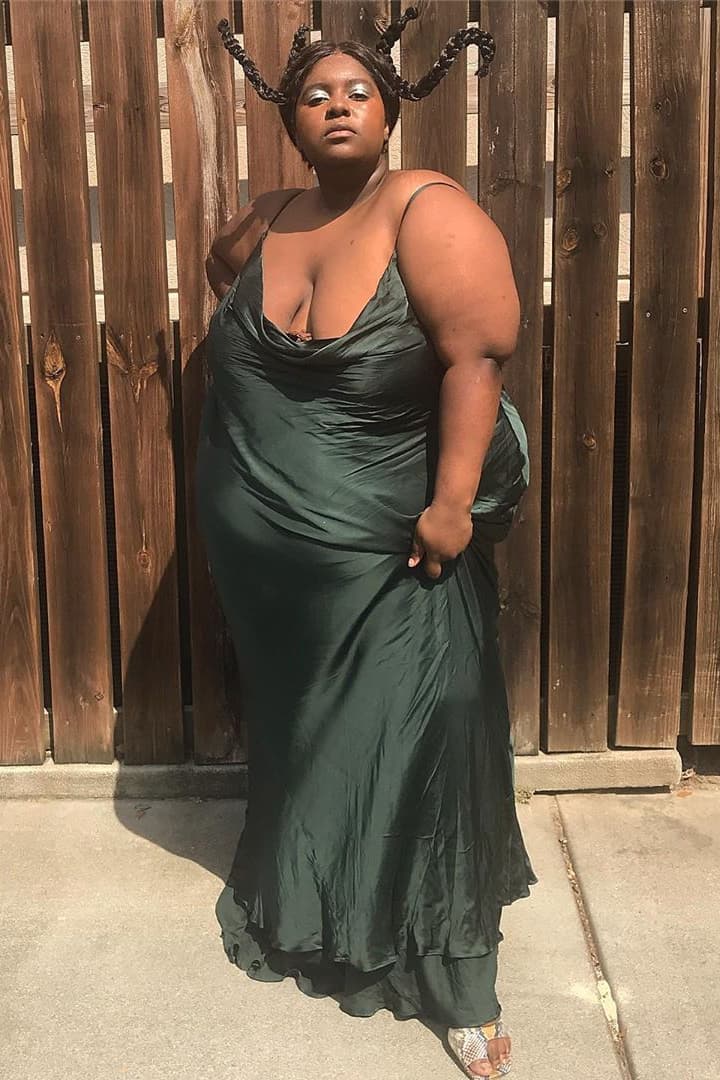 Here Are 12 Body-Inclusive Instagram Accounts You Need to Follow
All shapes and sizes.
The world of Instagram can be difficult to navigate since it has the potential to take a hit on our self-esteem. It comes to no surprise that studies have shown that scrolling on Instagram can severely cause damage to our mental health since we get bombarded with a slew of picture-perfect images every day. The repeated exposure to Photoshopped images that only show one body type is bound to take a toll on how we view ourselves.
On the other hand, the great thing about social media is that we can choose who we follow, and the number of accounts that feature body-inclusive people is only growing. If you're looking for inspiration outside of the cookie-cutter beauty standard, we've rounded up some of our favorite accounts.
Take a look below to see all the body positivity advocates embracing their plus-sized bodies, stretch marks, body hair, acne and more, because as Lizzo would say it, we deserve to feel good as hell.
While you're here, read our article about why embracing our skin is even more important than ever.
Founded by Tess Holliday, the first woman over a size 20 to be signed to a major modeling agency, Eff Your Beauty Standards is run by six body-positive admins. The account features people of all sizes, genders and ethnicities and encourages people to post photos of self-love using the hashtag #effyourbeautystandards which now has over four million photos. It's probably one of the most diverse feeds out there.
We first saw Mama Cāx on the runway at Chromat's Fall/Winter 2019 show taking on the modeling world with a prosthetic leg. She's a cancer survivor and a huge advocate for the disability community, and on top of that, she's been elected Glamour Magazine's 2019 Woman of the Year. If that isn't enough, she's also got great style and gives us major closet envy.
Founded by a mother-daughter duo, Style Like U is a video and podcast platform that tells people's stories of self-acceptance through the lens of fashion and body image. In an effort to dispell body shame and encourage vulnerability, its "What's Underneath" series features interview-style episodes where people get undressed and talk about their style. Some stories are lighthearted and sweet, and others are quite intense and talk openly about subjects such as domestic abuse, so make sure to check out the descriptions so you know what you're getting into.
P.S. Kaguya is an artist, writer, beauty enthusiast, body advocate, singer-songwriter and a plus-sized Asian model filling a gap in the industry. To prove she can really do it all, she also has her own jewelry line called Oolbo and is an admin for @effyourbeautystandards.
Jessamyn Stanley is a yoga instructor who is an advocate against any taboos around plus-sized people in health spaces. She wants to redefine the word fat, and make it a description that can also be paired with adjectives like "healthy" and "smart." Follow her Instagram for tons of inspiring yoga videos, and if you want more, she also has her own podcast, Jessamyn Explains It All.
Libby's Happy Project is a series of cute illustrations featuring all types of women. Her page is full of self-care quotes, poems and drawings highlighting things like cellulite and stretch marks.
I Weigh was founded by actress Jameela Jamil who was tired of seeing women's worth getting measured by their weight. The movement was created to provide a safe space where people can embrace all their flaws and their strengths.
Em Ford is a skin positivity advocate who is aiming to redefine beauty in the skincare and makeup industry. She first went viral on YouTube for her "YOU LOOK DISGUSTING" video where she illustrates the negative comments she received on social media both with and without makeup. The self-taught makeup lover is very open and honest about her journey with acne and posts content of both her natural skin and favorite beauty looks.
The body hair movement is real, and if you support it but are hesitant to commit all-year-round to not shaving, this is the account for you. Get Hairy February is the body hair version of No-Shave November and is a movement that wants to break the beauty standard that all women must have smooth, hair-free skin. The movement challenges people to stop shaving for one month out of the year to break to the stigma and also fundraise for charities that help eliminate violence against women.
La'Shaunae Steward has been a huge advocate for plus-sized models over the years. She has grown her following by speaking out against people who fat-shame and have fat-phobia, being vocal about plus-sized visibility and encouraging people to pursue their goals even if it goes against the grain.
Ericka Hart is a breast cancer survivor, sex educator, speaker, writer, activist and more. Follow them for all the body positivity content and to learn about racial issues and LGBTQ+ rights.
Fat Girls Travelling was created to show the world that just because you're plus-sized, doesn't mean you can't have a Pinterest-worthy travel account. It redefines the meaning of "bikini bod" and changes the cliché of a female traveler. Follow the feed for all globe-trotting babes and start dreaming about your next vacation.
---
Share this article