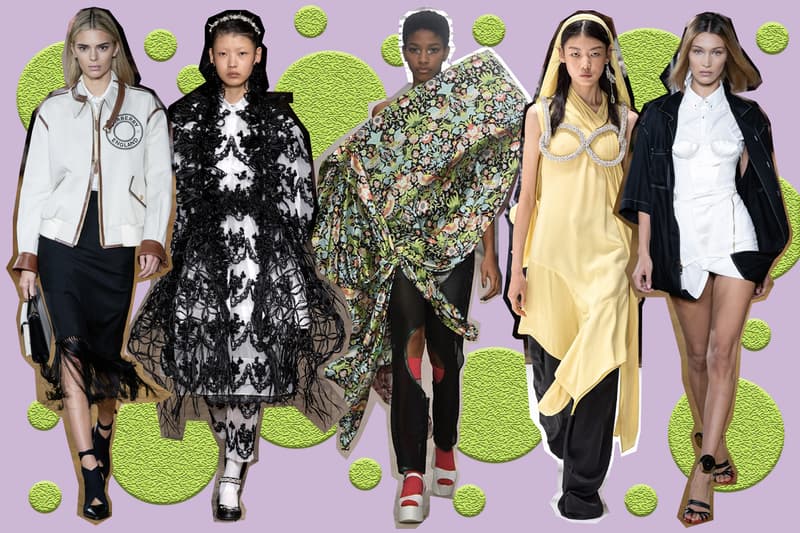 Fashion
Here Are the Best Shows From London Fashion Week SS20
Burberry, JW Anderson, Roberta Einer, Simone Rocha and more.
Here Are the Best Shows From London Fashion Week SS20
Burberry, JW Anderson, Roberta Einer, Simone Rocha and more.
London Fashion Week has come to an end, and after five days of shows, events and street style in the British captial, we've put together a selection of the shows you can't miss. The SS20 season brought a wide range of designs, which ranged from layered gowns to minimal tank tops, and we saw big brands like Burberry, JW Anderson and Simone Rocha take the runway, as well as smaller names like Jamie Wei Huang, Matty Bovan and Roberta Einer showcase their collections.
To catch up on all the best shows, keep reading below to see our top picks, and for more from London Fashion Week, don't miss all our coverage here. While you're at it, take a look at our exclusive backstage snaps from JW Anderson here, and read our interview with ASHISH here.
Jamie Wei Huang showcased her SS20 collection dubbed "Obsessive O.C.D" at London's Waldorf Hilton hotel, where natural light and high ceilings gave a heavenly light over the collection. "This collection is not about the final pieces appearing in the catwalk, but the journey of how they were created," said the designer, describing that she's inspired by the chaos required to create and design. With a range of pastel colors and a selection of eye-catching materials, the collection was shown with footwear sponsored by Skechers.
Showing at the British Fashion Council's show space, Matty Bovan brought bold designs down the runway. Experimenting with silhouettes and materials, the designer debuted a vast array of creations that took inspiration from shapes, and merged fashion and art together. The experimental looks were jaw-dropping, and became one of the most talked abut shows on the first day of LFW.
Roberta Einer showcased a collection filled with feminine and playful silhouettes ranging from satin slip dresses to sequin biker shorts. The entire collection took on a light color palette of pastel green, yellow and blue hues, and captured the designer's love for mixing and matching. Slinky blazers and statement coats also made their way down the runway, adding a luxury touch to the collection.
Prior to the collection reveal, Marques' Almeida played a video featuring their "M'A" girls talking about what they would want their future daughter to know. Answers varied from "I want her to be strong and I want her to know that she's beautiful and I want her to love her body," to "I don't want her to know things like racism, terrorism and more." Then the collection was displayed, this time marking the first time M'A showed menswear looks on the runway. Divided into color stories, the range told a tale that commented on our current political and social climate through fashion, and featured statement pieces like bold dresses, coats and printed sets.
Simone Rocha brought the fashion crowd to London's beautiful Alexandra Palace, and showcased a collection inspired by folklore. Her signature feminine gowns were on full display, emphasizing the designer's talent for tailoring and her incomparable craftsmanship. Gothic dresses were contrasted by Victorian-esque gowns, and all followed a muted color palette of white, black and nudes, with pops of blue, red and pink throughout. The multilayer pieces captured Simone Rocha's aesthetic perfectly, and the show featured models of all ages, proving that fashion has no limitations.
When it comes to sparkle, ASHISH is king. Ashish Gupta was inspired by Netflix's Wild, Wild Country for SS20, and debuted a range that was much more stripped down than his normal collections. Sweatpants and hoodies got the ASHISH treatment, and the designer took inspiration from traditional mirror work, which could be seen all throughout the collection in different shapes and sizes. A colorful extravaganza-turned-cult, to say the least.
A master of prints, Erdem Moralioglu debuted a colorful collection that boasted vibrant floral graphics and layered prints. Using feminine silhouettes but giving them a slight twist, the range was made up out of everything from powerful suits to gowns, as well as bold head pieces and accessories. Erdem is for the bold, and continues to prove that more is more.
Returning to Yeomanry House for a third season, Jonathan Anderson showcased a collection that became one of the favorites of the week. Casual silhouettes were elevated by bold statement jewelry, most notably pieces that highlighted the breasts of the models, as well as bejewelled belts, necklaces and earrings to match. In addition to flowy dresses, we also saw structured suits that sported an exaggerated waist, playing with feminine silhouettes by highlighting the extremes. Anderson stayed true to his signature color palette, weaving in pops of pink, blue and yellow throughout the range as well.
Burberry is always one of the most anticipated shows at LFW, and this year Riccardo Tisci brought out models like Kendall Jenner, Bella and Gigi Hadid and Agyness Deyn to the runway. Marking his third season for the British label, the designer focused more on his own personal skill when it comes to tailoring, cutting and draping, and displayed a collection that combined his Italian self with the British heritage label's aesthetic. Giving the iconic trench coats contemporary updates, as well as making looks for both the successful business woman as well as the edgy teen, Tisci captures a wide crowd through his streetwear-influenced pieces, but manages to stay true to the luxury DNA of Burberry with ease.
---
Share this article