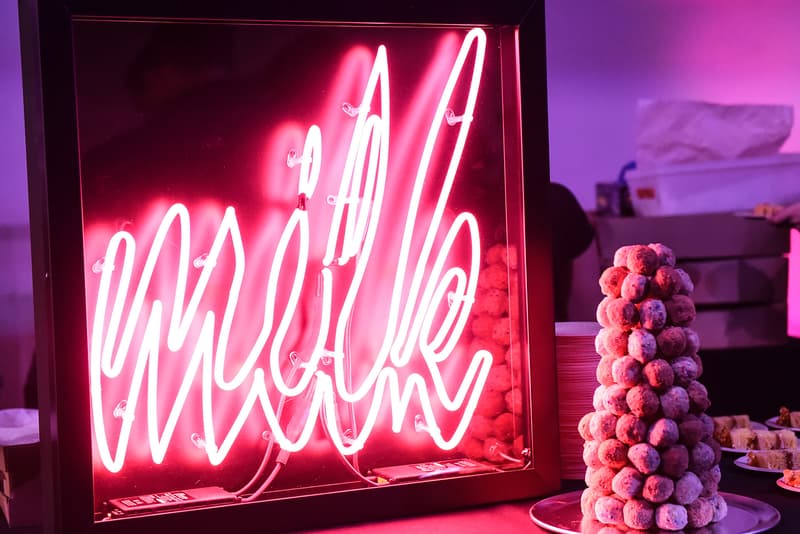 Food
Here's Where to Get the Best Cookies in New York
From Milk Bar's iconic Compost cookie to Chip's Chocolate Peanut Butter.
Here's Where to Get the Best Cookies in New York
From Milk Bar's iconic Compost cookie to Chip's Chocolate Peanut Butter.
Famously known for its oversized pizza slices and delicious creamy cheesecake, New York definitely knows its way around the food scene. When it comes to the basics, it's good to know where to find the best of the best because you never know when you'll start craving your childhood favorites. Sourcing the city's finest cookies is an essential skill, especially for those who have a sweet tooth.
Over the years bakeries have incorporated innovative flavors into the classic baked cookie. Ranging from the basic chocolate chip to s'mores flavored cookies, we've rounded up the top 10 places in New York City that make the best batches in town. From the cult-favorite Milk Bar by Christina Tosi to Levain Bakery's delectable goey batter, find out which shops made the cut in our list below.
While you're here, be sure to check out the 10 best coffee shops in New York.
Specialty: Known for its Compost cookie, Chef Christina Tosi has incorporated coffee, oats, chocolate, butterscotch, pretzels and chips into this customer-favorite. While you're there, be sure to also try out the new gluten-free Fruity Marshmallow cookie – the fruitier version of its original Cornflake Marshmallow cookie.
Location: 251 E 13th St, New York, NY 10003 and other locations.
Specialty: Levain Bakery's Chocolate Chip Walnut should definitely be on your cookie list. Other than it being the size of your whole face, its gooey and moist consistency is what people love about it and come back for time and time again.
Location: 167 West 74th Street, New York, NY 10023 and other locations.
Specialty: If you find yourself walking the streets of Little Italy, don't forget to grab yourself Maman's "famous" Nutty Chocolate Chunk Cookie made out of sea salt, macadamias, almonds and walnuts.
Location: 239 Centre St. NY, NY 10013 and other locations.
Specialty: Step away from the basics once in a while and try out Baked's Chocolate Cloud Cookie – a combination of a dense brownie batter and an airy meringue making it the ultimate cookie hybrid.
Location: 359 Van Brunt St, Brooklyn, NY 11231
Specialty: Every day's flashback Friday at Milk & Cookies with its customer-favorite S'mores cookie. Head on over to this West Village Bakery and reminisce the classic flavors of your childhood – graham crackers, toasted marshmallow and chocolate chip.
Location: 19 Commerce St, New York, NY 10014
Specialty: For all you peanut butter lovers out there, if you haven't tried Chip's Chocolate Peanut Butter cookie then you're definitely missing out. Indulge in its chewy consistency and rich flavors while sipping on a hot cup of joe.
Location: 30-06 34th St, Astoria, NY 11103 and other locations.
Specialty: Sweet Corner Bakeshop loves to stuff its treats with decadent fillings that ooze out once you break into it fresh out of the oven. If you're a cheesecake fan, make sure you try out the Cheesecake Chocolate Chip Bomb if you happen to pass by their store.
Location: 535 Hudson St, New York, NY 10014
Specialty: For you chocolate lovers out there, Insomnia Cookies' Triple Chocolate needs to be on your food list next time you're in town. This place also offers vegan and gluten-free options for those with dietary restrictions.
Location: 482 Third Ave, New York, NY 10016 and other locations.
Specialty: Inspired by the Korean fairytale Moon Rabbit, Besfren Café is a modern shop known for artisan Korean rice cakes and its Triple Chocolate Chip cookie.
Location: 315 5th Ave, New York, NY
Specialty: Seven Grams Caffe offers one of the best vegan cookies in the city. Don't forget to try out the creations in which they've swapped eggs and butter for tahini and olive oil giving it its chewy center.
Location: 275 7th Ave, New York, NY 10001