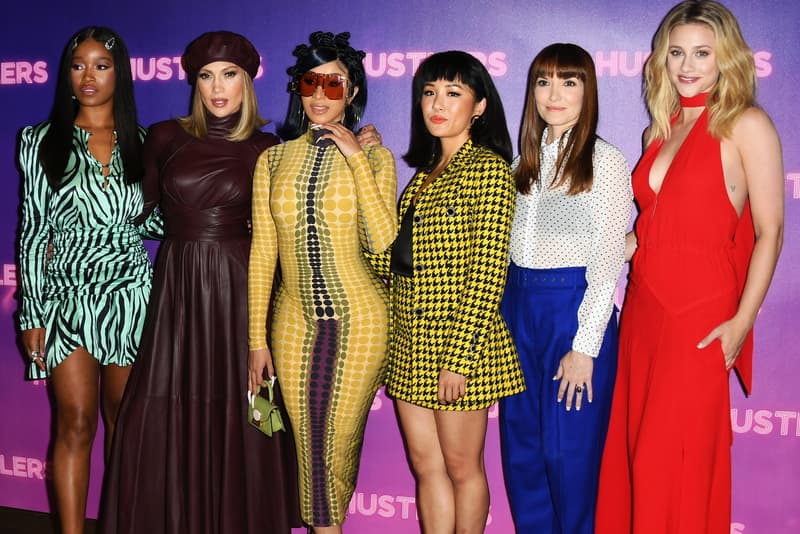 Culture
Here are all the Must-See Movies and TV Shows Premiering in September
'Hustlers,' 'IT: Chapter 2' and more.
Here are all the Must-See Movies and TV Shows Premiering in September
'Hustlers,' 'IT: Chapter 2' and more.
Fall is the perfect time to cozy up and watch a new series, or hit the cinema to see all the latest films. This month we're seeing anticipated releases like Cardi B's acting debut in Hustlers, Chapter 2 of the horror film IT, as well as new seasons of hit TV series including Disenchantment, Top Boy and more.
If you're looking to get the low-down on everything you'll be able to watch this month, peep our list below to get all the info you need.
Movies
IT: Chapter 2 (September 6)
Starring Bill Skarsgård as the terrifying clown Pennywise, IT: Chapter 2 brings back the characters of the first film back together as adults, nearly three decades after the events of the first film. The movie picks up as the crew discovers that the evil clown is picking up children in the town, and decide they have to stop him.
The Goldfinch (September 13)
Starring Stranger Things actor Finn Wolfhard, as well as big names like Ansel Elgort, Sarah Paulson and Nicole Kidman, The Goldfinch follows the story of 13-year-old Theo, who's life turns upside down after his mother is killed in a bombing at the Metropolitan Museum of Art. The story follows the character through childhood into adulthood, and is based on the 2013 novel by Donna Tartt.
Hustlers (September 13)
Perhaps one of this month's most anticipated films, Hustlers, features Jennifer Lopez, Lizzo, Lili Reinhart, Constance Wu and Keke Palmer, as well as Cardi B's acting debut. Inspired by an article from New York Magazine by Jessica Pressler, the film follows strip club employees that start a business by scamming and turning the tables on their Wall Street clients.
Rambo: Last Blood (September 20)
A retired John Rambo is informed of his friend's daughters kidnapping, and decides to help get her back. In a film that is guaranteed to be action-packed, we see Sylvester Stalone reprise his role as the tough Rambo in the trailer, all complete with Lil Nas X's "Old Town Road" playing throughout.
Ad Astra (September 20)
Ad Astra stars Brad Pitt as astronaut Roy McBride, who after going missing on a mission of his own 16 years ago in search of alien life, begins a search for his father in the outer reaches of space. The story also reveals that his father's ship contains a material that could end life back on Earth, putting McBride in great danger.
Downtown Abbey (September 20)
If you're a fan of the original Downtown Abbey series, this movie is the continuation of the Crawley family's story, as well as the servants who work for them in the English countryside in the early 20th century. The film will star the original cast, including Maggie Smith, Michelle Dockery and Hugh Bonneville, and will be a thrill for fans of the cult-favorite show.
21 Bridges (September 27)
21 Bridges stars Black Panther actor Chadwick Boseman as a cop who murders cop-killers. The trailer for the film shows Boseman arriving at a crime scene where eight cops have been fatally wounded, and figures that the situation could be a set-up leading him to shut down all of Manhattan to catch the killers.
TV
Wu-Tang: An American Saga (September 4, Hulu)
Set in early '90s, Wu-Tang: An American Saga follows the Clan's formation into a successful group in New York at the height of the crack cocaine epidemic. The group is torn between music and crime, but later turns into an unlikely success story that is immortalized in the new Hulu show starring Shameik More, Joey Bada$$ and more.
Titans: Season 2 (September 6, DC Universe)
Season two of Titans picks up following the aftermath of the previous season, all played out in the DC Universe. Season one follows the team of heroes, including the character Rachel, who's father Trigon has set out to enslave the world, and the second season will explore the relationship further.
Bill Burr: Paper Tiger (September 10, Netflix)
After his special two years ago, comedian Ole Billy Red-Face returns to Netflix in Paper Tiger, exploring topics like male feminists, sex robots, outrage culture, anger issues, and more at the Royal Albert Hall in London.
Top Boy: Season 3 (September 13, Netflix)
Dubbed the "UK version of The Wire," Top Boy season 3 begins with Dushane (Ashley Walters) returning to London to reclaim his position in the UK drug market. In London he links up with Sully (Kane Robinson) who is returning home following time in prison. The two returning characters go up against Jamie (Micheal Ward), who is a young and hungry gang leader ready to cause tension.
Disenchantment: Part 2 (September 20, Netflix)
Part 2 of hilarious cartoon series Disenchantment picks up directly after the end of the first season, and the show has already been picked up for another 20 episodes. Ideal for an easy watch this season, the show is perfect for those looking for something funny to add to your watchlist.
Creepshow (September 26, Shudder)
Inspired by the original film written by Stephen King and George A. Romero, Creepshow is a 12-part anthology horror series which is set to feature several disturbing shots from each individual story. The episodes will be narrated by Saw actor Tobin Bell, who along with Kid Cudi, Big Boi, DJ Qualls, and more set to make appearances throughout the series.
Share this article