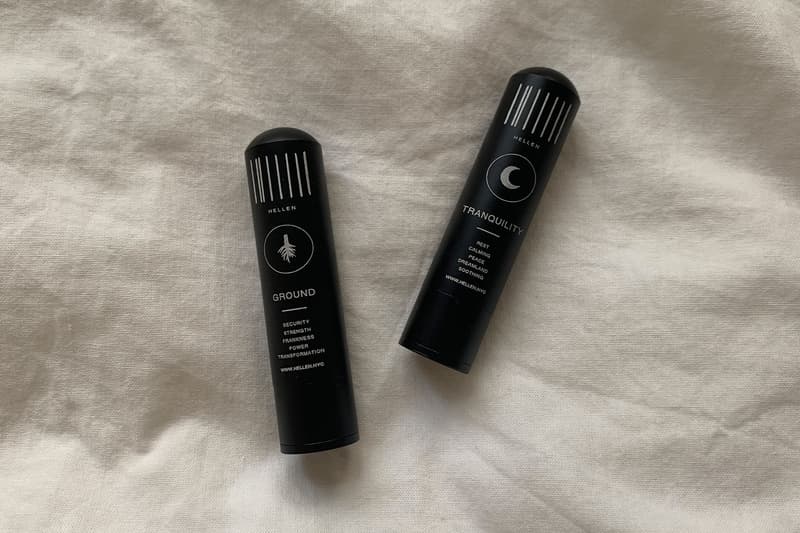 Health
HELLEN's Aromatic Inhalers Are My New Daily Essential for Relaxation
The essential oil-infused products are designed to increase focus and cleanse the mind.
HELLEN's Aromatic Inhalers Are My New Daily Essential for Relaxation
The essential oil-infused products are designed to increase focus and cleanse the mind.
For obvious reasons, many of us have found ourselves checking in on our mental health regularly this year. As we continue to stay home due to the coronavirus pandemic, it has become more important than ever to find ways to keep our mind at peace. Other than practicing yoga, hopping on quick FaceTime sessions with friends and family and binging new Netflix shows, I've found aromatherapy to be a great way to help me relax and take a break from all the overwhelming information we see on the Internet.
When I first came across New York-based company HELLEN and its aromatic nasal inhalers, I was intrigued to learn more about essential oils and Reiki, a Japanese alternative medicine used typically for destressing. According to the company's founder and certified aromatherapist Hellen Yuan, each scent is carefully built based on years of Reiki sessions where she identifies trauma, grief, low self-esteem and more to bring clarity and healing. She shares:
"I identified seven key intentions that can be supported by essential oils, whether your goal is to find inspiration, become more grounded, reduce nervous energy, love more openly, manifest your dreams or simply to be more energized. I wanted to have a formula for these important needs and more. Each inhaler is created with a blend of five potent essential oils, which are of the highest quality. This was incredibly important when formulating the inhaler blends, as we learned during our studies the vast difference between high-end therapeutic oils and conventional, mass oils."
Learn more about this week's "Editor's Pick" and why these aromatic inhalers have become my new favorite item below.
WHAT IT IS: HELLEN Aromatic Inhaler in "GROUND" and "TRANQUILITY"
WHY IT'S WORTH THE HYPE: The first thing I noticed about these aromatic inhalers was the sleek design. Available in seven iterations, the product arrives in a black metal case that holds a tube of essential oils. I've been keeping "GROUND," a refreshing vetiver scent, on my office desk and "TRANQUILITY," a serene German chamomille aroma, on my bedside table to keep me going throughout the day and wind down before going to sleep.
The only nasal inhalers I've used prior to HELLEN's are Thailand's menthol Ya Dom – which I like to sniff whenever my nose is stuffy from allergic reactions – so the entire experience was quite new to me. I was slightly skeptical at first but reminded myself to sniff these two inhalers two to three times a day to see what kind of effects it would have on both my mind and body.
After roughly a month of trying these out, I've noticed that my mind is more at ease when I follow the daily routine of sniffing them first thing in the morning, throughout the day and just before bed. I can't say if there have been any actual changes within my body, but the fragrant blend that each product offers has acted as a relaxing break and a reminder to take time for myself. To amplify the effects of the essential oil blends, I've also been trying to squeeze in short yoga or stretching sessions accompanied by HELLEN's calming sounds just after using the inhalers.
WHERE YOU CAN FIND IT: HELLEN's Aromatic Inhalers retail for $45 USD apiece and $315 USD for a full set on the brand's web store.
Share this article