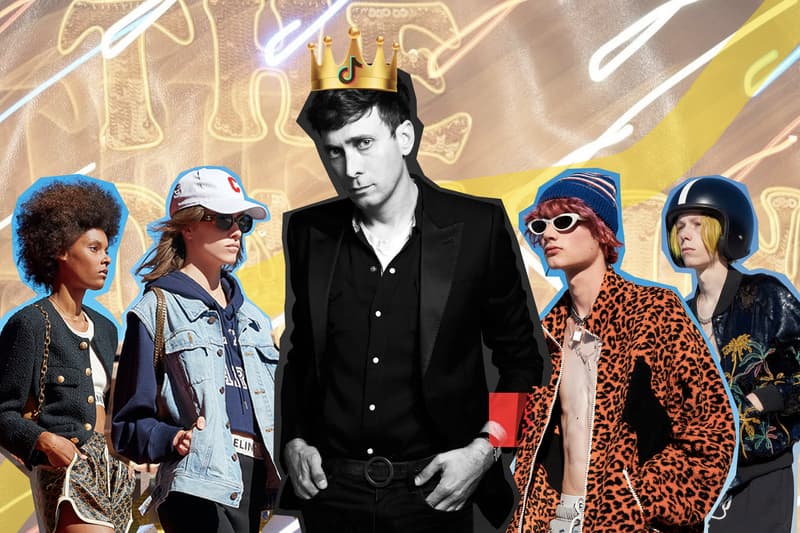 Fashion
Why Are Fashion Designers So Obsessed With Today's Youth?
And is Hedi Slimane the only designer who really understands it?
Why Are Fashion Designers So Obsessed With Today's Youth?
And is Hedi Slimane the only designer who really understands it?
Last night CELINE showed its Summer 2021 womenswear collection in Monaco, and it was a whirlwind. Of course, as I always do, I immediately took to Twitter to read about what us mere mortals were saying about Hedi Slimane's collection. All I can say is that there were no raving reviews. But did Slimane really swing and miss? I don't think so.
In a time where designers are consistently focusing on capturing the youth, are any of them actually paying attention to what the youth is doing? We've seen streetwear go from a small and niche community into a money-making extravaganza in a matter of years, all thanks to the spending power and interest of the so-called "youth." Luxury fashion brands like Chanel, Louis Vuitton and Balenciaga are all selling sneakers, and logo T-shirts from Gucci are flying off the shelves, and that is not thanks to the middle aged shopper.
A few days ago, Raf Simons showed his first co-ed collection for his eponymous label, dubbed "Teenage Dreams." Simons has always been a designer who states youth culture as one of his inspirations, dating back to many collections ago, and for SS21 slogans like "Children of the Revolution" and "YOUTH AGAINST!" were plastered throughout the range. Similarly, brands often claim to pay homage to young people through show notes, press releases and empty quotes, but again, is anyone actually paying attention to what the youth is doing? Enter: Hedi Slimane.
As a big lover of Céline under Phoebe Philo, I frequently reminisce the times where the "e" still sported an accent aigu. Since Hedi Slimane took the position as artistic, creative and image director of the label in 2018, he has given the label a new makeover and direction, taking it from Céline to CELINE – as well as adding menswear and fragrances to the brand's offerings. His signature aesthetic has heavily influenced the previous collections, with slim suits, jeans, heavy eyewear and rock-inspired silhouettes reigning supreme, and has given the label a completely new DNA under his helm.
Earlier this year, Slimane turned to TikTok for inspiration for his "The Dancing Kid" menswear show with "They Call Me Thiago" blasting from the speakers. Capturing the e-boy aesthetic of heavily ripped jeans, tees, layered jackets and of course, the signature dangly earring, the collection was an ode to the social media platform that has been on everyone's mind this year. This wasn't the first time Slimane paid a nod to the platform. Late last year Noen Eubanks was revealed as the face of CELINE's campaign, in which he was referred to as a "teen idol." For those aged 30+, the name Noen Eubanks may not ring a bell, but for an app with over two billion downloads and an audience where over 50% of users are under 30, it does.
Hedi Slimane's collections may not be alluring to the fashion crowd, but his marketing isn't focusing on those who are already in the industry. In September BLACKPINK's Lisa was revealed as the label's new Global Brand Ambassador, and of course, the internet went absolutely crazy. BLACKPINK fans (also known as "Blinks") were causing a Twitter frenzy, praising the label and the K-pop star, and searches for CELINE skyrocketed. The label's following also went up, and is only continuing to grow thanks to the stans.
Fast forward to a day ago, when Slimane debuted his womenswear Summer 2020 collection in Monaco. The range saw a whole new take, featuring wearable pieces like denim shorts, crop tops and logo caps – all inspired by what today's youth are actually wearing. Spending six months in lockdown, most of us are lounging in comfortable pieces and Slimane managed to turn his collection into everyday, wearable luxury. With a Princess Nokia soundtrack and models like Kaia Gerber parading down the runway, someone on the team had definitely done their research. It may not have been the most jaw-dropping collection for fashion critics, but if Slimane has played his cards right, the pieces will be seen on teens all over the world. Jeans, bucket hats and bomber jackets will move off the track-and-field inspired runway, right onto TikTok where today's youth will eat it up.
Hedi Slimane is smart and incredibly talented. He's moving away from the snooze-fest that fashion has been for the past few years and is trying something new and honestly, can we blame him? We've all been learning the "WAP" and the "Renegade" and spent hours on TikTok this year as a result of the COVID-19 pandemic, so why not grab inspiration from your authentic everyday surroundings? At the end of the day, CELINE is a blank canvas that has been interpreted by Céline Vipiana, Peggy Huynh Kinh, Michael Kors, Phoebe Philo and Hedi Slimane in completely different ways, just as it was intended to be. Slimane may still have a long way to go in terms of diversity and body inclusivity, but that's a conversation for another day. So, excuse me while I add the Spring 2021 collection to my wishlist for next year.
---
Share this article