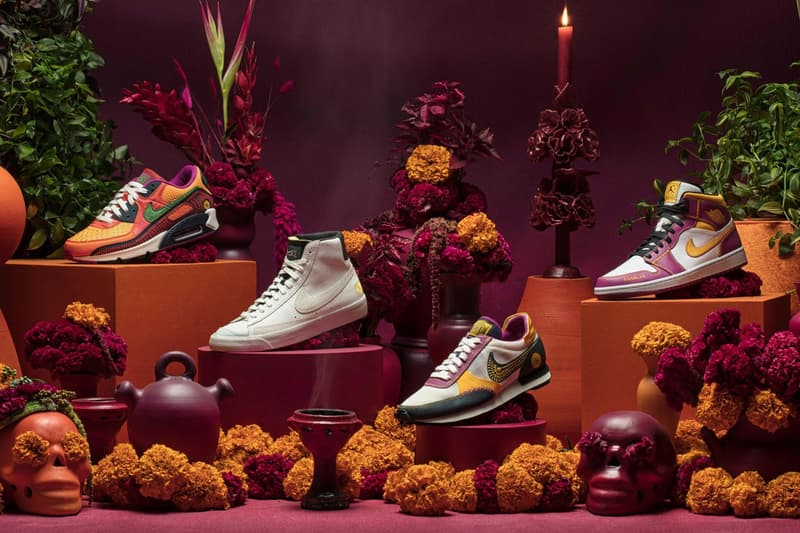 Footwear
Nike Launches Colorful Día de Muertos Sneaker Collection
Celebrate with the revamped Air Jordan 1, Air Max 90 and more.
Nike Launches Colorful Día de Muertos Sneaker Collection
Celebrate with the revamped Air Jordan 1, Air Max 90 and more.
Nike is celebrating Mexico's annual Día de Muertos — or Day of the Dead — with a collection of sneakers inspired by the festival of remembrance. This year, the footwear brand revamps the Air Jordan 1, Blazer Mid '77, Air Max 90 and Daybreak Type with motifs and colors inspired by the Mexican marigold, a flower symbolizing the continuity of life.
Each sneaker draws inspiration from the celebration's traditional ofrendas, or altars, honoring deceased family members. The Air Jordan 1, embossed with the word "FAMILIA" at the toe, is updated in vibrant purple and yellow. The Blazer Mid '77 is stitched with a marigold at the heel. At first glance, the shoe appears to be a clean, white style, but over time, its outer layer will wear off to reveal a colorful base.
The Air Max 90 is a thoroughly eye-catching sneaker that weaves together yellow, red and blue-patterned paneling. A speckled green Swoosh adds further interest. The Daybreak Type is a more toned-down style constructed of a white mesh upper with solid blue and yellow paneling. A navy Swoosh is embroidered with yellow thread and, when read from left to right, the heels of both shoes read "Para mi Familia."
Nike's Día de Muertos sneaker collection is available at Nike Mexico. The range will release globally at Nike SNKRS on October 15.