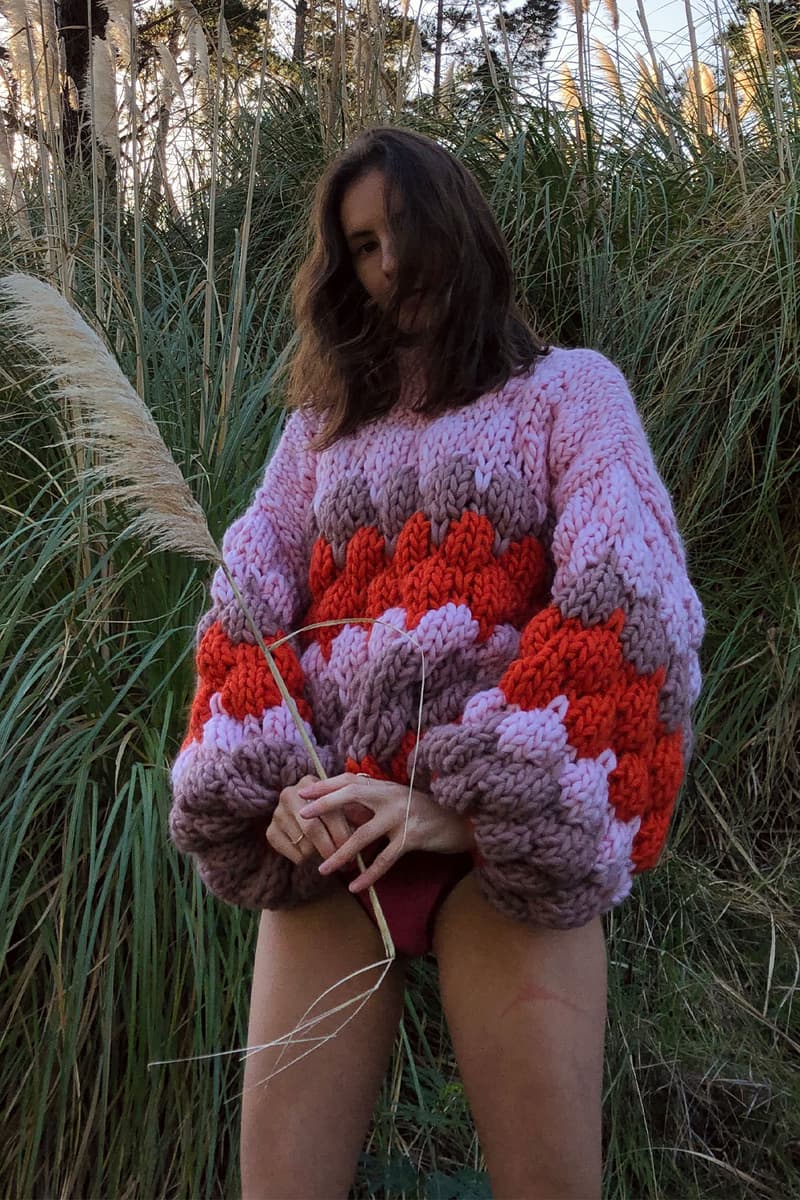 Snuggle Up in These 9 Cozy and Sustainable Knitwear Brands
Build a stylish and eco-conscious wardrobe with these designs.
Fashion
Snuggle Up in These 9 Cozy and Sustainable Knitwear Brands
Build a stylish and eco-conscious wardrobe with these designs.
Knit sweaters and cardigans are some of the most popular garments during the colder months of the year. Whether you're staying at home or going out for a walk, a comfortable knit will keep you feeling warm and cozy. If you're looking for eco-friendly designs to add to your wardrobe, below, we've rounded up some of the best sustainable knitwear brands on the market.
These labels prioritize environmentally and socially ethical practices through methods such as forgoing season-based releases and shipping by sea rather than air. Brands like The Endery and Wool and the Gang even minimize the production process by providing customers with the option to craft their own DIY sweater with recycled yarns. Look to babaà and CARCEL for minimal and timeless designs, or WAH-WAH and YANYAN for vibrant patterns to complete a statement-making outfit. Rounding out our list are House of Sunny, an Instagram-favorite label, and the Knitter., a brand that focuses on supporting small and local businesses in New Zealand and Peru.
Scroll down to explore brands that offer consciously-made knitwear. For more on sustainability, peep our list of eco-friendly activewear brands perfect for your at-home workouts.
Offering "quality knitwear for everyday use," babaà makes all of its items in Spain. The label's cardigans, jumpers and more are comprised of 100 percent natural yarns, which are free of acrylics and synthetic fibers. The brand sources entirely from Spain-based suppliers to support the local textile industry. The knitwear pieces are made with wool from northern Spain, which is then ethically spun and dyed by artisans. The resulting products are timeless and minimal designs boasting a neutral color palette that can be styled for any occasion.
CARCEL is another name that offers wardrobe essentials with seasonless, minimal designs. Pursuing a positive impact agenda, it sources natural materials local to the region of production, including alpaca in Peru and silk and lyocell in Thailand. Forgoing season-based releases and sales, CARCEL eliminates waste through limited production while controlling demand by operating its own workshops. The brand additionally empowers women by having its styles made by employees (who are mostly mothers incarcerated for poverty-related issues) serving sentences in Peru and Thailand with fair wages and training. The label keeps its supply chain transparent through methods such as providing a detailed price breakdown on its website.
The Endery is a great option for those looking for a new quarantine DIY project. Tackling global waste, the label offers user-friendly knitting kits comprised of deadstock material for creating new, cozy pieces. It works with production sites in Peru to rescue quality yarns, minimizing its environmental impact. To prolong the lifespan of your knitted piece, the brand's Deadstock Mending Kit comes in handy for your handmade cardigan. If you're not the crafty type, The Endery also offers practical ready-to-wear garments such as a reversible cardigan.
An Instagram favorite, House of Sunny is an independent label known for its statement-making sweaters, cardigans and dresses. Acting against fast fashion, the UK-based brand releases two seasonal collections a year as an effort to source high-quality sustainable fabrics and to manufacture at a slower pace. Considering all aspects of the supply chain, the brand chooses to lessen impact by shipping via sea freight rather than air freight to reduce carbon emissions. Some of House of Sunny's most popular items include multi-functional sweaters that double as vests, as well as "e-Flow" denim, a sustainable solution that uses significantly less water than regular denim.
Designed and made in New Zealand and Peru, the Knitter.'s products are carefully made with mohair yarns and alpaca and sheep wool locally sourced from both regions. The brand's founder Nicole Leybourne makes sure to support small communities and businesses while using ethical labor methods. Each garment is hand-knitted in homes rather than factories using natural, low-impact and biodegradable materials.
Founded by veterans of the French fashion industry, Paradis Perdus makes luxury knitwear with the least possible amount of environmental impact. Recognizing the significant issues in fashion including greenwashing, the label stays transparent by sharing the clean methods it uses for manufacturing its products. Each garment is crafted with recycled yarns that go through a meticulous verification process by organizations like the Global Recycle Standard and REMOkey. Working with certified ethical suppliers in Italy, Spain and Portugal, Paradis Perdus also ensures that all of its releases are 100 percent recycled, excluding the use of buttons after realizing sustainable options could not be found in the market.
Hailing from Sydney, WAH-WAH takes inspiration from punk rock record covers and old-school comics to transfer vibrant patterns onto sustainably-made knitwear. Celebrating the exciting world of music, the brand uses superfine merino wool – a renewable, biodegradable and durable fiber — for its designs. Its sweaters are made by a China-based manufacturer that produces small runs of high-quality goods, and are packaged in eco-friendly Hydropol bags that dissolve in hot water.
Wool and the Gang is another label that offers crafty DIY projects for customers. The brand ensures a sustainable supply chain by only using wool that is 100 percent mulesing-free and offering yarns that are upcycled, biodegradable and vegan. The entire idea behind providing wearers with hand-knitting kits rather than ready-made products is to cut out the entire production process, which is one of the biggest contributors to environmental impact in the fashion industry. The label additionally reduces its environmental impact by keeping its design development and sampling in-house.
Hong Kong-based YANYAN (named after "人人," which means "everyone" in Cantonese) considers every person involved in its production process from sourcing to design. With materials sourced from specialty mills around the world, each piece is hand-knitted in China. Aiming to tackle the issue of overconsumption and overproduction in the fashion industry, the label uses yarns pulled from its leftover inventory, minimizing the need to produce new yarns.
Share this article