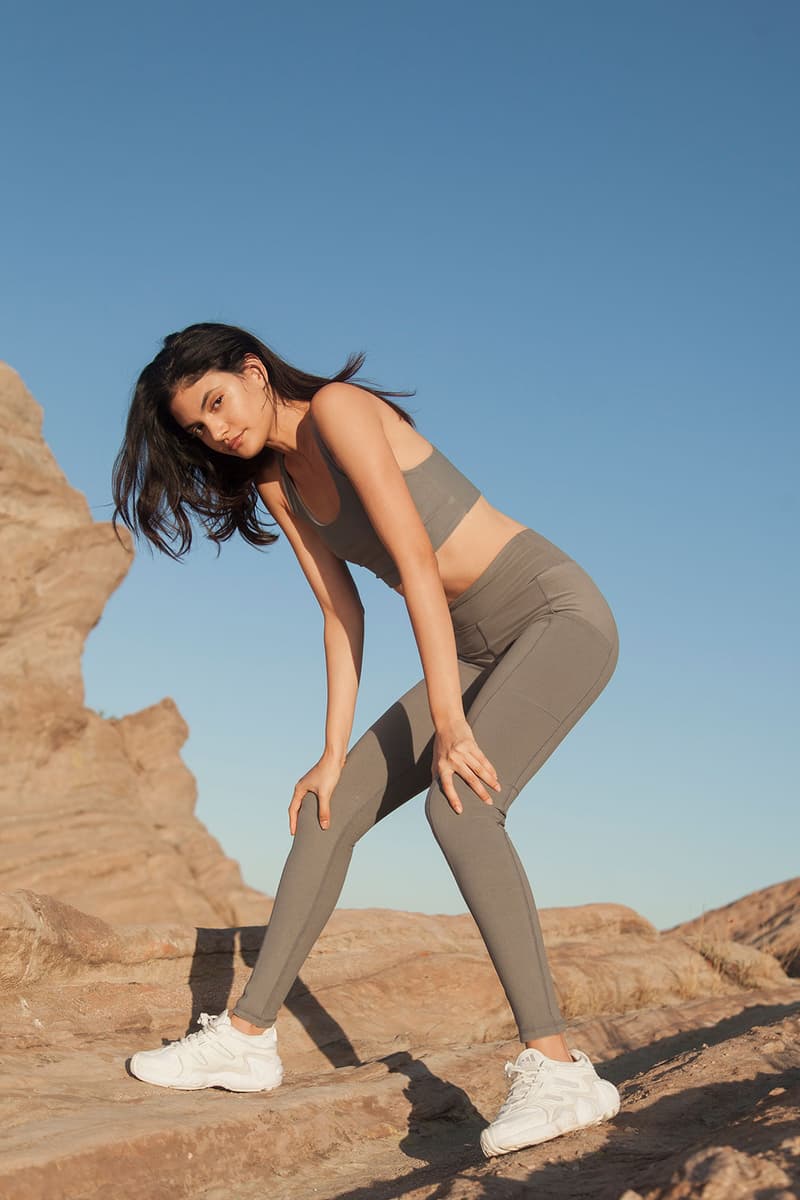 Here Are 9 Sustainable Activewear Brands for Your At-Home Workouts
Stay healthy and keep your wardrobe eco-friendly.
Fashion
Here Are 9 Sustainable Activewear Brands for Your At-Home Workouts
Stay healthy and keep your wardrobe eco-friendly.
With sustainability now being one of the most important conversations in fashion, more and more companies – including activewear brands – are introducing environmentally-friendly and ethically sourced options for consumers. As forecasted by Lyst, sustainable workout clothes were one of 2020's key trends, especially with many spending more time at home than ever due to COVID-19. Below, we've rounded up some of the best brands from this growing category.
One of the brands featured in our selection is Girlfriend Collective, a Seattle-based label creating leggings from recycled water bottles at a factory that guarantees fair wages and safe working conditions for its employees. In the same vein, Outdoor Voices focuses on building materials with longevity and circularity in mind to reduce landfill waste. The brand also develops ways of repurposing and recycling used products. Also included on our list are brands like First Base, which uses repurposed polyester yarn; and Wolven, which stays carbon neutral by monitoring its environmental impact and making up for any greenhouse gas emissions caused from its production.
Continue reading to learn more about some of the best sustainable activewear brands on the market.
Other than using organic cotton, recycled nylon and bamboo fiber in its designs, Australia-based First Base aims to reduce its impact as much as possible by using biodegradable plastics for its packaging. The D2W plastic used for its polybags degrade completely in three to five years. The label also uses recycled paper for its shopping bags as well as swing tags and invoices.
Founded in 2016 by husband-and-wife duo Ellie and Quang Dinh in Seattle, Girlfriend Collective is all about eco-friendly practices and being transparent to its customers. Not only are the brand's leggings, bras, tops and shorts created with recycled materials like fishing nets, polyester and used bottles, but its packaging is also 100 percent recycled and recyclable. On the brand's website, it states that all textiles are manufactured at a Taiwan facility that creates sustainable and high-quality fabrics, and that the materials are then cut and sewn in Hanoi, Vietnam.
adidas has tapped Karlie Kloss to launch a new line of eco-conscious activewear. Adding to the sportswear giant's sustainability initiative, sports bras, tees, leggings and more are crafted using high-performance materials PRIMEBLUE and PRIMEGREEN, both of which are comprised of upcycled plastic waste found on remote islands and beaches. The collection additionally supports young women in computer science in partnership with the supermodel's nonprofit organization, Kode With Klossy.
Expanding from its collection of swimwear designs, Italian brand Lido has recently launched its first range of sustainable sportswear. Dressed in wearable shades of terracotta and olive, the activewear line features all things essential for your at-home workouts. Each piece is entirely produced in northern Italy using sustainable and recycled fabrics from the region's mills.
"The fashion industry is a dirty bastard," Organic Basics' website boldly declares. The label, which works only with certified factory partners who share the same sustainable vision, makes its well-loved activewear and underwear using fabrics like organic cotton, recycled nylon and TENCEL™ Lyocell made from eucalyptus trees. Shopping sustainably is made easier on the brand's website with its Impact Index, which shows on each product page the amount of carbon dioxide emissions prevented, chemicals saved and waste prevented from purchasing that specific item.
Outdoor Voices operates under two keywords to reduce its environmental impact: longevity and circularity. With fabric processing being one of the culprits in polluting our planet, the brand prioritizes solutions for raw materials by using alternatives such as RecPoly made from recycled PET, merino wool ethically sourced from New Zealand and Australia, as well as MegaFleece made with recycled wool. The company also pays attention to packaging by distributing reusable totes and making sure all online orders arrive in 100 percent recycled paper envelopes or recyclable boxes. OV's headquarters in Austin runs a carless commuter program, while its shops employ sustainable design elements.
Contemporary knitwear label PH5 tapped into activewear earlier this year with a new line dubbed "PH5+." With founder Wei Lin being a triathlete, the pieces take the designer's love for both sports and fashion to another level. The garments are crafted with various patches in striped patterns that highlight the different muscles in the body. In addition to focusing on comfort and flexibility, PH5 ensures a sustainable supply chain with zero-waste production by using the exact amount of material needed. Any imperfections in the development process are reused after being reverse-engineered.
Launched by model ROLA, LA-based Studio R330 is a lifestyle label that is described to provide "essentials for good life." Widely known to be an advocate for sustainability, the celebrity entrepreneur worked on the project for two years to craft garments from recycled clothing and plastic waste. With leftover materials sourced from 80 participating companies, the brand's signature "BRING" fabric used for production can be recycled indefinitely. All workout clothes are crafted with 83 percent "BRING" fabrics, with the remaining 17 percent comprised of Spandex for elasticity.
Los Angeles-based label Wolven offers an array of activewear options through a supply chain that is kept as sustainable as possible. In partnership with Climate Neutral, the brand keeps track of its greenhouse gas emissions footprint, and purchases carbon credits to make up for the impact made. Leggings, bras, joggers and more are made using recycled PET fabrics that are both breathable and durable. On top of that, Wolven delivers its goods in minimal and low-impact packaging made with 100 percent recycled and biodegradable materials.
Share this article