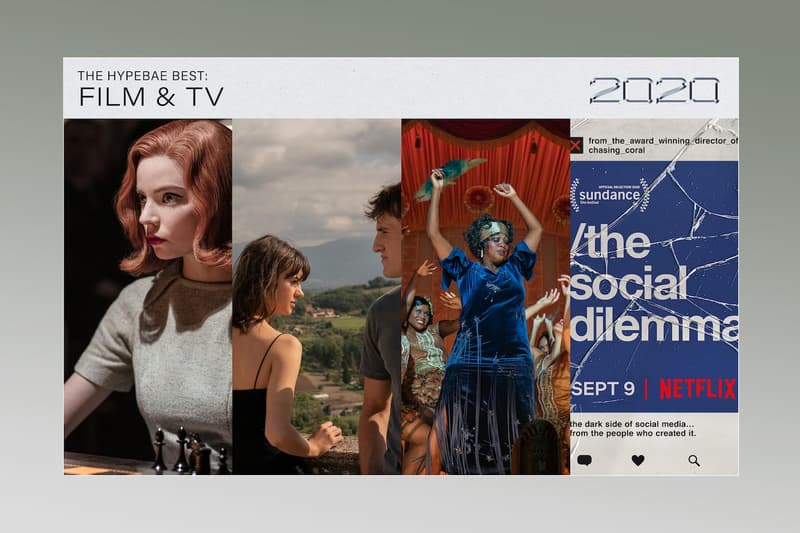 Film & TV
The HYPEBAE Best: Our 10 Favorite Movies and TV Shows From 2020
Standout releases from a year full of quarantine streaming.
The HYPEBAE Best: Our 10 Favorite Movies and TV Shows From 2020
Standout releases from a year full of quarantine streaming.
2020 was, among many other things, the year streaming reigned supreme. Throughout quarantine, platforms like Netflix and Hulu provided us with endless hours of content, both satisfyingly trashy (Tiger King) and pertinently thought-provoking (The Queen's Gambit). In television, HBO's I May Destroy You catapulted creator Michaela Coel into the spotlight for her confrontation of sexual assault and the trauma that follows, while Hulu's Normal People illustrates the messiness of intimacy. The year's standout films were similarly provocative: documentary The Social Dilemma delves into the hazards of social media, and Ma Rainey's Black Bottom, the late Chadwick Boseman's final film, tells the story of the queer Black singer whom many credit as the mother of blues.
Our editors have rounded up the best movies and TV shows of 2020. Read on for our favorites and keep an eye out for the rest of our HYPEBAE Best 2020 rankings.
TV SHOWS
Crash Landing On You
Korean TV entered the international mainstream this year, perhaps in part due to the popularity of K-pop. Airing on South Korean channel tvN and Netflix, K-drama Crash Landing On You is a tale of forbidden love following South Korean heiress Yoon Se-ri and Ri Jeong-hyeok, a North Korean army officer. Thanks to its portrayal of life in North Korea and addictive plot, the show became the third highest-rated K-drama in TV history.
I May Destroy You
Created, written and directed by Michaela Coel, I May Destroy You is a powerful exploration of sexual assault and trauma. The series follows Arabella — also played by Coel — as she navigates the aftermath of a night out that goes horribly wrong. As Arabella grapples with her assault, an experience Coel has herself endured, the show unveils the nuances of the issue with bravery and unexpected humor.
Itaewon Class
Premiering on South Korean network JTBC, Itaewon Class is a TV adaptation of Jo Gwang-jin's "webtoon" (a genre of digital comic popular in Korea) of the same name. Touching on issues including class inequality and sexism, the drama centers on Park Saeroyi, an ex-convict who is released from jail and attempts to rebuild his life while seeking revenge for the death of his father. Just like Crash Landing on You, Itaewon Class also made its mark on K-drama history — it's the seventh highest-rated show to air on Korean cable.
Normal People
Based on Sally Rooney's novel of the same name, Normal People follows Paul Mescal as Connell and Daisy Edgar-Jones as Marianne, two secondary school students whose vastly different lives intertwine as they begin a secret relationship. Once the two star-crossed lovers enter college, they drift apart, eventually making their way back into each other's hearts. Commended for its realistic portrayal of sex (there are no candle-lit love scenes to be found here), the show embraces the messy intricacies of young love.
The Queen's Gambit
Breaking Netflix streaming records, The Queen's Gambit turns its focus on an often overlooked sport: competitive chess. Starring Anya Taylor-Joy as Beth Harmon, an orphaned chess prodigy who struggles with drug and alcohol addiction, the show spurred a spike in Google searches for chess sets and guides on how to play the game. The series also received critical acclaim and praise from the chess community for its depiction of female chess players, who often face sexism at tournaments.
MOVIES
Ammonite
Kate Winslet and Saoirse Ronan take the lead in historical romantic drama Ammonite, loosely inspired by the life of paleontologist Mary Anning. Winslet portrays a middle-aged Anning, who is supporting herself and her mother by selling fossils to tourists. When a rich traveler asks Anning to take his wife, Charlotte (played by Ronan), as an apprentice to help treat her depression, the two women fall in love and enter an affair defying social norms of the time.
Becoming
A cure for pandemic-induced hopelessness, Becoming follows Michelle Obama as she embarks on a book tour promoting her hit memoir of the same name. As the former First Lady of the United States travels around the country and meets adoring fans, she opens up about her childhood, persevering as a Black woman and her time at the White House.
Borat Subsequent Moviefilm
The movie that seemed to spur Rudy Giuliani's fall from Republican grace, Borat Subsequent Moviefilm revisits Iranian journalist Borat Sagdiyev as he attempts to redeem his homeland of Kazakhstan. Sacha Baron Cohen's beloved character sets out to bestow a special gift on Donald Trump but when his plan doesn't go as anticipated, he enlists the help of his daughter, Tutar. The two wreck havoc as they clash with the Americans they encounter, hilariously revealing the racism and misogyny so deeply engrained in our culture.
Ma Rainey's Black Bottom
A screen adaptation of August Wilson's famed play, Ma Rainey's Black Bottom stars Viola Davis as Ma Rainey, a pioneering blues singer widely regarded as the mother of the musical genre. Tensions rise as Rainey battles for control over her music, overseen by white managers and producers, and a young member of her band — played by Chadwick Boseman in his last film appearance — looks to make his own mark on history.
The Social Dilemma
A timely documentary, The Social Dilemma explores the dangers of social media. Urging us to rethink the time we spend online, the film interviews former big tech executives who describe just how Facebook, Instagram and more are designed to addict us to our screens, manipulate users and and mine us for data. Interspersing dramatized re-enactments between expert opinion, the movie is certainly an eye-opener.
Image Credit

Netflix; Hulu
---
Share this article