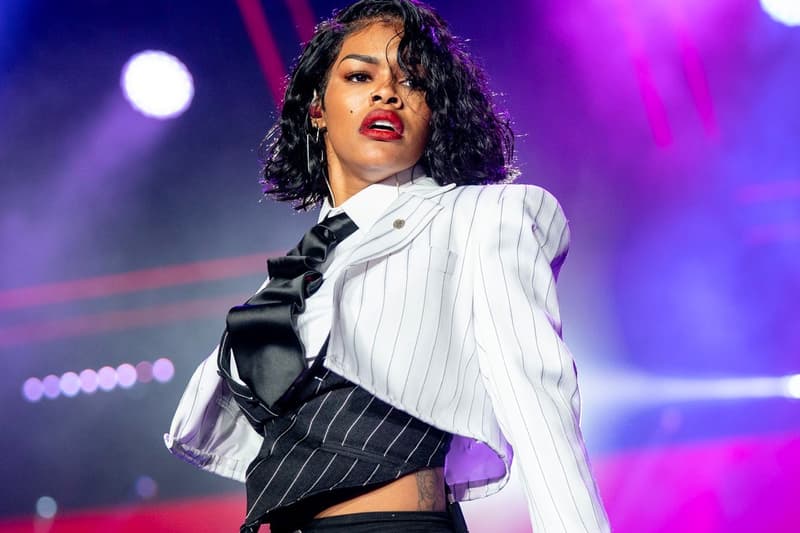 Music
Teyana Taylor Says Her Retirement From Music Industry Isn't Permanent
The artist felt "underappreciated" during her time with record label G.O.O.D Music.
Teyana Taylor Says Her Retirement From Music Industry Isn't Permanent
The artist felt "underappreciated" during her time with record label G.O.O.D Music.
UPDATE (April 30, 2021): Last year, Teyana Taylor announced her retirement from music due to feeling "underappreciated" by her record label Def Jam/G.O.O.D Music. Now, Taylor has revealed more information about why she decided to step away from her music career via an interview with Cam Newton on his BET series Sip 'N Smoke.
"At the end of the day, I'm a mom first. A mom, a wife, a woman. And I think for me, I put in a lot of work. I work very, very hard. So, if you feel unheard and unseen – like how I said earlier with my husband," she said. "He sees me, he hears me. I take that sh*t [seriously]. Everything that I do. So if you're my husband, or I'm signed, everybody that I'm aligned with should see me. They should hear me. They should feel me. If you don't see me, hear me, or feel me, it's a dub for you."
The singer continued to share her side of the story and elaborated more about feeling "underappreciated" as an artist. She added: "So, for my mental health, my mental well-being, for my kids, let me just put this on ice for a little [bit]. It's not that I retired permanently. It's more like, I just don't feel like I want to move another inch for a company."
Watch the full interview on YouTube and stay tuned as we wait for more updates on Taylor's career.
---
ORIGINAL STORY (December 7, 2020): Teyana Taylor has officially confirmed that she will be retiring from the music industry, after her initial announcement last Friday. Through a recent Instagram Live session, the artist expressed her frustration with her record label Def Jam.
"I ain't gone front in times of feeling super underappreciated as an artist, receiving little to no real push from the 'machine,' constantly getting the shorter end of the stick, being overlooked, I mean the list [goes] on and on… I'm retiring this chapter of my story," the R&B musician took to Instagram with a screenshot of Spotify's 2020 Wrapped. The next day, she hosted a livestream where she further explained the announcement.
"The majority of what that post was to warn my label, who I've been signed to for almost 10 years. Everything that you guys see of me, everything that I put out, everything that I do is 100 percent me. There's no gun to anybody's head to do anything that they don't want to do," she shared. "So yes, I am going to feel underappreciated if I'm putting in 110 percent and my label is giving me – they're reciprocating, what, 10 percent of that." She further added that her label has barely helped her with "literally no push" in recent years: "The crazy part about it is I asked Def Jam to drop me on almost 10 different occasions, straight to their face, up in the building, at the table. Like, 'Yo, just drop me, because at this point, I can't let this kill me.'"
Recently, Taylor expressed her disappointment towards the Recording Academy for nominating only male musicians for the Best R&B Album category. However, the artist emphasized that her decision to retire is not due to the Grammys. "Baby, I gotta do it for my mental health. I have to do it for my emotional health. I have to do it for my kids, so I can stay alive for my kids. Until I'm free, until I can get [my label] to release me, yes I want to retire. I don't want to do this anymore," she explained.
Watch the full announcement down below.
Share this article