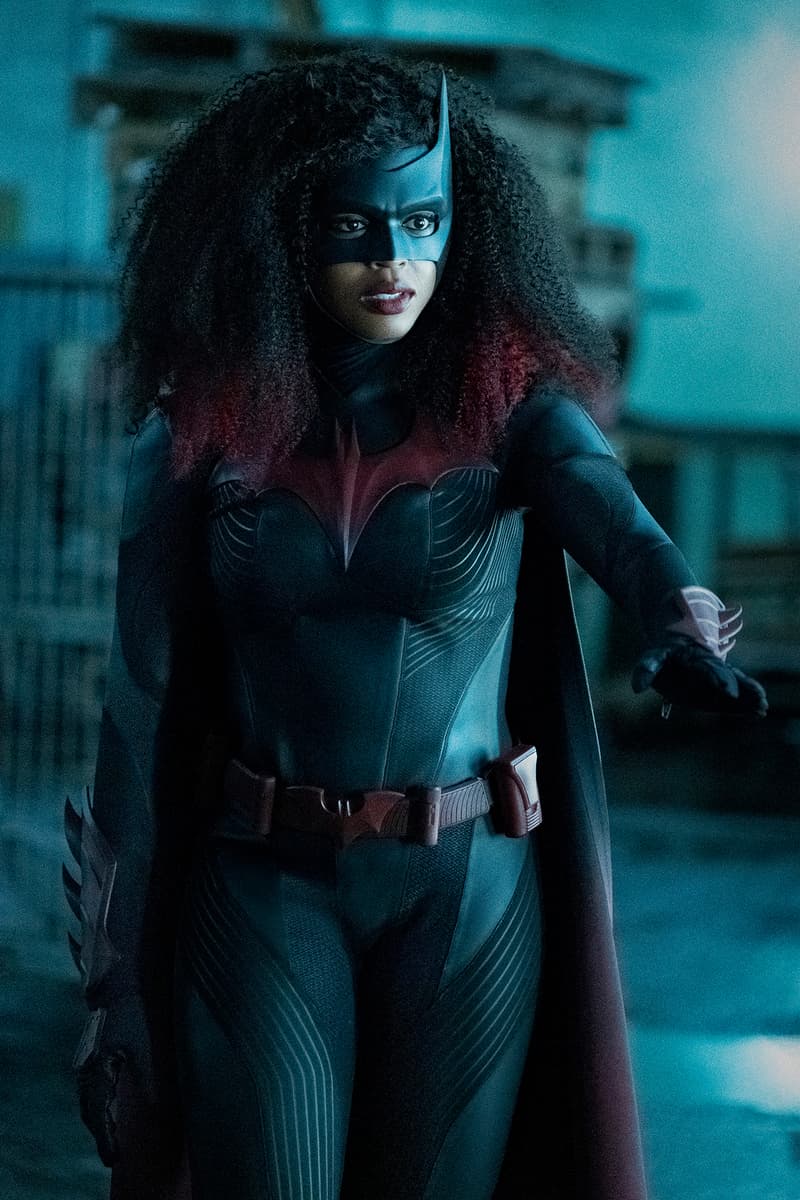 Javicia Leslie Is Kicking Butt As Hollywood's First Live-Action Black Batwoman
The star discusses her role on The CW's 'Batwoman' and the importance of supporting Black superhero actors.
Film & TV
Javicia Leslie Is Kicking Butt As Hollywood's First Live-Action Black Batwoman
The star discusses her role on The CW's 'Batwoman' and the importance of supporting Black superhero actors.
Who would have thought that a DMV native's journey to Hollywood stardom would include graduating from Hampton University, working a government job in her local area, and then fearlessly packing up her belongings to head to the city of Los Angeles? With the power of manifestation and hard work, this was only the tip of the iceberg for Javicia Leslie. Leslie has been on Netflix series Always a Bridesmaid alongside Black Lightning's Jordan Calloway, as well as critically acclaimed BET+ series The Family Business by Carl Weber, but her role as Batwoman's Ryan Wilder has broken grounds in Hollywood as she became the first Black Batwoman on live-action television.
Wilder is introduced in the second season, following actor Ruby Rose's stint in the first, as a young woman seeking revenge following the death of her adoptive mother. Although she is not the first Black Batwoman to hit the screens (refer to Kathy Duquesne in Batman: The Mystery of Batwoman), Leslie has made the role all her own as a queer Black woman unapologetically breaking down doors and shattering stigmas of pigeonholed roles that Black women are expected to play. HYPEBAE caught up with The CW's latest superhero addition about her HBCU experience, her personal connection to Ryan Wilder and the significance of being seen in the sci-fi and fantasy space for young Black girls.
The second season of Batwoman airs on Sundays at 8 p.m. EST on The CW Network.
How did you feel when you were first cast as Batwoman, and do you remember the exact moment?
I felt very, very excited, obviously. I remember the moment — I was in the middle of doing a little meditation to calm my nerves, because we had been waiting a few days to find out. I got a call from my manager who said, "May I speak to Ryan Wilder?". I was also kind of in shock.
How did you mentally and physically prepare for the role of Ryan Wilder?
It's kind of just how I am ritually and it's nothing that I did outside of how I am. I've always been very physical, so I still made sure to focus on my physical health and fitness. [It was the] same, mentally — I'm huge into meditation, prayer, cutting everything off and taking time to work on myself. I haven't had to go outside of my normal. If anything, I just had to lean more into my normal.
Did you ever experience or feel any type of pressure to perform at a higher level because of this iconic role as the first Black live-action Batwoman?
It's neither. I give my 100 percent to everything I do, whether it's an "iconic" role or it's a web series. It's just important that every time I do my work, I do it to the fullest of my capabilities.
How did your experience at Hampton University shape your appreciation for the non-monolithic experience of Black culture?
I'm pretty much from an all-Black area in Prince George's County [Maryland], so I was raised around a lot of Black culture and seeing Black people in any and every role in society. Whether they're in politics or they're artists, that's where I come from and that was my background even before I went to Hampton. Obviously, going to Hampton University, it was really cool to see my peers really be true innovators, entrepreneurs, artists that we have now and currently succeeding and on the forefront. Going into the entertainment industry, I was born with that background, but it's really important for the world to see us the way I see us.
What did your HBCU experience teach you about the importance of being represented in front of the camera and behind the scenes, and taking ownership of our stories?
It's hard for me to say that, because I come from an all-Black area. I didn't just get that from an HBCU — I was raised understanding how important representation was. It's literally something that I saw every single day. It's almost the opposite. When I left Maryland and came to Los Angeles, I didn't understand why we weren't everywhere. If anything, I just wanted to bring and still want to bring what I was raised to the mainstream and to the forefront. I've seen us in all types of lights.
When you're talking about entertainment, television and movies, we're portraying roles of normal human beings and our society should look like what our real society looks like. It's a complex, diverse society, and I think that coming from an area that I came from, going to an HBCU and really having the family that I've had, have all contributed to me not only feeling the need but wanting to work towards creating entertainment that truly depicts what I have seen my whole life.
As a queer Black actor portraying a queer Black superhero character, how did it feel for you to play a role that you resonate with on that level?
That's the opposite. The only thing we do have in common are the things that I guess are our titles. Other than that, we're almost opposites — she came from not having family, not having a mom and she was in foster care. I think that it's about continuing to show the humanity of these characters. As a human who can relate to the human experience, that's where my empathy lies. It was just about doing the work so I could be completely grounded in Ryan's world based off of the script that our show creator Caroline Dries developed. I don't ever want to be a character who's just like me. I do feel like Ryan and I have some similarities, but I think that the start of her life was so complex that it gave me work to do, and I love having work to do. I loved having to jump into a world that was outside of my own.
What is your hope for the future generation of Black actors who are looking to be cast in more of these superhero, unconventional fantasy roles?
Of course I would love to see more of us. It's almost this idea that African-Americans, or Black people in general, don't watch sci-fi — which is not true. It's important to see us in these fun superhero, sci-fi roles, but the only way we can make that happen is if we continue to support the actors and actresses who are in those roles. Everything is going to take time and steps. I think Black Panther opened up our view of our capabilities in that superhero world. It's really important to constantly support the artists that are currently in those roles. We, as actors, are hired. After we're hired, we'll do our job, fall into our roles and make the best of our opportunity. But where there is demand, there is supply.
It's about making sure that there is a demand for us not just on the big screen but also on the small screen. Kids only get one chance to see a movie, but a television series comes on weekly. That's a constant reminder that we can exist in that world and fully exist in all of our layers — whether it be our hair, complexions or body types, and that then allows them to know that they have a space as well. It's important that we support. We talk about wanting change and how we want a shift, but the only way that can happen is if we show that there's a true demand for that shift. I don't think it's always going to come in the package that we want it to come in, but what it does is slowly continue to open the doors for the next person to create a bigger and better opportunity.
What have you learned about yourself as a woman and an actor throughout your time on set and growing into your role as Ryan Wilder?
As an actress, it's about learning to trust myself and learning to trust the work. Knowing that I'm enough, and knowing that the right decision was made. I think in the beginning of any artist's journey, especially with a new role, there's a feeling of, "Oh God, did they make the right choice in me?". The beginning of it is just realizing, learning and strengthening yourself to know that you are enough and you are worthy of this opportunity. The next thing I've learned is to make sure that I send the same opportunities, if not more, to other artists that are looking to enter into this industry or specifically the world of superheroes.
The way to do that is to communicate, tell your story, help where you're able to help and constantly put your best foot forward so there's something to be talked about. At the end of the day, I'm an artist and that's the most important thing for me. I really just want to do what I love and it's such a blessing to be able to do what you love. That's what I really want to do — do what I love everyday — but I also always have the want to make a difference doing what I love. This role gives me that opportunity.
---
D'Shonda Brown is a freelance culture journalist, public speaker and mental health advocate based in Brooklyn, New York with a passion for mental health, social justice and uplifting the Black community through her writing. As a mental health advocate and suicide attempt survivor, in 2019, D'Shonda became Mental Health First Aid Certified for adults and children, and graduated from the Advocacy Ambassador Program by National Alliance on Mental Illness. D'Shonda is a proud Spelman College graduate and has interviewed notable names from Angela Rye and Soledad O'Brien to Chloe x Halle and Justine Skye.
Share this article