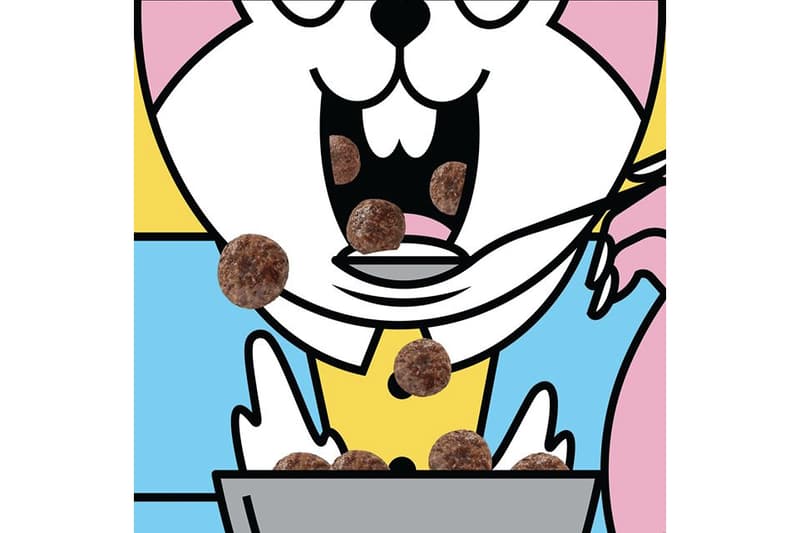 Food
Welcome to the New World of Cereal
Emily Elyse Miller's brand OffLimits is taking cereal to a whole new level.
Welcome to the New World of Cereal
Emily Elyse Miller's brand OffLimits is taking cereal to a whole new level.
Cereal. We all know it, we all love it. It has been a breakfast staple since the dawn of time, but we've never really looked into why the crunchy snack became an international favorite. From arguing about who gets the marshmallows in Lucky Charms, to stuffing your face with cocoa pops – we all have our own memories when it comes to cereal, especially Emily Elyse Miller.
Set out to launch a new kind of brand that combines her love for the breakfast food as well as puts human beings before profit, Miller started OffLimits. Centring around important topics like humanity, inclusivity and mental health, she's worked to create "Cereal Characters" addressing each of the topics, designed by Shepard Fairey's studio Number One. Two flavors are now available, ZOMBIE and DASH! and they're both 100% organic.
We had the chance to chat to founder Emily Elyse Miller and learn where the idea for the fun project came, and tap into her passion, creation and advice. Read below for our full interview.
How did you decide on cereal as your niche?
Growing up, my mom would never let me eat sugary cereals. That's why I always had it at my Italian Grandmas house. There was no way my mom could stop my grandma from giving it to me! Since then, I've had a fascination with cereal and why there was nothing out there that was delicious, but also made with the healthy stuff. OffLimits is my solution!
What goes into creating and "inventing" a new cereal flavour? What does the process look like?
I am insane when it comes to sourcing ingredients. It took over a year to develop the base for DASH and ZOMBIE – which is completely organic. The coating is where we had fun with flavor. We went through extensive testing to achieve the right shade of ZOMBIE green using natural ingredients, just spirulina and pandan. DASH's flavor comes from a secret blend of Intelligentsia coffee and cocoa that turns the milk to cold brew.
For flavors, I pulled inspiration from my travels and everyday life. I fell in love with kaya toast during my time in Singapore, so that's what inspired the pandan and vanilla flavors in ZOMBIE. DASH's coffee & cocoa flavor was inspired by not wanting to take the time to make both coffee and cereal in the morning. I was determined to figure out a way to turn the milk into cold brew.
How did the concept of OffLimits come about?
I felt like cereal had become a vehicle for a culture rooted in racism, sexual repression, misogyny, and deceivingly bad-for-you ingredients. I was done supporting brands with these underlying structures, so I decided to build my own from the ground up.
I wanted to use this opportunity to create a crew of counterculture characters that face and destigmatize human cycles of emotions from anxiety to depression. These emotions make DASH and ZOMBIE extremely real to me, and I hope they'll be a comfort and voice for many.
How is OffLimits aiming to support young creatives?
We encourage empowerment through art and culture by partnering with organizations that invigorate the creative spirit in underserved communities. Our gallery, events, and custom collaborations help fund youth art programs.
We're launching with a virtual gallery that was created as a response to gallery closures during COVID-19. Our first collection is in collaboration with Shepard Fairey's Subliminal Gallery (Shepard Fairey's Studio Number One also designed DASH and ZOMBIE) with a Break The Rules theme.
How do you think the cereal community will continue to grow over the next few years?
OffLimits is for anyone, anywhere, at any time of the day. Cereal isn't JUST for breakfast anymore. We're on a mission to build a community of like-minded people who question the status-quo and challenge the way things are. Cereal is just the beginning.
What are some collectibles you're aiming to create?
The cereal experience has never been the same without the prize inside. We wanted to bring that back, but in a modern way. We're launching with custom spray paint cans. These collectable cans represent our art-driven and defiant mindset. The symbolism of spray paint is to encourage voice over vandalism, using art to communicate in cities around the world. We're designing and collaborating with like-minded creators to develop toys that make a statement.
What advice do you have to young women out there looking to start a business?
Don't let tradition or authority dictate your direction. You're the consumer so build a brand you'd be proud to support.
Share this article