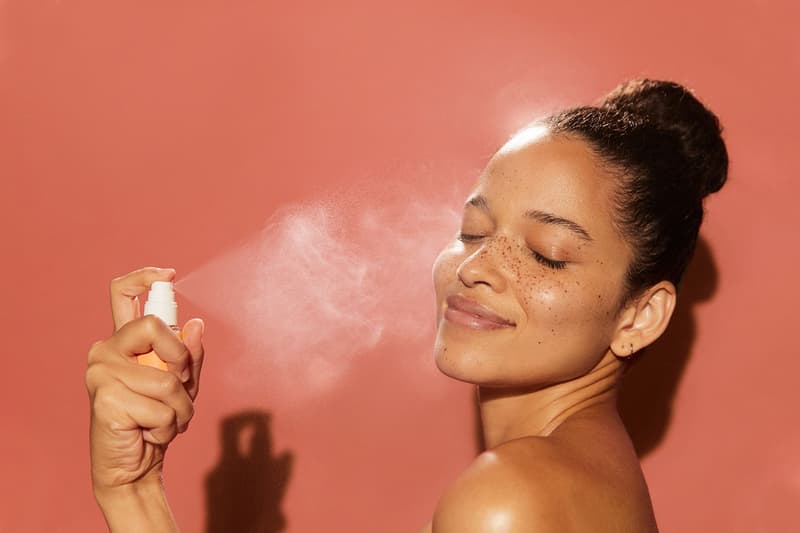 Beauty
Meet Habit's Sunscreen Mist, a Soothing SPF Product Perfect for Hot Summer Days
Founder Tai Adaya explains how the product works.
Meet Habit's Sunscreen Mist, a Soothing SPF Product Perfect for Hot Summer Days
Founder Tai Adaya explains how the product works.
While it is widely understood that SPF is key to any daily skincare routine, we often forget to reapply sunscreen throughout the day. Additionally, it can be tricky to layer sunscreen on top of makeup. Enter Habit, a new suncare label that launched earlier this year with one product only – a sunscreen mist dubbed Nº41.
A quite new and uncommon concept, sunscreen mist is literally a facial mist with SPF, meaning that it can be spritzed onto the face without having to remove any makeup. A broad-spectrum formula with SPF 41, the product is complete with scents of lavender and rosemary for a refreshing, soothing finish. The compact bottle can be easily packed into a pouch to be applied at any time during the day.
For those who consider sunscreen to be a summer-only product, suncare is essential for skin health even during the cooler seasons or when it's cloudy and raining. Being exposed to UV rays without SPF can open up the skin to hyperpigmentation as well as diseases like cancer. This makes Nº41 a daily go-to, to prevent any unwanted issues.
To learn more about sunscreen mists and the importance of suncare, we speak with Habit's founder Tai Adaya. Read on for our full conversation with the skincare expert.
Unlike most skincare brands, Habit launched with a heavy focus on SPF. What aspect of SPF motivated you to invest in it?
I love that suncare is an over-the-counter drug category regulated by the FDA. Unlike other skincare categories, the claims made against SPFs are regulated. Words like "anti-aging" printed on the label of a moisturizer may not necessarily mean anything. However, with sunscreen, the claims are real because it ultimately is a healthcare product. The category is regulated, effective and proven. There is a lot of white space to innovate with formula, product form factor and storytelling around sunscreen. As someone with a background in beauty and health, I was drawn to the category.
Could you briefly explain what a sunscreen mist is?
When designing Nº41, I was really thinking about the daily context and making a daily application enjoyable — a treat, not a chore. Traditional sunscreen sprays are either aerosols in metal cans or pump sprays that gush out chunks of formula. On the other hand, Nº41 has a highly specialized mechanical pump that creates an ultra-fine, even mist of product that can be evenly coated on your face, neck and hands without having to rub the product in.
For someone who has never used a sunscreen mist before, the product sounds incredibly convenient to use. How does it differ from the sunscreen lotions that most people are more familiar with?
The benefit with the mist is that you can apply without having to touch your face or rub in the product, which is especially important for that midday reapplication when you don't want to introduce germs onto your face. For a sunscreen to deliver the ultimate benefit, you need to reapply often as actives tend to move around the face during the day. Reapplication is key.
What were the main issues of SPF products in the market that you aimed to target throughout the development process of Nº41?
The big problems with sunscreen are that only 10 percent of Americans use sunscreen daily, and those that do are usually not using enough. At Habit, we're developing products that make sunscreen application a daily luxury. The main issue is that wearing sunscreen is often considered an annoying step. We're elevating the category by creating products that are luxe and enjoyable.
In our visuals and messaging, we are careful to depict daily contexts. Daily use is the most important in the long run. Old school sunscreen brands tend to show a lot of beaches and palm trees in their imagery. You should definitely use sunscreen on beach days, but we're stressing that everyday use is key.
What do the numbers behind SPF mean? How would you advise beginners to choose an SPF?
SPF stands for "sun protection factor" and is a measure of protection from UV rays that cause sunburn, skin cancer and skin aging. The rule of thumb is that you need at least SPF 30 for daily use. For beginners, the most important thing is to learn to apply correctly and reapply often. You'll have to apply properly to actually hit the SPF rating on a label, so make sure to follow instructions. An SPF 100 applied improperly won't necessarily give you more protection.
Apart from sun protection, what does Nº41 do for the skin?
Nº41 is a minimal formula. It has only 16 ingredients, whereas other sunscreen formulations often have more than 30. In Nº41, we're really letting the actives shine. The primary function is UV protection. Nº41 also provides lightweight moisture and leaves a healthy serum-like glow on your skin.
You've managed to launch a beauty brand with just one product. How does this single item reflect the philosophy of Habit?
At Habit, we really believe in high-impact essentials. My personal philosophy with skincare is to use fewer products and more active ingredients. My daily go-to's are a good moisturizer, prescription tretinoin, high concentration vitamin C in a glass jar and of course, sunscreen, which I apply in the morning and midday.
You've mentioned in an interview that Habit will be working on a caffeine-infused sunscreen stick and water gel product next. Do you also plan on expanding the offering of Habit with body care goods?
We have a few facial products in the pipeline that I'm really excited about. We're exploring body products utilizing the same design principles as our facial products – all with the goal of proven anti-aging.