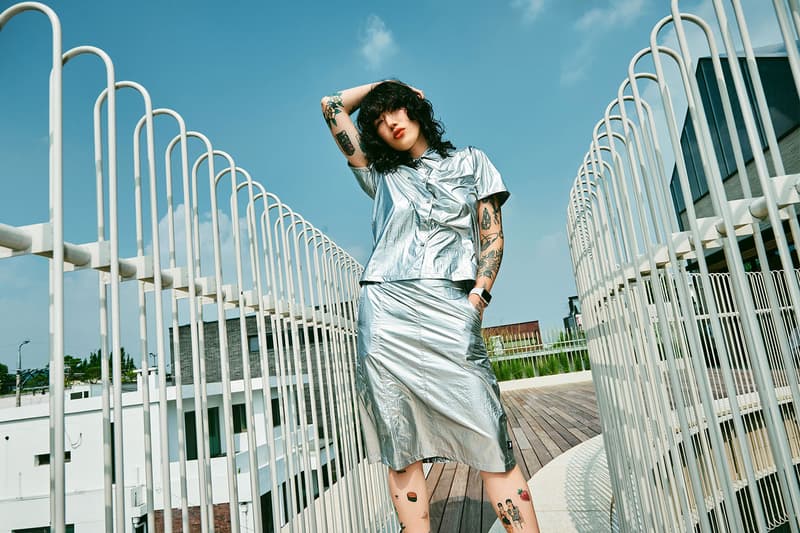 Art
Tattoo Artist & Illustrator Miki Kim Talks About Quarantine Life in Seoul
The creative has previously created original artworks for Gucci and Marine Serre.
Tattoo Artist & Illustrator Miki Kim Talks About Quarantine Life in Seoul
The creative has previously created original artworks for Gucci and Marine Serre.
Hajime Sorayama, '90s films and Mickey Mouse are just a few of many things that inspire South Korea native Miki Kim. A tattooist and illustrator who has built a strong portfolio working with brands like Gucci and Marine Serre, the artist is a name to watch in the creative field.
Known for her illustrations inspired by Asian art with a bold color palette, Miki began her career as a tattooist out of her love for drawing. By scrolling through her Instagram feed, you'll find everything from self-portraits to witty depictions of modern society. Last year, the creative was selected by Gucci to promote the luxury house's customizable Ophidia wallet, tote bag and knitwear. The partnership resulted in a series of illustrations of hands reaching for the leather accessory. Adding to the momentum, Miki landed another opportunity earlier this year with Marine Serre for its Lunar New Year artworks, a series of playful drawings portraying dancing mice wearing the brand's iconic crescent moon motif.
Most recently, Miki joined forces with Seoul's HEIGHTS. store for a womenswear collection of graphic-heavy tees, cami dresses, tote bags, tattoo stickers and more. The pieces feature some of the artist's signature works in blown-up prints, while AirPods cases and tank tops are designed with smaller graphics.
With much of the world on lockdown due to the ongoing pandemic, Miki had to postpone her plans to travel to Japan for work and study. As the artist continues her "new normal" life in Seoul, Miki Kim speaks with HYPEBEAST Korea about the future of her career, as well as her recent fashion collaboration with HEIGHTS. Read on for the full conversation.
You've been staying in Korea for the past few months due to the pandemic. How has this affected your life as a tattooist and illustrator?
I've definitely been working less. I have also been paying a lot more attention to hygiene. A lot of my clients are asking me to sanitize my hands before I start working on their tattoos. I usually don't work much here in Korea, but I am using this time to try new things.
What was your original schedule?
I was planning on moving to Japan in April to study Japanese and do some tattoo work. I didn't really want to work as a tattoo artist here.
Why is that?
Supply exceeds demand in the Korean tattoo market and I didn't like that. Plus, I don't think my drawings are a popular style here. Most of my favorite works have been done overseas, and I also feel that a lot of people here don't enjoy seeing others succeed. I've seen quite a lot of cases where people would report tattooists, since it's not legal here in Korea. The market would be a lot more accepting if people would be less jealous.
What do you think would make you want to work in Korea more?
I wish tattoos wouldn't be seen so negatively here. There are still a lot of people who believe that those with tattoos are dangerous or scary. I can feel a lot of judgmental glares when I take public transportation. I believe that it will change slowly, but I also wish that tattooists would create their own unique style rather than copying popular looks.
You've changed your name from Mikhi Kim to Miki Kim.
I really liked vintage style drawings of Mickey Mouse, which is why my friend told me to work under the name "Mikhi." I then changed it to Mihi Kim for a reason that I cannot say, but I had a lot of non-Korean friends that couldn't pronounce the name so well so I just decided to go with Miki. It's also how my name is pronounced in Japanese.
Is there a reason for separating your art Instagram account from your personal one?
I wanted to focus a bit more on my drawings, which is why I opened a new account for people to check out my art. My personal one is a mix of everything, from tattoos and photos of myself to music.
It seems like you are more interested in illustrating rather than tattoos at the moment.
I don't have a strong urge to continue tattooing. I started because I like to draw. I want to put more emphasis on that now.
But you began your career as a tattooist.
I thought it would be impossible to debut as an artist, since I've never learned art professionally. I just started with whatever I could, until someone suggested to try tattooing. From then on, I studied both tattoos and illustrations. It definitely was a pivotal point of my life.
Where do you get inspiration for the themes behind your illustrations?
I try to expose myself to as many things as possible. There's an illustration from my collection that looks like a praying mantis eating another after mating. I took that from a line out of the movie Eternal Sunshine of the Spotless Mind. I thought it would be fun to translate that into human form. A lot of my ideas just randomly pop up like this. I also gravitate a lot towards hands and feet. I feel a lot of different emotions that I simply cannot explain just by looking at them.
Your drawing style has changed quite a bit in comparison to the beginning of your career.
I used to draw a lot of simple illustrations using thick lines. I noticed that people started imitating them since they're so easy to copy. There were quite a few followers who would send me a photo of an illustration, telling me that it looks like my work. That's why I started to give a sarcastic twist to my style.
Your current style is more reminiscent of Asian paintings.
I love Asian culture, and a lot of my clients are fascinated by this type of illustration. The same goes for the choice of color. Plus, I find inspiration from a lot of music and films from Asia.
Your work also seem to reference art by Japanese creatives like Hajime Sorayama and Keiichi Tanaami.
I grew up in Busan, where we had a lot of Japanese radio and television channels like NHK and V. I guess I naturally gained interest in Japanese culture. Satoshi Kon's Perfect Blue and Paprika are some of my favorite movies of all time.
Where do you get inspiration for the color palette used in your art?
Mostly from '90s films, like Edward Scissorhands. I use these bright and bold shades because I mostly look to '80s and '90s culture.
You've worked with Gucci for its customizable DIY range last year. How did this partnership come to be?
Gucci reached out to me via e-mail that they wanted an illustration featuring their logo and products. The team wanted to make sure the Gucci pieces were highlighted, so I used images of eyes and hands to complete the piece.
For Marine Serre, you opted to focus more on an Asian style.
I wanted the brand to push a stronger Asian style for the campaign, as the promotion itself was targeted towards Asian customers.
Has anything changed for you after your work for Gucci and Marine Serre?
My following has definitely increased. Marine Serre's team reached out to me after I worked with Gucci. Another independent lingerie brand based in Europe contacted me after that as well.
What does your work process look like?
Until about four years ago, I would draw on paper. But that quickly became a luxury as I started traveling overseas. I switched to working on an iPad instead, which I find more convenient and versatile in terms of putting my ideas into something tangible.
You've created a womenswear collection featuring your illustrations with HEIGHTS. How does it feel to be wearing pieces from the range?
It's gotten me emotional. A lot of tees are made with illustrations just printed at the front. This was the first time I had my work blown up on the entire fabric itself. Since the drawings are self-portraits, it feels like I'm wearing my own skin. I am truly grateful.
How did you choose which illustrations would be featured on the garments?
I selected whichever illustration would look nice as a clothing piece. I also made sure that people could tell these drawings are mine as soon as they saw them.
What's the meaning behind the items you're wearing right now?
A lot of people in modern society are dependent on medication, whether it be for physical or mental purposes. I depicted people being drawn to pills like fish with baits.
You've also included tattoo stickers and vinyl tote bags in the collection.
I'm an illustrator and tattooist. I thought stickers would be the perfect way to show my identity. For the tote bags, I just wanted to create something that would fit vinyl records, since I enjoy collecting them so much.
What are your plans for the time being as you stay in Seoul?
I'll be participating in a convention for illustrators called Grimdosi in October. I'm also planning to create my very own turntable mats that feature my drawings. Other than that, I want to start studying different things that I haven't been able to before. Additionally, I will be practicing drawing on canvases.
Where would you like to travel to after the pandemic?
Iceland is on my bucket list. Björk, one of my favorite artists, is Icelandic. I've always wondered how she is so creative and unique, but I feel like I'd be able to find out if I visit the country.
Source
Interviewer

Eunbo Shim
Translator

Yeeun Kim
Location

Groundseesaw
---
Share this article