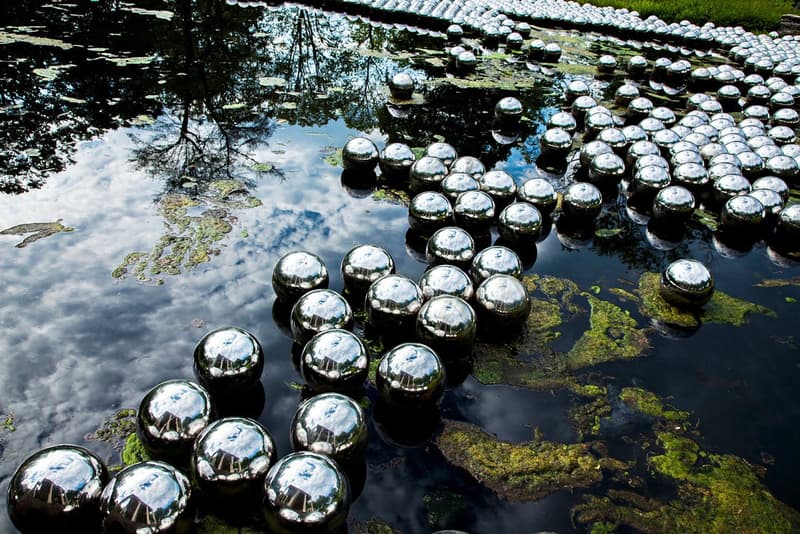 Art
Yayoi Kusama's 'Narcissus Garden' Lands in Arkansas' The Momentary
Almost 900 mirrored orbs displayed in an outdoor space.
Yayoi Kusama's 'Narcissus Garden' Lands in Arkansas' The Momentary
Almost 900 mirrored orbs displayed in an outdoor space.
While Yayoi Kusama's upcoming exhibitions at the New York Botanical Garden and Berlin's Gropius Bau were both postponed due to the ongoing coronavirus pandemic, the Japanese artist's famous Narcissus Garden installation has just landed in America. Arriving at The Momentary in Arkansas, the art piece is now available for visitors to view.
The artwork first debuted back in 1966 at the Venice Biennale through an unofficial exhibition, where Kusama sold the mirrored orbs for two dollars each. Having become one of the artist's most iconic pieces, Narcissus Garden now transforms the outdoor space of The Momentary into a reflective field with almost 900 spheres. The installation represents an interconnected universe where each entity relies on the presence of others.
"What's most exciting about the installation of Narcissus Garden at the Momentary is that this is the first time the work has been installed outdoors in an industrial setting. Through Kusama's clever design, these mirrored orbs simultaneously reflect people, architecture, and the vast open sky," The Momentary's assistant curator Kaitlin Maestas shared. On display now, Narcissus Garden will remain at the art space for at least a year.
The Momentary
507 SE E St
Bentonville, Arkansas
Share this article